Finished Front Porch Floor (Wood Front Porch Built Over Existing Concrete Porch)
My front porch floor is finished! And I am absolutely thrilled with how it turned out. My old, ugly, original concrete porch has now been covered over with a gorgeous wood porch that adds so much character to the front of my house. If you missed the previous posts about this project, you can click the links below to read the details.
Yep, it's a long, time-consuming project. 🙂 But the the final product is totally worth the effort! Remember what this porch looked like when we bought the house? Here's a refresher…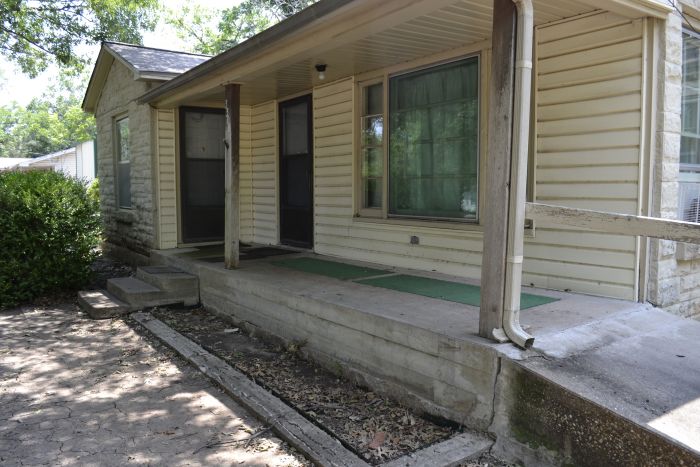 It was concrete that was very unlevel, with a concrete ramp attached to the right side.
This whole front porch area has had a major facelift (which is still not quite finished), and here's how it looks with the new porch floor…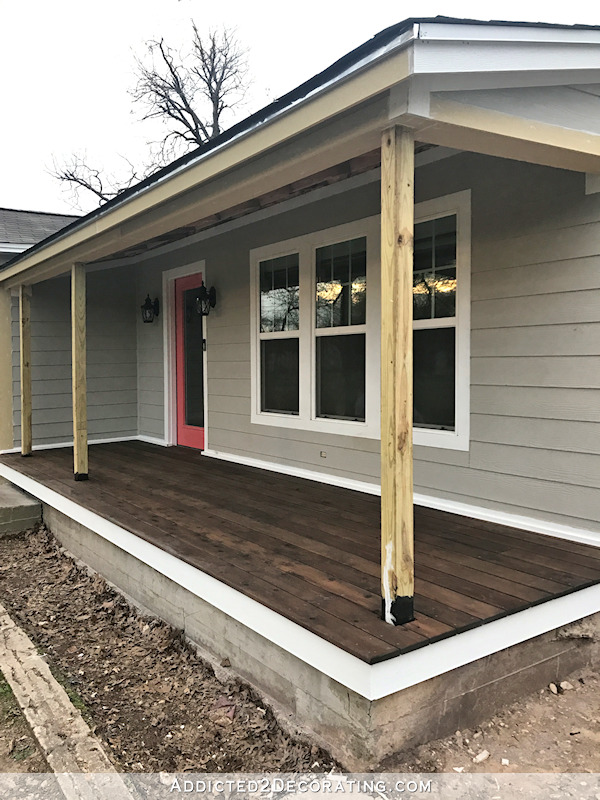 Quite a difference, right? I'm so excited about how this turned out!
I'm still undecided about what I want to do with the concrete below the white fascia board. I'll make that decision after I build the new steps. So for now, let's ignore that ugly concrete below the white fascia board. 🙂
So to quickly recap this project, I used 2 x 4 pressure treated lumber rated for ground contact, and I ripped those boards to the heights needed to create "joists" (or risers, or sleepers, as they are also called) spaced 16 inches apart, and I attached those to the concrete porch.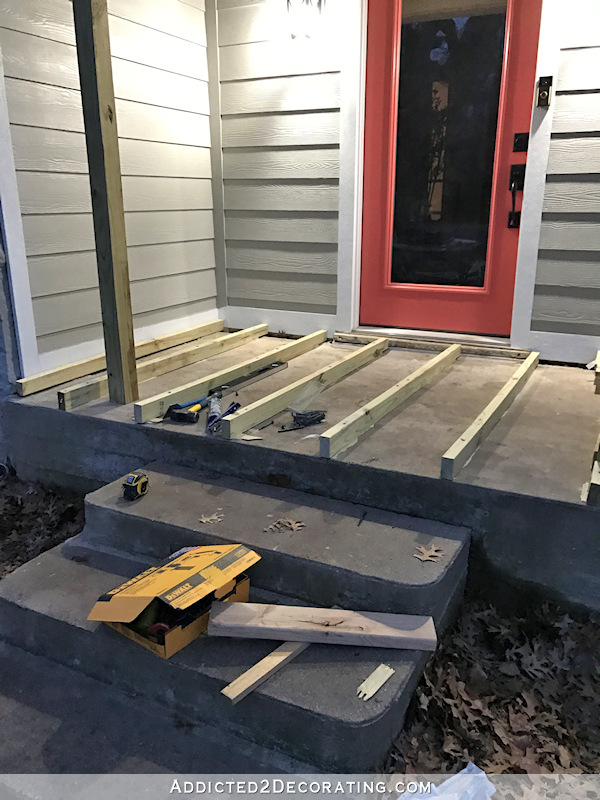 That part of the project was the absolute hardest and most frustrating part, and it's definitely a two-person job. My brother helped me with that part, and I couldn't have done it without him.
You can click here and here to read more details about that part of the project.
Then I added spacers to the front of the risers…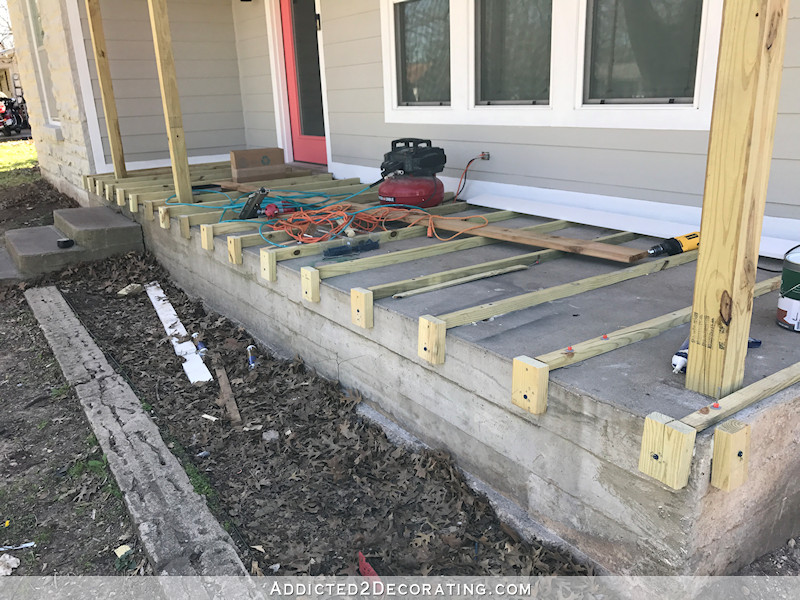 …and attached the fascia board to those spacers and painted the concrete and risers black…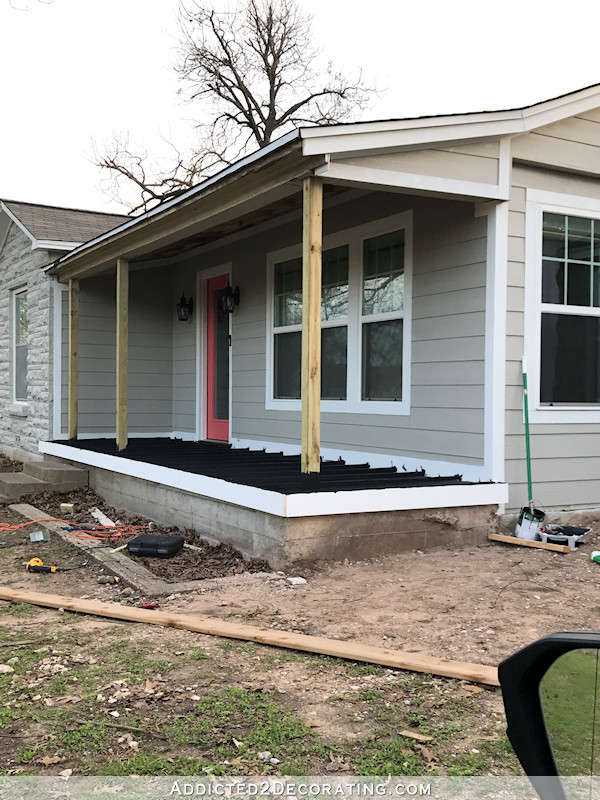 You can click here to read more about that process.
And then I critter-proofed the spaces that would be under the floor boards…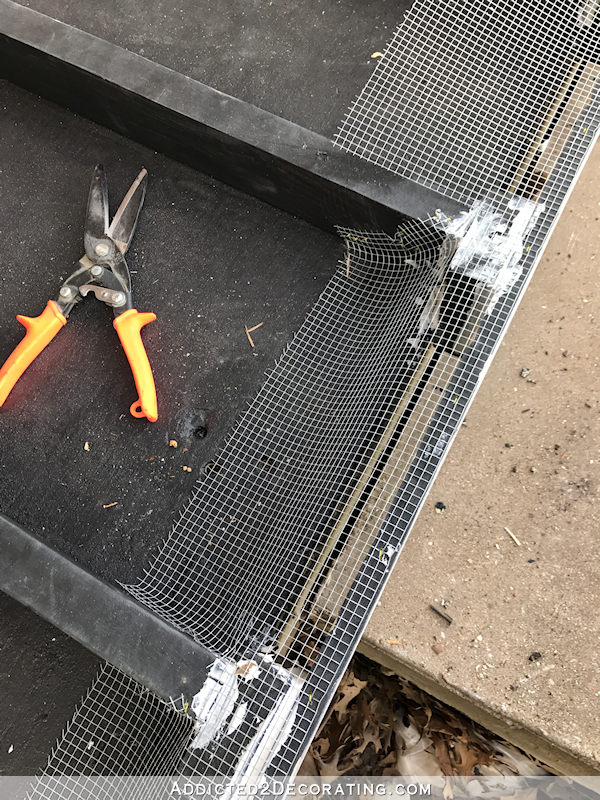 You can click here to read more about that.
So with all that prep work finished, I was finally able to install the floor boards! That was pretty straightforward. I cut them to fit the joists, screwed them down with DeckMate screws (two screws at every joist), and used two paint sticks (just the small paint sticks you get free from Home Depot) and placed one stick at each end between the boards to determine the spacing between the boards.
The hardest part was cutting the one board that went over the threshold of the door. It wouldn't sit flat on the threshold because the metal threshold is angled. So placing the board on top created a lip that would have been a tripping hazard. So I had to get creative with my table saw and cut away the bottom of the board at an angle to fit properly over the angled metal threshold. It wasn't easy, and it took me several tries to get it to fit properly…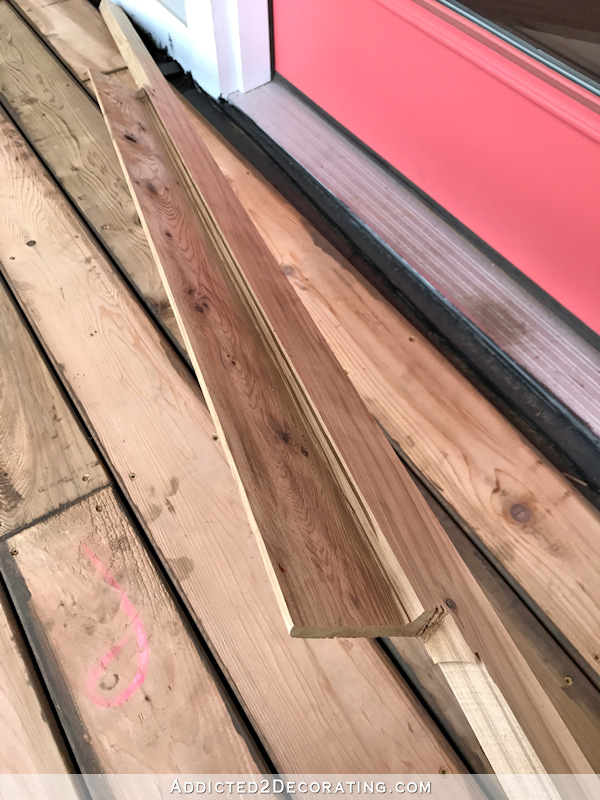 …but I finally got it. I was so proud of how it fit! There's still about a 1-inch space between the wood and the black rubber weather strip under the door, but it's not a tripping hazard at all. You'd have to work hard to get the toe of your show between that black rubber strip and the edge of that wood board.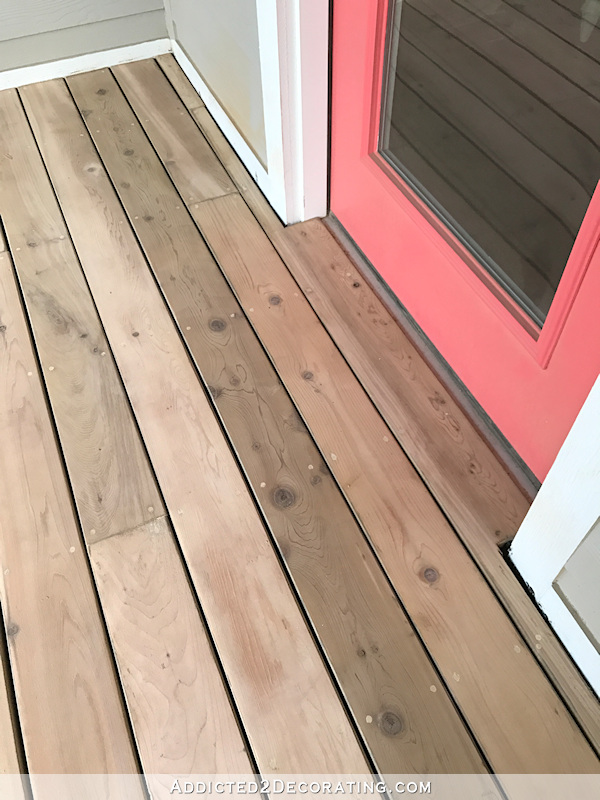 Because I stained/sealed the boards on the bottom, sides, and ends before installing them, I had made a mess of the tops of the boards. So before staining/sealing them, I had to sand them down and get all of that messy stain/sealer off of them. I would have sanded them even if I hadn't made that mess because I wanted these boards to be really smooth. I also filled the screw holes with wood filler and let that dry before sanding.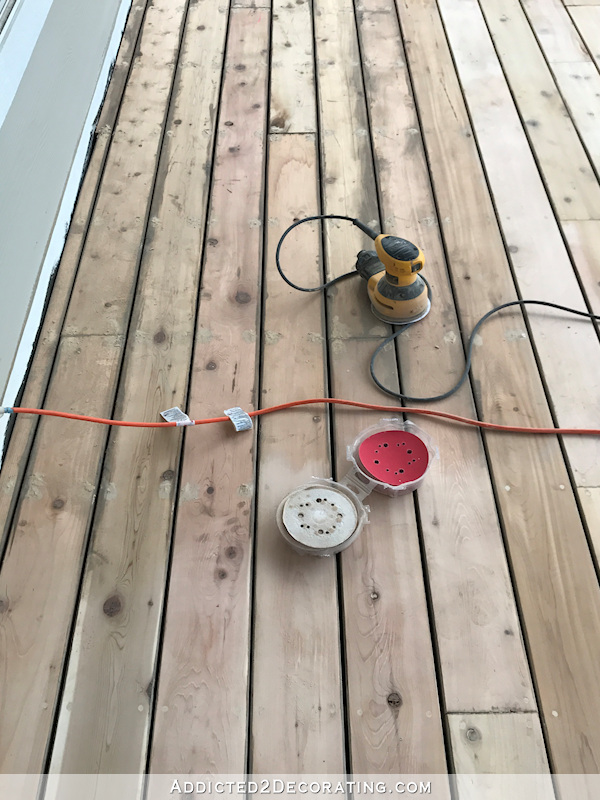 The wood filling and the sanding are two steps I wouldn't have done on a back yard deck. But this is my front porch. This is the first part of my house that visitors will see close up, and I wanted it to be a step up from a back yard deck, so I did the wood filling and the sanding. I just used my rotary sander and 150-grit sanding discs. Here's how it looked with the whole thing sanded.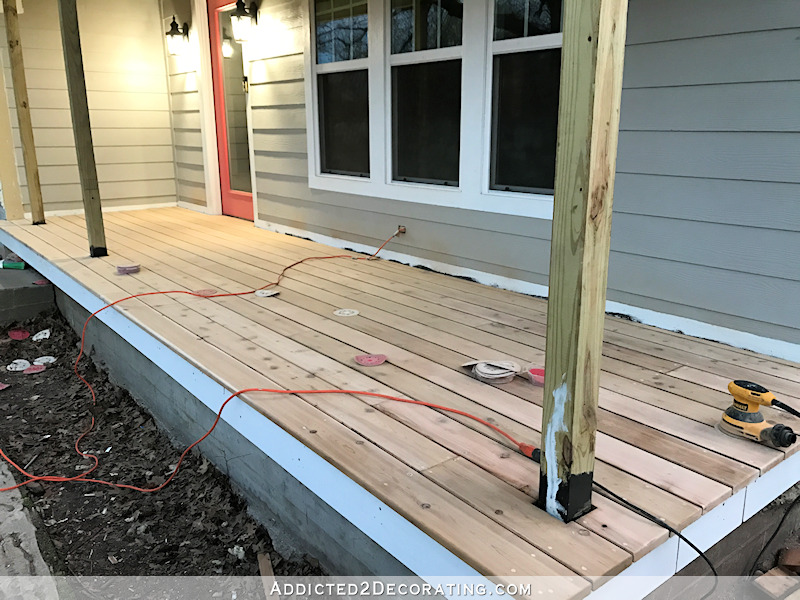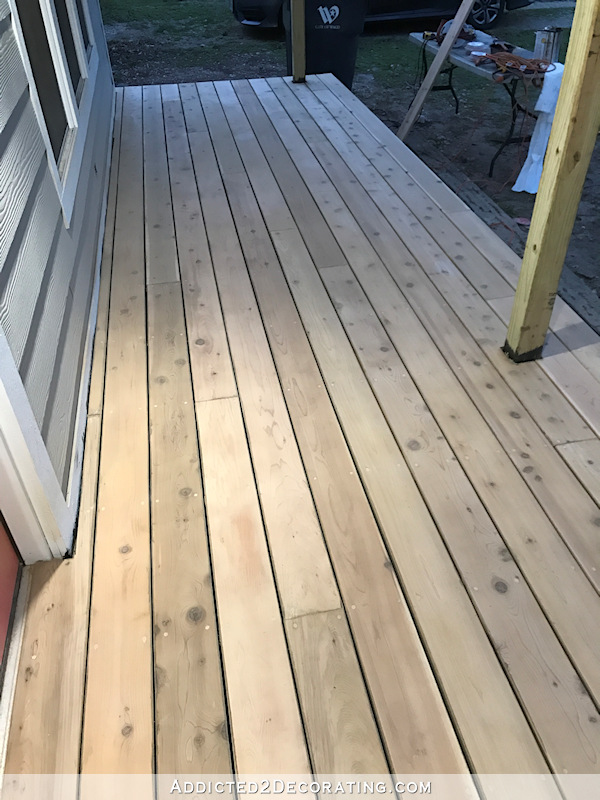 And while I love the natural wood color, it just wasn't quite my style. I wanted darker and richer, so I sealed it with Thompson's Penetrating Timber Oil in semi-transparent Mahogany. I brushed on two rows at a time, brushing the entire width of the porch, and then went back and wiped off any excess sealer. Then I moved on to the next two rows. You can see the color difference here…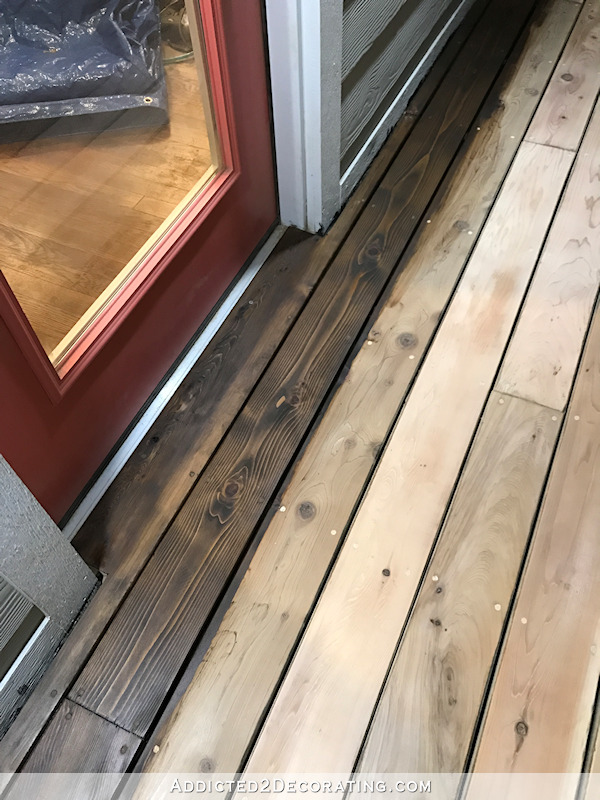 And here's the whole thing with one coat of sealer…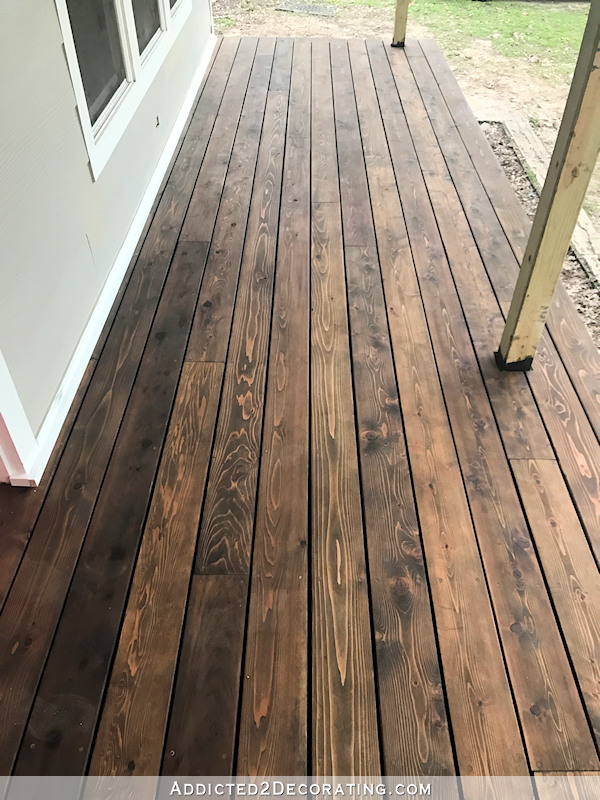 I'm undecided on whether or not I'll do another coat. I keep reading different things about that. On the can, it says one coat is recommended. But in the Q & A section on the Home Depot website, more than one person said that they called the company and were told that if you do two coats (about two days apart), it will last about three years. So I might call the company myself and see what they say about that. Since I used cedar, and cedar is soooo dry, I really would like to do a second coat unless they tell me not to.
And finally, I sanded, wood filled, and painted the fascia board, and then I added some trim to cover the cut edges of the floor boards that I had to rip to fit right up against the house (i.e., under the windows, to the right and left of the door, etc.).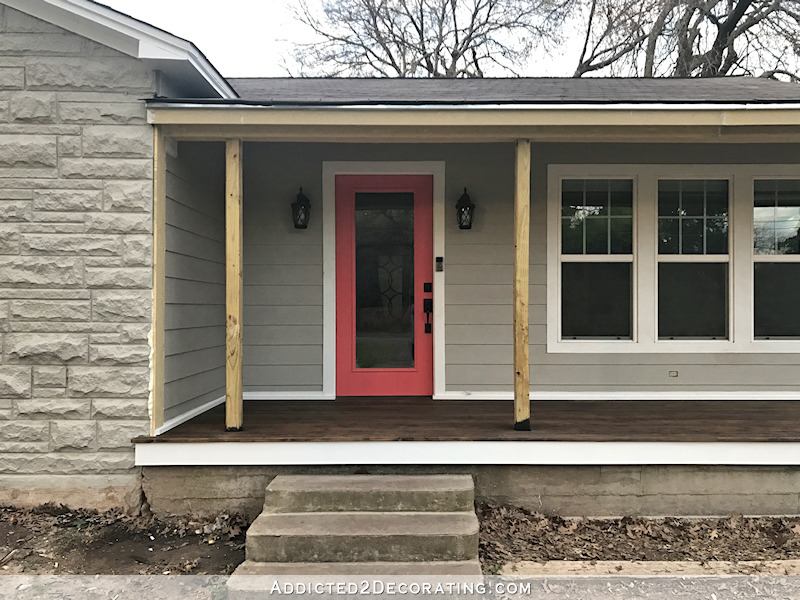 One thing I forgot to mention, and didn't get a picture of, is that when I installed the porch boards, I didn't cut the boards on this end before installing them. So when I installed them, they were all varying lengths. After they were all installed, and before I did the sanding, I measured and marked a straight line and then cut all of the boards at once with my circular saw. That gave me a perfectly straight edge on this end of the porch.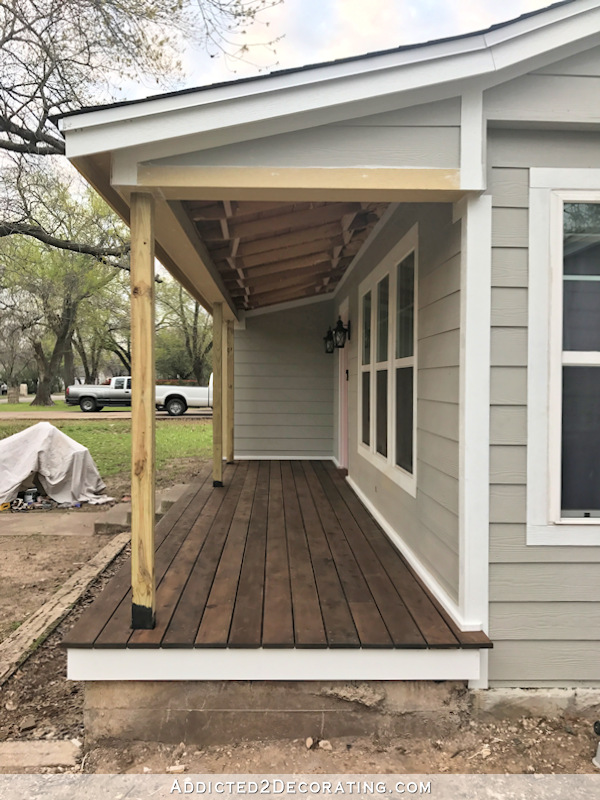 I'm so proud of how this turned out. It adds so much warmth and character to the front of the house.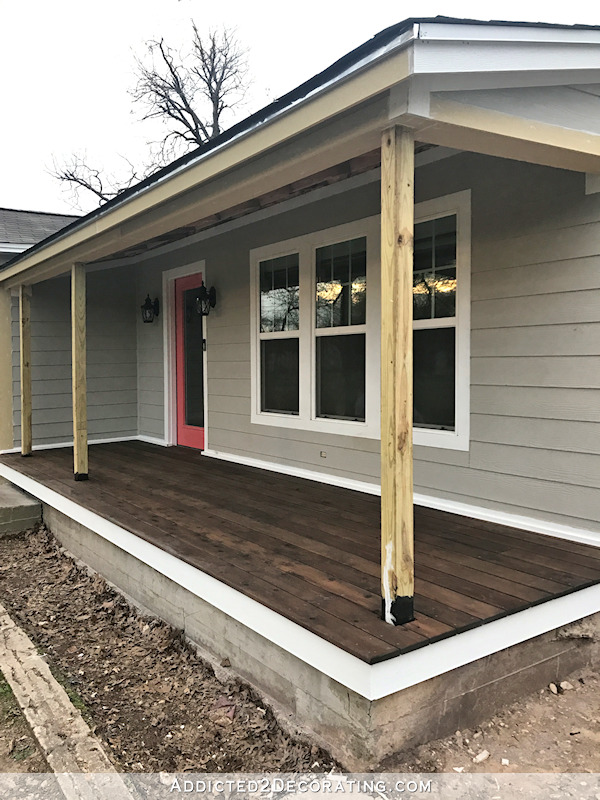 And I think it'll look so nice once I get the columns wrapped, trimmed, and painted the white trim color. And of course, I still need to paint that trim that was installed last week as well.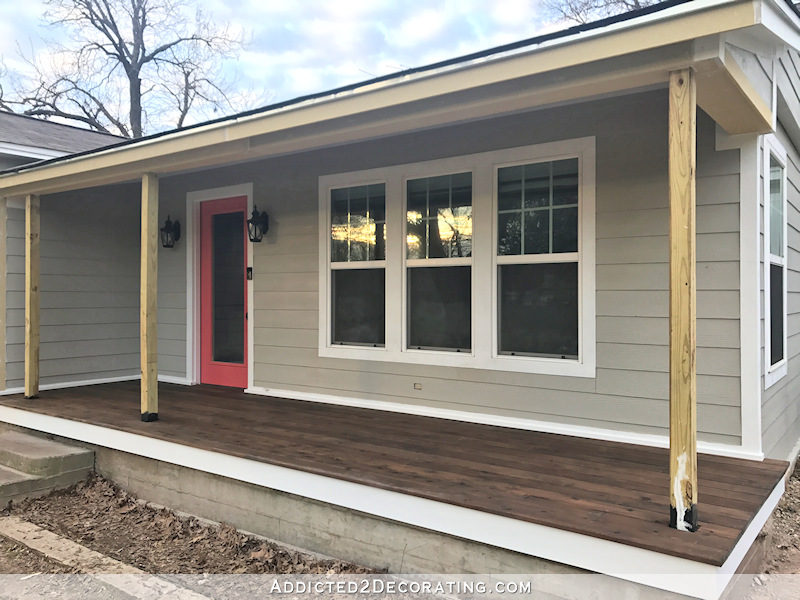 So this porch is coming right along! But there's still quite a bit left to do before I can call it finished.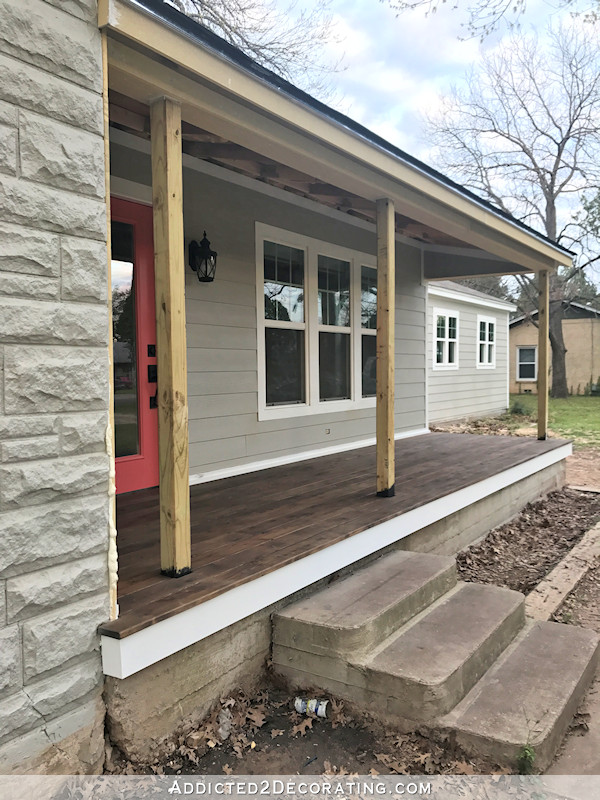 Those concrete steps will soon be replaced with new, wider wood steps to match the porch. As I mentioned, I need to wrap, trim, and paint the columns. And then I still need to install the tongue-and-groove boards on the porch ceiling. But now that the floor is finished, I'm feeling very motivated to continue and get the rest of it done!
UPDATE:
The front porch columns are now finished as well! Click here to see how I wrapped the skinny, bare front porch posts and turned them into beautiful columns.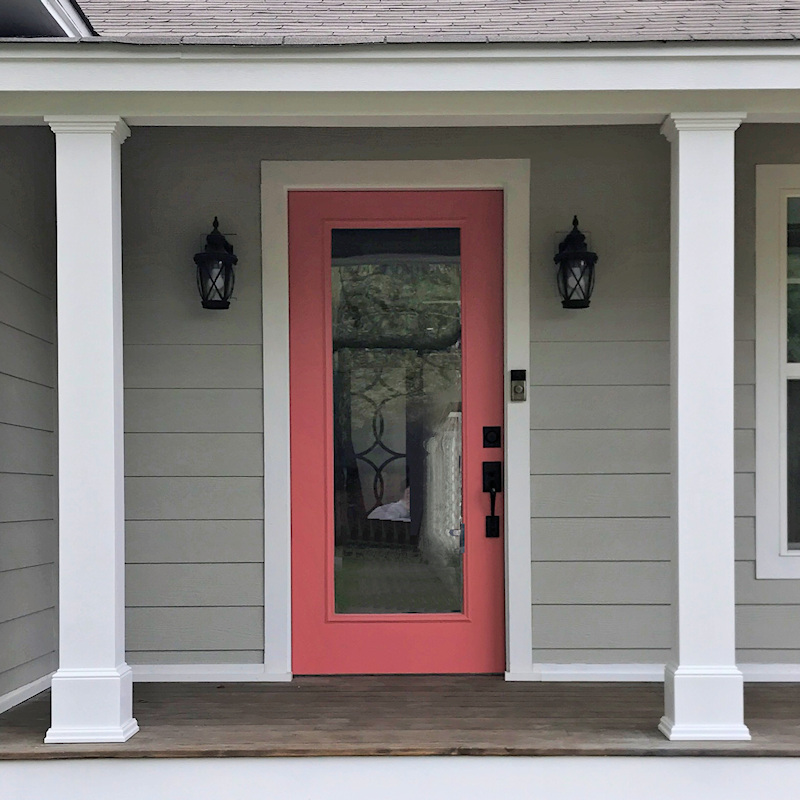 Addicted 2 Decorating is where I share my DIY and decorating journey as I remodel and decorate the 1948 fixer upper that my husband, Matt, and I bought in 2013. Matt has M.S. and is unable to do physical work, so I do the majority of the work on the house by myself. You can learn more about me here.