Last Updated on December 24, 2015 by Kristi Linauer
Quite a few of you have asked me to show a full view of the kitchen so that you could get your bearings and see how the three walls relate to each other in the space; soooo, here it is…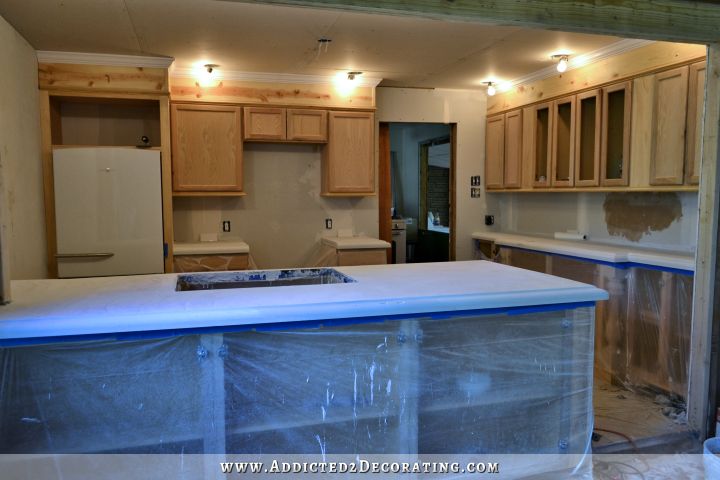 And here's how the kitchen relates to the rest of the house, just in case you were feeling kind of lost…
And a zoomed in view of the kitchen and breakfast room floor plan. I was standing in the front corner of the breakfast room to take that first picture above.
I can't believe I've failed to show y'all a full view until now!  I guess I've been so focused on the details that I forgot the big picture.  🙂
I spent a good portion of yesterday sanding my countertops.  Using my rotary sander, I started with 60-grit and I'll work my way to 220-grit.  And let me tell ya, sanding concrete is a messy job!  At least on the first pass it is.  But here are a couple of pictures of the difference the sanding made.
This is on the peninsula, and the area towards the foreground of the picture (towards the bottom) has been sanded, and the back section has not yet been sanded.  You can see that the back unsanded section has a more solid white, almost chalky appearance to it.  The front sanded section has more of a grainy look to it.
It actually looks and feels more like…well…concrete.  Or perhaps like some sort of stone.  And it's hard to describe, but it just has a more durable feel to it.  Before sanding, it felt like the countertop would be very pourous.  Now after the sanding, not so much.  (It does still need to be sealed, though.)
Here's a look at the countertop on the wall of cabinets.  Again, the front section has been sanded, and the back section hasn't yet been sanded.
The sanding did make a slight difference in the color, but overall it still reads as white.  Here's a full view after the sanding, and you can see that the countertop still reads white, and still looks great with the white subway tile.
And in that picture above, you can see that I'm also working on a fix for the dent caused by my sander mishap.  What you see in that picture is a very quick test of an idea.  I was just trying out something to see if it will work, and I do believe it will!  I ended up mixing half concrete and half unsanded grout with a bit of water to make a thick paste, and then I packed that paste into a small piece of the edge form.  I pressed it tightly against the edge, and then swiped the edge form from left to right, which left the concrete/grout mixture to fill in the dent.
Of course, I did this very quickly last night (I took all of about five minutes on it) as a test, and I didn't get the color just right, so that needs work.  But at least now I know for sure that this method will work, and the dent can, in fact, be fixed!  Yay!
It'll be another full day of sanding, and hopefully I can get that finished and then get at least one coat of sealer on these countertops.
Now in other kitchen news, I'm second-guessing my cabinet color choice.  Of course.  Because that's what I do.  (And yes, I drive myself crazy with my constant second-guessing, but I can't make myself stop.)
I love the Derbyshire color from Sherwin Williams.  It's the one on the bottom right corner of the door in this picture…
But ever since I saw this kitchen by Kishani Perera…
…I just can't get that paint color out of my mind.  It looks a bit brighter than the one I had selected.  That one is called Once Upon A Time by Benjamin Moore.  I love it.  I think I'll get a sample and check it out just because I want to be very sure that I'm making the right color choice.  I mean, painting kitchen cabinets is a big job, and painting them green is a daring choice (even for me!), and I want to get it right.
I still haven't even decided what paint I want to use (all paint companies can color match, so it doesn't matter where you choose your color).  I use Behr for just about anything and everything, but when it comes to kitchen cabinets, I've always used oil-based paint.  But I'm thinking this time, I'll actually try latex.
Decisions, decision!  But for now…sanding…and hopefully some sealing.
Addicted 2 Decorating is where I share my DIY and decorating journey as I remodel and decorate the 1948 fixer upper that my husband, Matt, and I bought in 2013. Matt has M.S. and is unable to do physical work, so I do the majority of the work on the house by myself. You can learn more about me here.
I hope you'll join me on my DIY and decorating journey! If you want to follow my projects and progress, you can subscribe below and have each new post delivered to your email inbox. That way you'll never miss a thing!