Last Updated on December 24, 2015 by Kristi Linauer
Last week, I had the privilege of attending the Rust-Oleum Blogger Event in Charlotte, North Carolina. It was a whirlwind two-day event, and I finally got to meet many of my favorite bloggers who I had only known online until then.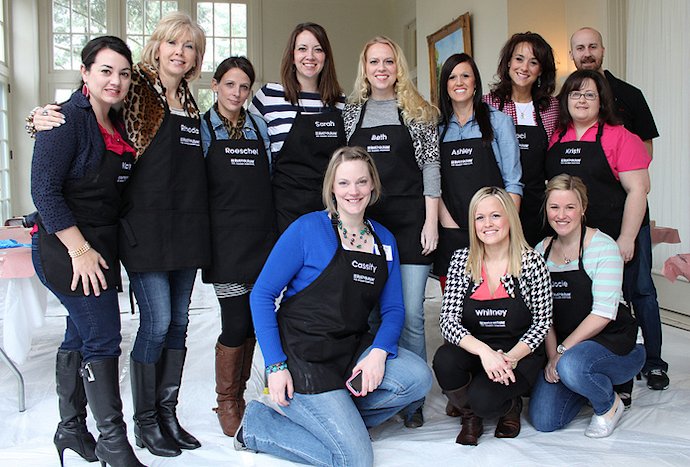 Back row: Kate, Rhoda, Roeshel, Sarah, Beth, Ashley, Traci, Ethan, and me.  Front row: Cassity, Whitney, and Jocie.
We stayed at the beautiful Duke Mansion…
And we were treated to an amazing dinner with two speakers who you'll probably recognize…
Then we got to do some hands-on staining and polyurethaning (which I evidently get a big kick out of 🙂 )…
And I got to try out a new stain color that isn't in the stores yet.  It's a beautiful darkish medium "true" brown color with just the tiniest hint of red, and it's called Carrington.  So keep an eye out for that.  It's my new favorite, for sure!
I swiped the picture above and below from Traci at Beneath My Heart.
And here's me with one of my new favorite people in the world.
I absolutely loved meeting everyone there, and I could definitely call each and every one of them "one of my new favorite people in the world", but let me just say that Traci from Beneath My Heart is one of the most hilarious people I've ever met.  Anyone who knows me knows how much I LOVE to laugh…and anyone who can make me laugh so hard that I have tears rolling down my face and can't catch my breath is a keeper in my book.  🙂  Seriously…the woman is crazy…in the very best way.  😀
So it was a fantastic time, and I love Rust-Oleum even more now that ever.  They didn't even have to fly me out to North Carolina and treat me to an amazing dinner for me to say that.  I've always loved their products, and if you take a look through the projects on my blog, you'll see Rust-Oleum products popping up in almost every one of them that required spray priming and painting.
They've been my brand of choice because their products are amazing.  Whether I'm doing a fun craft project, or tackling something tougher like painting bathroom faucets and a shower enclosure, I know I can count on Rust-Oleum.
But what makes me like them even more (if that's even possible) is that Rust-Oleum knows and understands the value of bloggers.  Most companies today could definitely learn some lessons from Rust-Oleum in this area.  We bloggers have a strong and powerful voice.  We're a force to be reckoned with.  Rust-Oleum gets it.  And for that, I appreciate them and am so very thankful to them.
---
And now, Part 2 of the story…why I almost cancelled this trip at the last minute…
This story is about to take a personal turn.  🙂
Let's back up to November 2012.  I got an email from Stephanie at Rust-Oleum inviting me to this Blogger Event.  My first thought was 'there's just no way I can go.'
For those of you who are new around here, let me explain.  My husband, Matt, has M.S. and has been in a wheelchair for about three years  now.  While he's fairly independent, he still needs my help regularly throughout the day with various things.
There's no way I can just pack up and go on a trip and leave him here by himself.  He simply must have someone here who can help him with certain things.
So I was ready to say, "Thanks for the invite, but I can't make it," when my mom told me about an agency here in Waco that will send someone to your house to stay with people who need assistance like Matt does.  We checked into the company, and it sounded fantastic.  They sent a woman out to our home to meet us, fill out all of the paperwork, and to make notes of the specific help that Matt would need while I was gone.
Everything was set.  They would arrange for a male caregiver to stay in our home, and I felt very peaceful about leaving.
Until he showed up on the night I was supposed to leave.
Now let me say that the man they sent was very nice.  I could tell right off that he and Matt would get along just fine.
So what was the problem?
Well, somewhere along the way, someone at that agency failed to communicate the fact that we have a big 70-pound dog named Boo who would need to be taken out at least three times a day, and would need to be fed while I was gone.
And the man they sent was deathly afraid of big dogs.
I was supposed to be in the car heading to Dallas by 7:15pm.  But here I was at 7:15, learning that the man who they sent was so afraid of dogs that he wasn't going to be able to take Boo out or feed him.
I tried to convince him that Boo was just a harmless teddy bear who had never so much as bitten a human before, but he was unconvinced.  His fear simply wouldn't let him see Boo for the harmless pup that he is.
So I, already feeling a bit anxious and stressed about leaving Matt for the first time since  he's been in a wheelchair, and feeling anxious and nervous about traveling for the first time in years, completely went to pieces.  I planted my bum on my banquette, made a frantic call to the agency that sent this man to our house, and made a tearful plea that they fix the situation immediately becuase I was supposed to be on the road.
They tried to find someone else to come to the house, but the only available caregivers who could get there on such short notice were all females.  I had planned well in advance specifically so that we could have a male caregiver here with Matt, and I knew Matt wouldn't be comfortable with a woman staying here with him.
So finally, I had to make last minute arrangements for Boo to stay at my parents' house, which meant that I had to gather his stuff, drive him across town, and make sure he was settled before I could leave.
I was finally able to leave Waco at about 8:35 to head to Dallas…feeling stressed, anxious, exhausted, nervous, sad, and so many other negative emotions.  And all of those emotions surfaced once I was in the car alone, driving to Dallas.  I cried about half the way there.
So I thought that was the end of it.  Once Boo was settled, I thought that I could then relax, confident that Boo and Matt were now taken care of.
I was wrong.
When I finally got to my brother's house in Dallas, I called Matt to tell him that I had made it okay.  That's when he told me that the man who was staying with him needed to leave in the morning at 10:00, and would be gone for about an hour.
Okay, without going into too much detail, let me just explain that if Matt is going to need any assistance at all, it's going to be in the morning.  Once his morning…ummm…business…is taken care of, and he's safely back in his wheelchair, he can be on his own without any problem at all.  But until that's taken care of, he needs someone here with him to help him transfer to and from the wheelchair just in case he doesn't have the leg strength to do it on his own!!!
So once again, I was furious…and anxious…and frightened.  And there were more tears.  I could just imagine this man leaving for "just one hour", and coming back to find that Matt had fallen on the floor in the bathroom because he tried to transfer himself but didn't have the leg strength to do so.
I went to bed at midnight, and tried my hardest to sleep, but just couldn't.  I finally drifted off at about 2:00am, but woke up at 4:00am, still anxious and worried.  Finally, at 5:45am, I called the agency and spoke to the on-call person.  I obviously woke her up out of a deep sleep, but honestly, I didn't care.  I explained the situation, and told her that the reason I hired them in the first place was so that I could have peace of mind, and ever since they stepped foot in my home, I had had the very opposite of "peace of mind".
She apologized profusely, and assured me that they would get a male to stay with Matt during that hour.
And it's a good thing they did, because that's precisely when Matt needed assistance.
So after all of that, I was determined that I would never travel again.  In fact, I had determined that as soon as I arrived at the airport on Wednesday morning, I would get online and sell my ticket to the Haven Conference in August.  There was simply no way I was going to deal with that stress again.
But I didn't sell my ticket.  I'm still going to Haven.  And after meeting all of the bloggers at the Rust-Oleum Blogger Event, I'm even more excited about Haven and having the opportunity to meet even more bloggers.
But next time, I'll know exactly what questions to ask, and exactly what requirements need to be communicated to this agency.
I'm willing to try it one more time.
Addicted 2 Decorating is where I share my DIY and decorating journey as I remodel and decorate the 1948 fixer upper that my husband, Matt, and I bought in 2013. Matt has M.S. and is unable to do physical work, so I do the majority of the work on the house by myself. You can learn more about me here.
I hope you'll join me on my DIY and decorating journey! If you want to follow my projects and progress, you can subscribe below and have each new post delivered to your email inbox. That way you'll never miss a thing!