Last Updated on January 14, 2019 by Kristi Linauer
I went shopping yesterday in hopes of finding the perfect fabrics for my living room. When I set out on my search, I was on a mission to find two things: (1) a watercolor floral print for pillows, and (2) the perfect orange or orangish coral fabric for my chairs. Purple would be my fall back color for the chairs if the orange/coral didn't work.
I did actually find the perfect watercolor floral — P Kaufmann Paint Palette Punch, which is a fabric that I actually considered way back in January 2015 (you can read about it here), but I decided to order a couple of other fabric swatches at that time, wasn't pleased with any of them, and then moved on to other projects. And now, almost three years later, I've come full circle. This is definitely the perfect watercolor floral fabric for my living room now.
But as far as the perfect orange or orangish coral fabric for chairs? I'm here to tell you that no such thing exists. There are some truly gorgeous orange and coral fabrics available, but none that work with my light green loveseat. Next to that loveseat, all of the coral and orange just looked off, like it was trying too hard. I really don't know how to explain it, but it was all wrong.
Then I came across a gorgeous deep purple fabric at Joann. It was a very soft chenille fabric, and it looked so pretty with the light green loveseat fabric.
It looks awfully dark there, but in person, it's unmistakably deep purple…and oh, so pretty. Unfortunately, it was the wrong fabric. It's thick enough that I assume it's supposed to be upholstery fabric, but it's stretchy on the bias. There's no way in heck I'm going to mess with trying to upholster chairs with fabric that's stretchy on the bias.
Plus, I was really concerned that such a deep purple on my chairs, which will be right there on the right as soon as you enter the front door, would kind of suck the energy out of the room. It's gorgeous, but it's soooo dark. But any purple lighter than that really doesn't look good with the green loveseat fabric. It's either deep purple, or it's no purple at all.
So I decided on no purple. With no coral/orange and no purple, where did that leave me?
Right back at my original fabric (Crypton Clooney Parchment) that I've already purchased and have sitting in the corner of my living room just waiting to be used. I originally bought it to upholster the sofa, but now that the sofa is out of the picture, it'll work great on the chairs.
The whole reason I purchased this fabric in the first place is because I was looking for the perfect velvet sofa fabric, and I came across this beautiful fabric that is as soft as any polyester velvet I've ever seen, and has a similar sheen. But best of all, it's a Crypton fabric — one of those super resistant-to-all-the-things fabrics. It's a neutral color, which I know, seems very boring for me.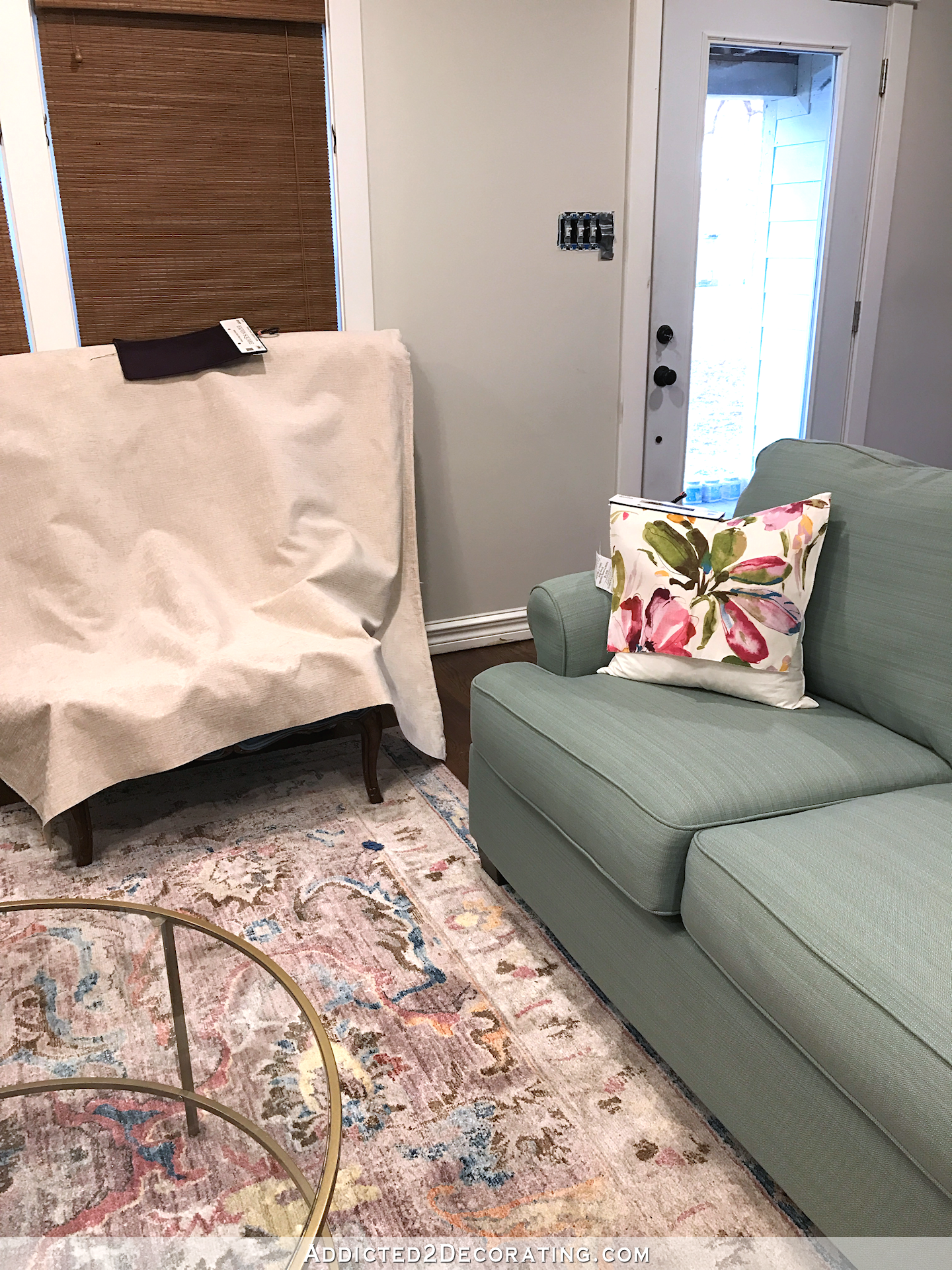 But one reason I've had the chairs for so long without doing something with them is that I've been waiting and waiting for the perfect place to use them. I have a vision for those chairs that wouldn't fit just anywhere. I want to upholster them in one color, and then use a contrast color for the welt, buttons for the tufted backs, and as a contrast band along the bottom of the skirts.
So I'm going to do all of that in a dark purple! That'll take them from just boring neutral upholstered chairs to something really amazing and custom, in my humble opinion. I thought I had found the perfect deep purple fabric, but when I got it home and looked at it in the light of the living room, it turned so dark it almost looks black.
That's way too dark. I want a deep purple, but I want it to be obviously purple to complement the purple in the area rug.
Oh, and one last thing. I purchased this gorgeous velvet pillow cover on Etsy (I found it here) to go on the recliner.
I still need to purchase or make an insert for it, but I love the pattern and how it looks with the rug! To be quite honest, I've never in my life spent so much on a pillow cover. With the shipping cost, it was kind of ridiculous, especially considering I still have to purchase an insert. I think I was not only taken by the loveliness of the fabric, but also by the fact that the seller lives in Eskisehir, Turkey, which is where I used to live. It just felt right to have a pillow from Eskisehir in my living room, even if it did cost quite a bit more than I'd usually spend.
I love how this room is coming together. It's finally starting to feel like "me."
Addicted 2 Decorating is where I share my DIY and decorating journey as I remodel and decorate the 1948 fixer upper that my husband, Matt, and I bought in 2013. Matt has M.S. and is unable to do physical work, so I do the majority of the work on the house by myself. You can learn more about me here.
I hope you'll join me on my DIY and decorating journey! If you want to follow my projects and progress, you can subscribe below and have each new post delivered to your email inbox. That way you'll never miss a thing!