I can't believe April has already come and gone. I had so much planned for April, and somehow the month totally got away from me. I worked hard, and yet there wasn't a single item I could cross off of my 2018 Master List of Home Goals during the entire month. But I suppose any forward progress is something to be excited about, right? 🙂
I managed to get one Greek key drapery panel finished for my living room (and even made a video showing how to make the Greek key design!), and I got very close to finishing a second drapery panel. But the two for the front windows haven't even been started yet.
I wanted so badly to finish those before doing anything else so that I could have my breakfast room back in order (it's currently looking like a drapery workroom with a huge felt-covered table), but once the rain went away and the gorgeous weather set in, I found it difficult to be inside. So I put the draperies aside and headed outside to build my DIY board and batten shutters for the studio. I finished installing those early yesterday morning, and shared the details here.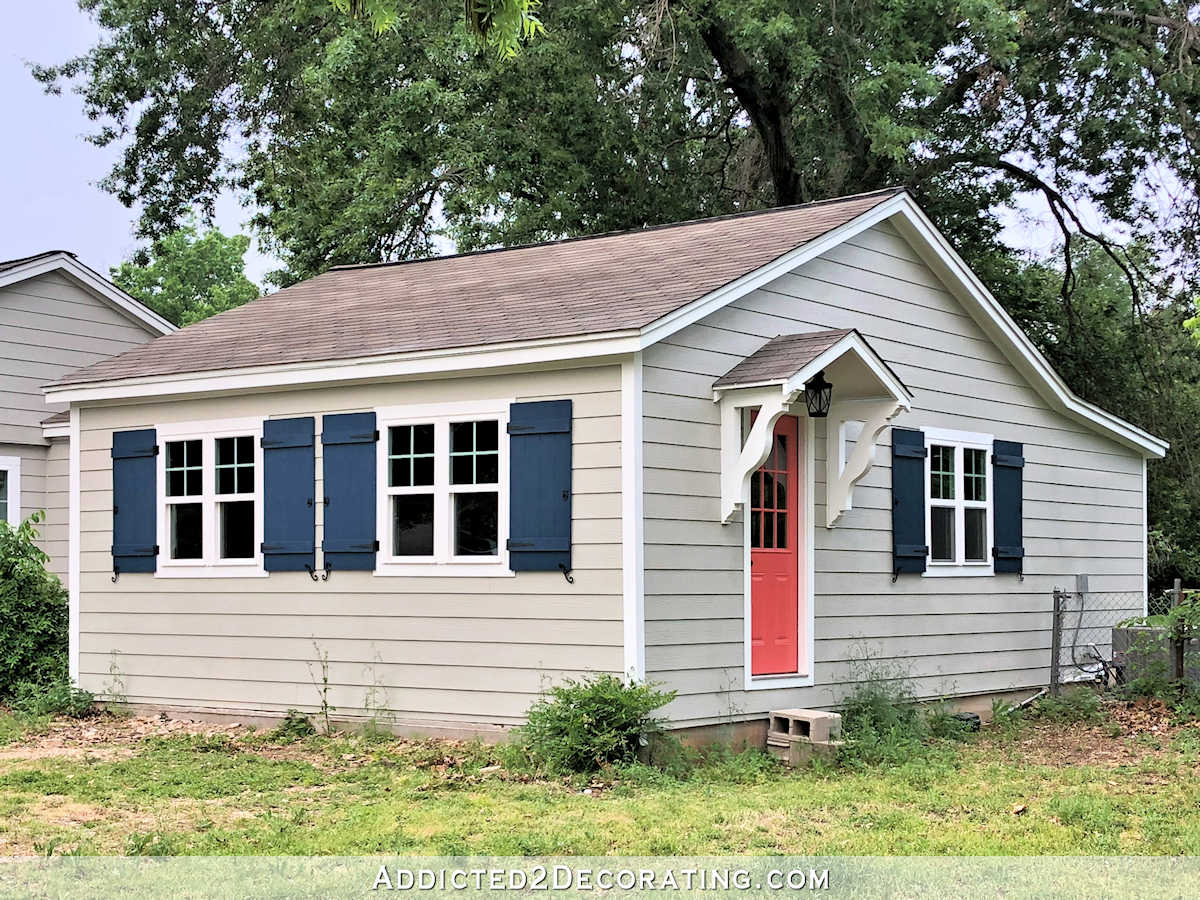 But I still have two windows on the other side of the house that need shutters, so I can't technically cross that item off of my list yet.
I also did a fun little lamp makeover for my entryway, and now I have this happy orange lamp that greets me each time I walk in the front door.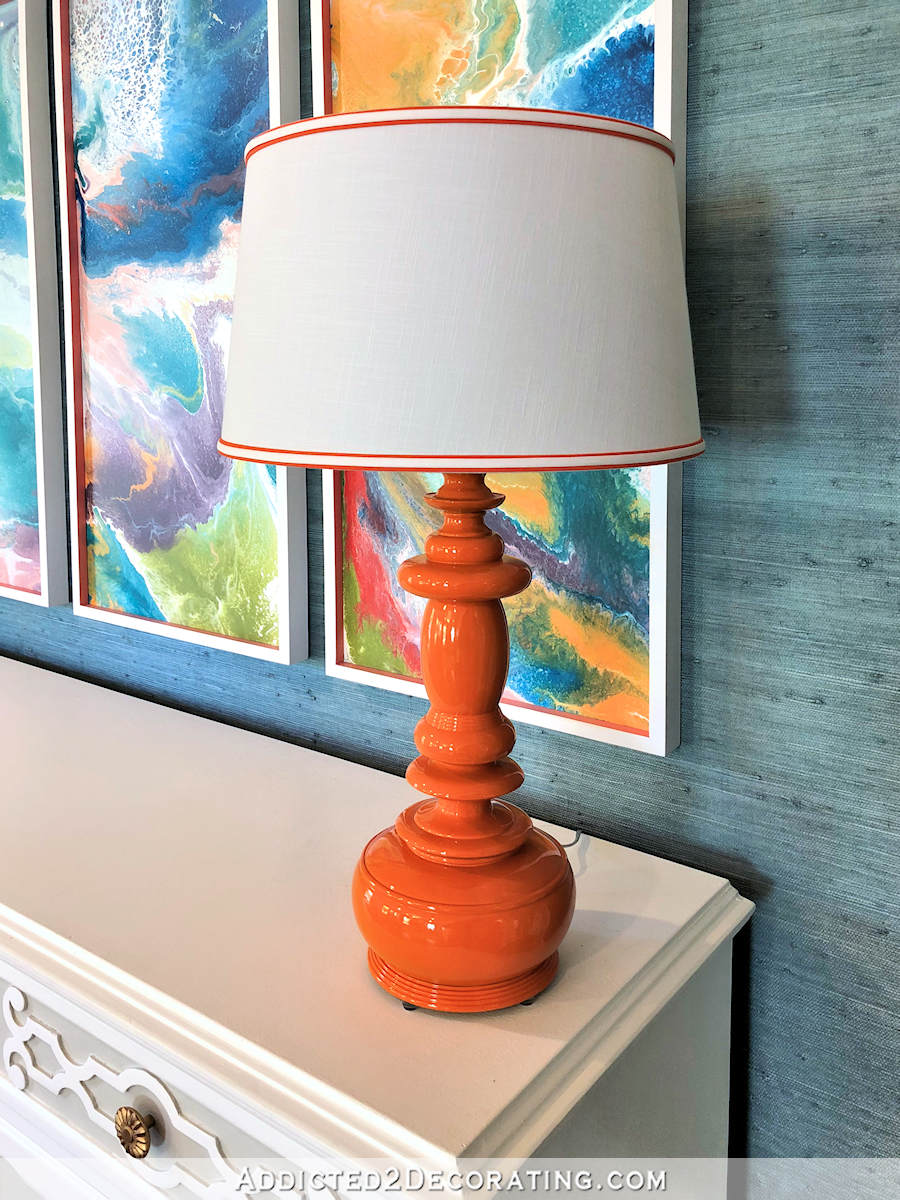 And finally, I spent a couple of days making a knock-off of an $1850 scalloped mirror that I saw and knew I wanted to go above my piano.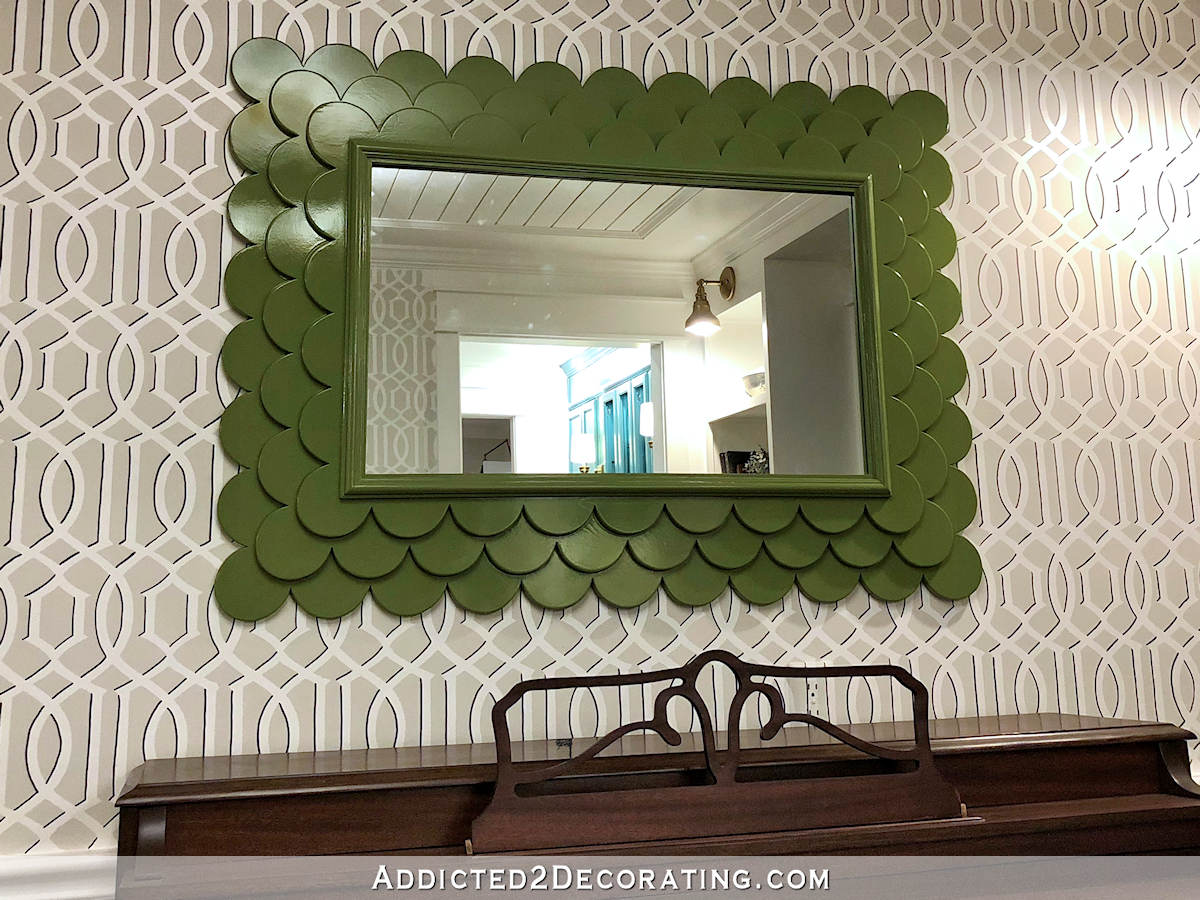 Right now it's looking a bit lonely in there since I've done no other decorating in that room, but I'm still amazed at the difference that just one colorful item makes in a room.
So what does this month hold? Honestly, I don't know. I think I'll just play it by ear this month and see where it takes me.
I ordered these no dig ground screws to use for setting the posts for the handrails on the front porch steps as well as the side studio steps, and they arrived last week.
The reviews looked really good, and this seems way less intimidating than renting an auger, mixing and pouring concrete, etc. I've done that process before, so I'm familiar with it, but if these screws can make the process easier, I'm all for it. If you've used these before and have any tips for me, I'm all ears.
The corbels I ordered for my window boxes also arrived, so I have everything I need to get started on those.
I'd also love to get my entryway finished. It's so close to being done, and it would be so motivating to have one more area completely finished and off of my "to do" list.
I've decided to stick with solid white for the credenza, so that's a quick fix. I need to paint the teal frame around the grasscloth, and also the inside of my front door. And the biggest project will be upholstering that chair that I've had in storage for years. But as far as upholstery projects go, that one should be pretty easy. Then it just needs a little more decorating, and it's done. It's so close!
And then there's the studio. Y'all, I'm having such a hard time with this. I finally got an electrician over here to give me a quote for the studio, and the price he gave me was $1800 for labor only. The cost of materials would be extra. I don't know why, but I'm having such a hard time committing to this. Matt is getting frustrated with me, and wants me to just call and schedule the electrician ASAP. But my thinking is that that's $1800 I could save doing it myself. And with the walls open right now, and the studs completely exposed, wiring is super easy.
And to be honest, I'm just feeling a bit irritated with the whole contractor thing. I've really tried to do better about hiring out jobs and relinquishing my death grip of control over everything, but y'all. Seriously. Every single time I hire out jobs on my house, I'm disappointed. I find that I have two options. I can choose to watch them like a hawk to be sure they do everything to my liking, in which case I may as well do the work myself since my time can't be used doing other things. Or I can relinquish control, spend my time doing something else while they're working, only to find later that something wasn't done like I asked.
The struggle is very real for me. And I want my studio done right. I feel like I could take two days, wire the studio and back rooms, and be done with it. And save $1800 in the process. But Matt isn't thrilled with that idea. *sigh* I need to stop dragging my feet, though, because July 5th will be one year that the studio has been in progress, and that was kind of the deadline I had set in my mind. At this rate, and with me dragging my feet on things like electrical work, there's no way I'll make my self-imposed deadline.
So we'll see how my no-specific-goals idea work out for this month. Hopefully it'll be a very productive month!
Addicted 2 Decorating is where I share my DIY and decorating journey as I remodel and decorate the 1948 fixer upper that my husband, Matt, and I bought in 2013. Matt has M.S. and is unable to do physical work, so I do the majority of the work on the house by myself. You can learn more about me here.
I hope you'll join me on my DIY and decorating journey! If you want to follow my projects and progress, you can subscribe below and have each new post delivered to your email inbox. That way you'll never miss a thing!