Have y'all ever noticed how I'll be on a roll, getting stuff done, and then *BAM* everything comes to a screeching halt, and you won't hear from me for a few days? 😀
Yeah.  I think I hit a brick wall.  After finishing my floors, I just ran out of steam.  But hopefully I'm gaining some steam again, because this week I need to get a bed built!  It's the last thing standing in the way of us moving into our house.
(Well, that plus I still need to purchase a stove, fridge, washer, and dryer, but I'm buying all of those used so there will be no ordering and then waiting around for them.  Yep.  Used.  Since my kitchen and utility room plans are still a bit fuzzy, buying used — and cheap — for now just felt like the most peaceful decision, rather than being pressed to purchase the perfect new appliances for some possible future kitchen and utility room designs that I'll probably change 100 times before the actual remodel.)
Anyway…blah, blah, blah. Let's get on to more interesting stuff. 🙂
I was over at the house again, checking on the floors and, of course, dreaming about future plans. And I had this idea for the living room. You know how the living room has the one big window that looks out to the front, and then the other wall with two windows?
Ugh…I know, I know. I desperately need new pictures!!!! All of my recent, updated pictures are focused on the floors and not on the actual rooms, and I keep forgetting to take new ones!!
Anyway, you see the wall with the two windows? The window on the right is an original wood frame window. The window on the left is a cheap aluminum replacement window. So it needs to be replaced.
BUT, I was thinking… Instead of replacing it with a window that matches the one on the right, why not replace both of the windows with smaller (shorter) windows, and then add built-in bookcases under each one? I'm already planning on adding a fireplace in the middle, so it would be a whole wall of build-ins kind of like this: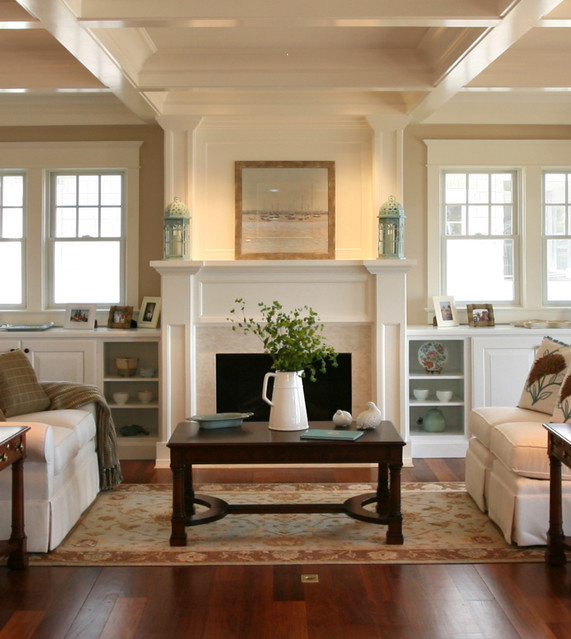 Living room by Asher Associates Architects, via Houzz
What do you think? It's totally doable, right?
And as you know, the built-in cabinets and bookcases that I built in the condo living room were kind of my "practice run" for the house, because I knew I would want to add built-ins somewhere in the house.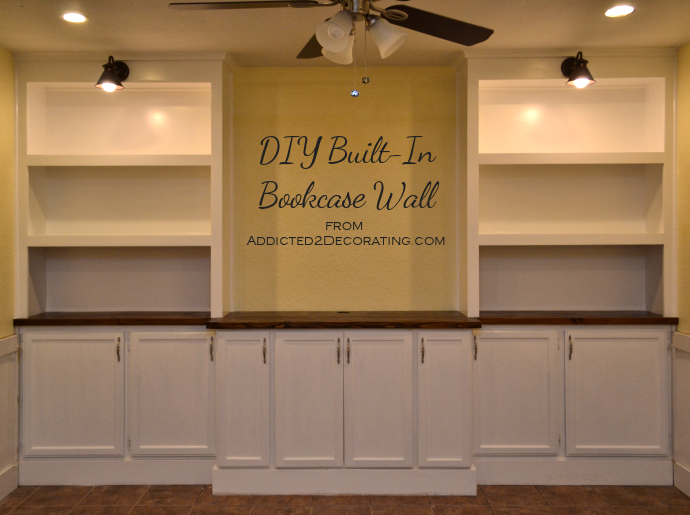 Of course, the ones in the house would be a very different configuration, but at least I won't feel like I'm "practicing" in the house. I feel pretty confident about building built-in bookcases now.
And a great thing about this plan is that I won't have to purchase new windows for the living room. It just so happens that there are already two perfectly sized small windows in the house that I can use — one in each bathroom.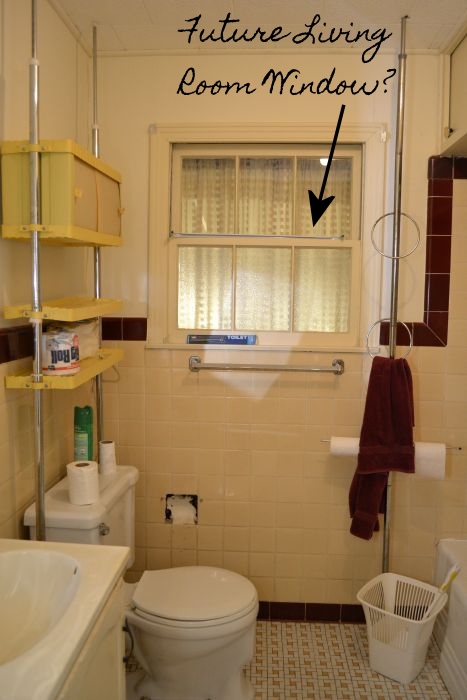 (And yes, unfortunately that bathroom still looks exactly like. I haven't even taken ten minutes to remove the shelving around the toilet. 😀 )
The window in this bathroom looks out to the sunroom, so I was planning on removing it anyway. The window in the other bathroom can be replaced with an inexpensive replacement window until we're ready to remodel that bathroom. So I already have two small windows that can be used in the living room!
Here are a couple more inspiration pics that I found:
Living room by Rockwood Custom Homes, via Houzz
That configuration, with the windows and bookcases on either side of a fireplace, tends to be used quite a bit in craftsman style homes, but I want mine to look less craftsman and more traditional.
Living room by RW Anderson Homes, via Houzz
So I think that's the design I'll be working towards on that wall in the living room. I've never removed or installed windows before, so I may end up needing to hire someone if I feel like I'm in over my head. Or I might wait until my father-in-law visits the next time (which I'm thinking might be in February) to see if he can help me with this. I think the trickiest part will be finding Austin stone to match the exterior of the house to fill under the new shorter windows. That part I almost feel certain I'll have to hire out to someone who knows what they're doing! But we'll see. I might try it myself on a day when I'm feeling bold and brave. 🙂
---
---