Small Kitchen Makeover – Tiny Condo Kitchen Before & After
Well, my small kitchen makeover is finished. I was beginning to think it would never happen, but it's finally done, and it only took three years. Or was it four? Heck, I've lost count by now. 😀
I still have a couple of projects to finish for the dining area, so I really am just going to show you the kitchen today. Hopefully I'll have the dining area completely finished this week, so that before and after is coming soon. But let's get on to the before and after pictures of the kitchen, shall we?
The kitchen was pretty pathetic when we moved in. These condos were built in the early 80s, and it didn't look like a single thing had been updated between then and when we bought the place in July 2006.
It definitely looks a little different now. After reworking some of the cabinets, I then painted them teal. I swapped the original countertops with a beautiful butcherblock countertop that adds so much warmth to the room. And instead of a plain painted wall, I now have a clean white subway tile backsplash.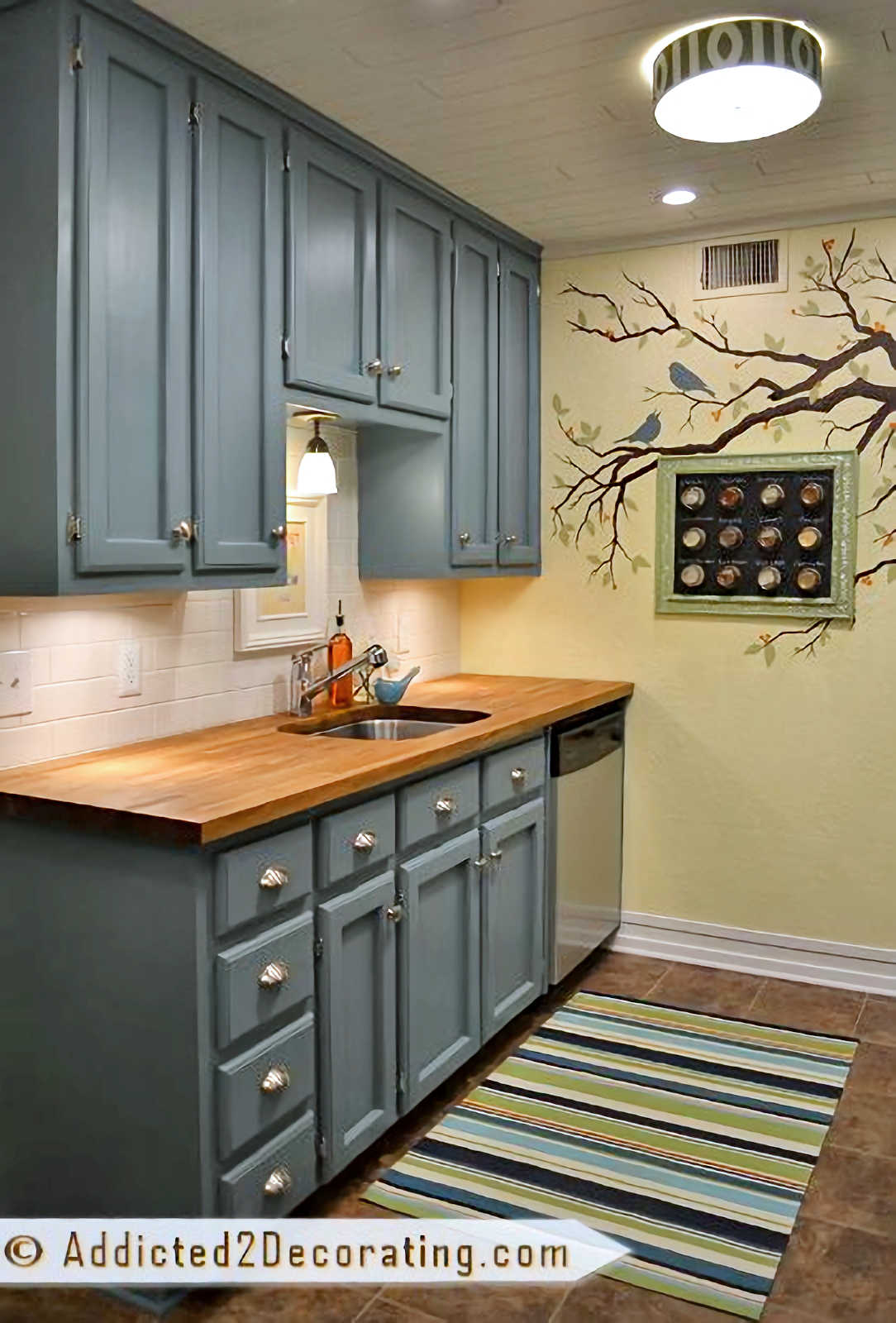 I wanted to costs down on this small kitchen makeover as much as possible, so rather than replacing the existing cabinets, I kept most of them and just painted them. It's amazing what paint can do! I also did a little surgery on the cabinet doors to turn the raised panel doors into recessed panel doors. The raised panel doors (and some of them were double panels) just didn't seem right for the room. I'm just not a big fan of raised panel doors anyway.
This side of the tiny kitchen originally had a very old-looking built in stove, a microwave above the range, and a very old refrigerator.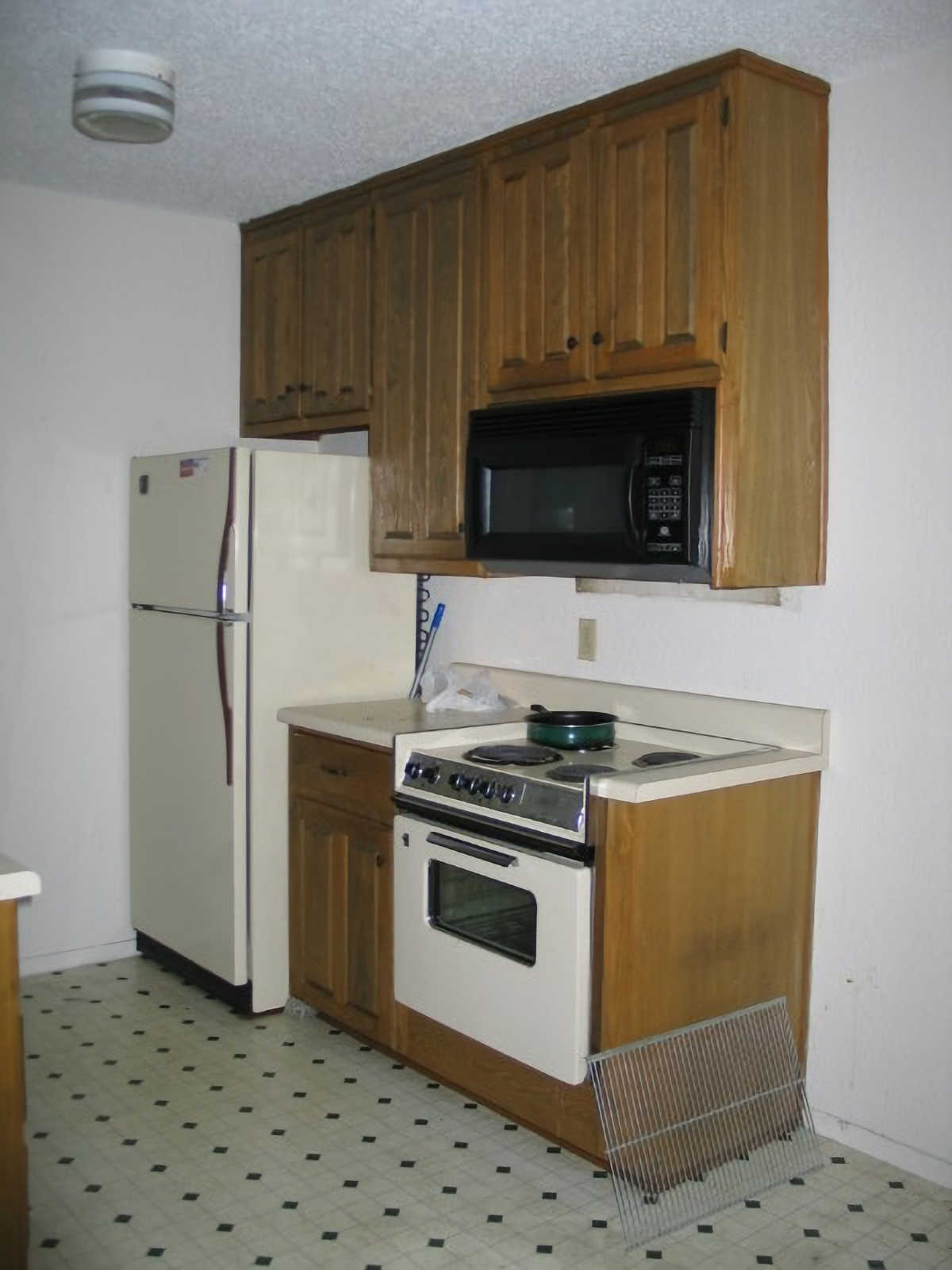 I ended up replacing the lower cabinets on the stove side of the kitchen. I just used stock cabinets from Home Depot. They're not a perfect match, but close enough.
Unfortunately, as soon as we were handed the keys to our new condo, I was a bit too anxious to get the "before" pictures that I didn't even bother to clear away all of the junk that the previous occupants left behind before snapping some of these pictures. Oh well. You're getting the truly authentic "before" state of the condo. :).
I actually did manage to clean off the countertops for the "after" picture, though. 🙂
Matt's favorite thing about the whole kitchen is the tree painted on the wall. I painted it freehand, but it actually started out looking a little different than it looks today. Fortunately, my artistic mom offered her advice on how to fix some of the problem areas on my original tree to make it look better.
And of course, one thing that makes my kitchen feel complete now is my new pantry. It started out as a bookcase, and not a very pretty one.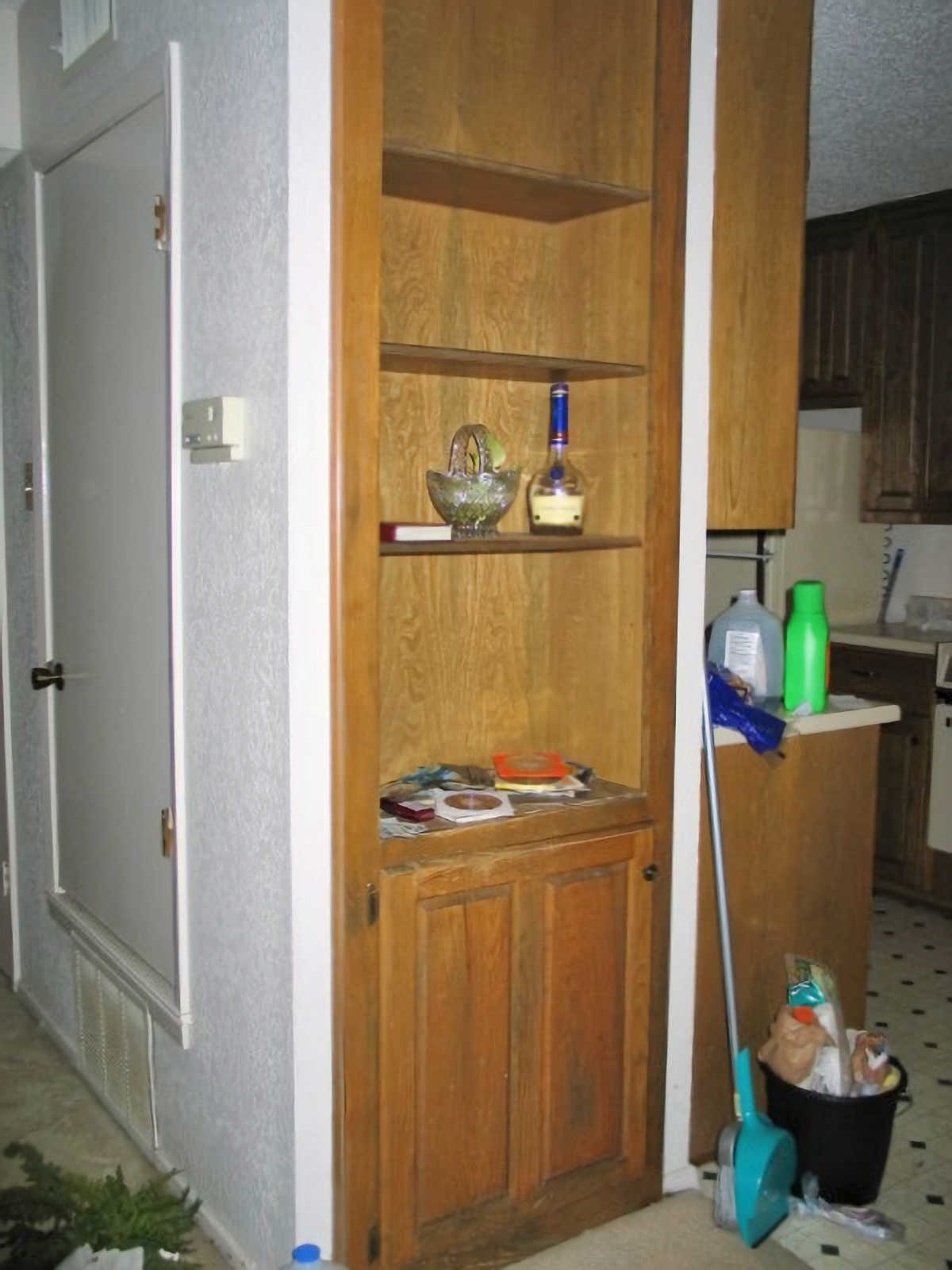 Now that I turned the built-in bookshelves/bookcase into a pantry, it's now pretty and functional…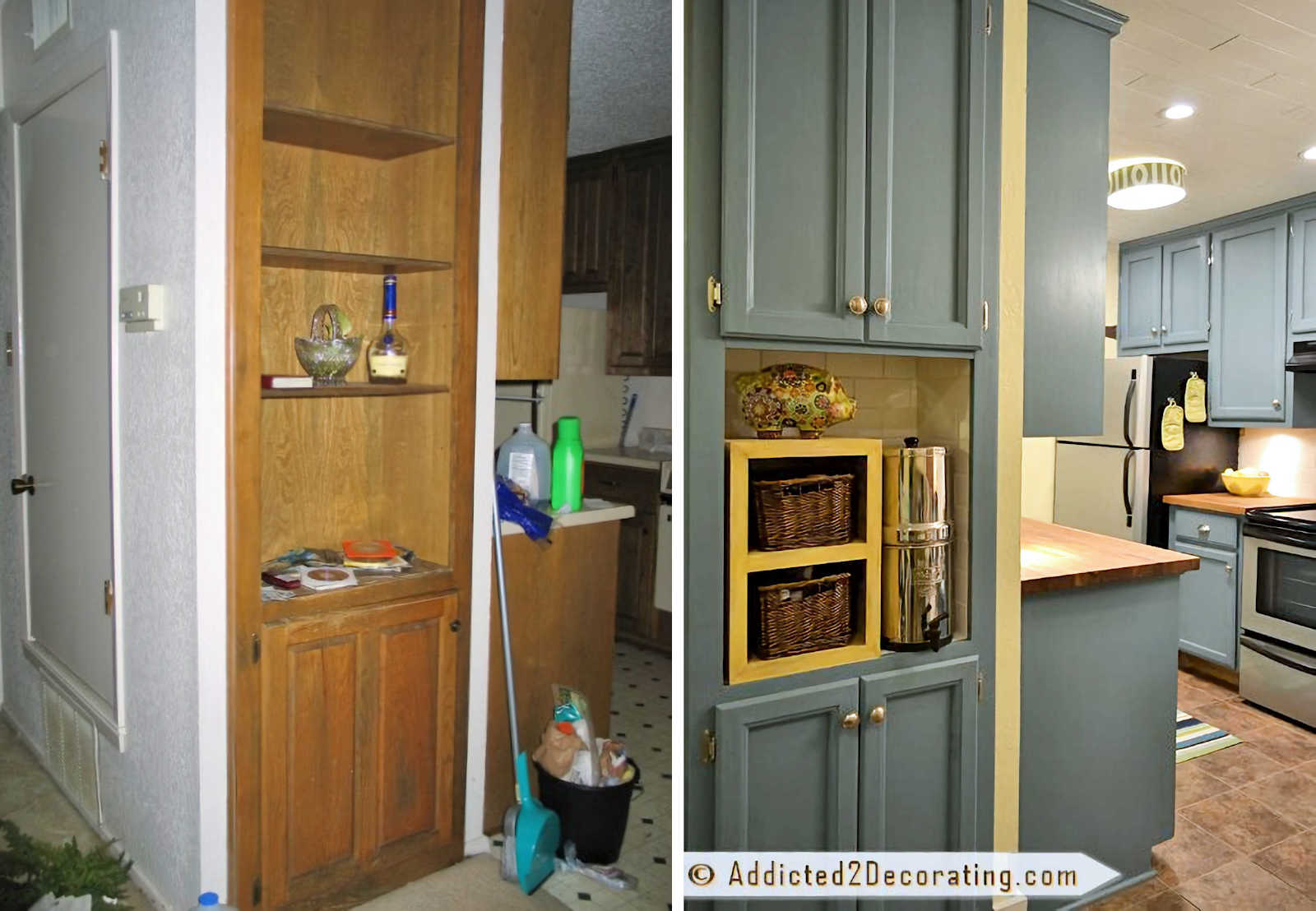 Those are the before and after pictures, but here are a few more pictures showing the details of the small kitchen…
My waterproof artwork above my sink is one of my favorite things. No matter how wet or dirty it gets (and I'm pretty messy at the sink), all I have to do is wipe it off with a sponge and it looks good as new.
I actually get quite a bit of use out of my DIY magnetic spice board. I guess you can tell, since a couple of them are empty. Ha!
And here's a closer view of my "new" countertop. I wish I had done them like this way back when I first installed them. I love the way they look when they're freshly oiled (you can see how I oil and care for my butcherblock countertops here), and the medium brown color is just perfect. I didn't always think that. I was convinced I wanted dark stained countertops, but I really do love the natural medium brown color now that my small condo kitchen makeover is finished.
And here's one last view of my favorite before and after of this kitchen makeover…
Here are a few details about this small kitchen makeover:
Cabinet color: Hallowed Hush by Behr (Home Depot), color matched in Kelly Moore interior oil-based paint in a satin finish,
Wall color: Rich Cream by Behr,
Cabinets: mostly original, but I remade the doors, changing them from raised panel to recessed panel. On the lower side of the stove side, I did use stock cabinets from Home Depot.
Ceiling: I used 1/4″ plywood from Home Depot, cut into 4″ wide strips, and then cut into lengths of four feet. Then I attached them to the ceiling with 1/4″ spacing between,
Backsplash: plain white subway tile from Home Depot,
Wall mural: DIY project, and you can find the details here,
Countertops: butcherblock countertops (similar)
I think that covers everything, but if you have any questions, let me know!
There were a lot of projects that went into this tiny little kitchen. Some of them aren't around anymore, but you can see all of them here:
---
---
[laurel_index title="Condo Kitchen DIY Projects" cat="condo-kitchen-diy-projects" amount="30″ cols="3″ display_ image="yes" cat_link="no"]
Addicted 2 Decorating is where I share my DIY and decorating journey as I remodel and decorate the 1948 fixer upper that my husband, Matt, and I bought in 2013. Matt has M.S. and is unable to do physical work, so I do the majority of the work on the house by myself. You can learn more about me here.