I had mentioned a few days ago that I'd probably have to rent a PODS storage container to put all of my stuff in while people are working in our house (leveling floor, drywall, etc.), but I've decided that this is the perfect opportunity to just get rid of stuff. It's time for a massive purge. I'm going to go through every room, and I'm going to be very honest with myself about whether or not I plan to use all of this furniture I've accumulated, and I'll probably be getting rid of most of it.
I seem to collect furniture like stray animals, and I tell myself that I can't get rid of it because I might need it someday. But it's all taking up way too much room, and I need the space. The fact is that I have all of the furniture that I need for my dining room and entryway. The breakfast room is going to have mostly built-ins. It'll be a while before we have a family room, so holding onto furniture now for a future family room isn't reasonable. And in our future bedroom, I'm sure I won't want to recycle any of the furniture I already have.
So it's time to let this stuff go, starting with the pet station.
Remember that one? I made it from an old secretary desk that our neighbor at the condo gave to me.
I love that pet station, but I just don't have a place for it here at the house.
And then there are these side tables. They were given to me by Overstock.com shortly after we moved into the house. They were originally black, but I decided that didn't suit me, so I painted them antique gold.
I definitely like them better gold, but the overall style still doesn't suit me. I think I'm a wood end table kind of person. Glass tables just aren't really my thing.
Oh, and I have two of those chairs. Those were also given to me from Overstock.com, and they also have to go.
Remember this 40-inch lotus flower mirror I made? It was inspired by a $1500 mirror from Layla Grayce.
I don't have room for it. I made it specifically for my living room/entryway when it was a completely different style. It was fun to make, though!
And then I have two of these Greek key side tables that I made.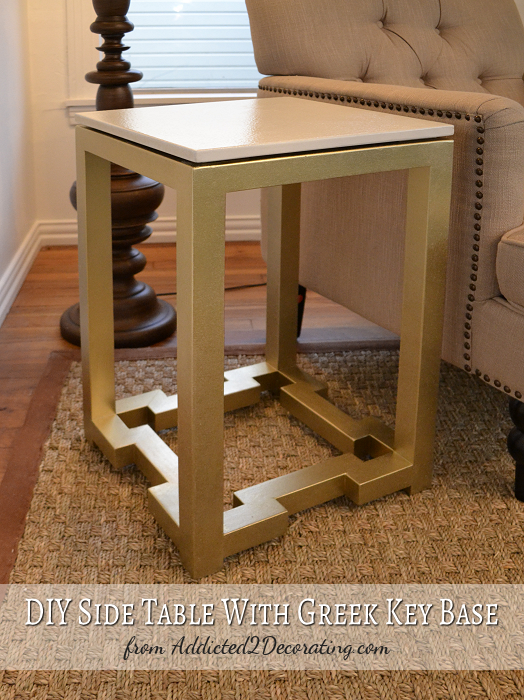 Those were also a very fun project, but I think I'd rather just make something new when I'm ready for side tables, instead of holding on to these indefinitely.
I'm actually still undecided on the coffee table ottoman that I built and upholstered. I really don't want to store it until we have our family room, but on the other hand, it's one of my absolute favorite projects ever. And I do think it would be the perfect jumping off point for our future family room.
Of course, I could always make a new one once we actually have a place for it! So I'll probably end up selling it as well. Maybe. Ugh! I just don't know.
But the credenza definitely has to go.
I had considered keeping it and using it in our bedroom, but it's truly an antique piece of furniture, which means that the drawers don't slide in and out easily. I don't have a problem with them at all, but there's no way Matt could easily get those drawers in and out. And right now, it's sitting in our hallway where I want to build the hall tree. So I have no room for it.
I also have no room for the funky scalloped entryway table I made.
That was a fun project. It's a very long table, though, and requires a long wall. Since I went a different direction in my entryway, I'm afraid I have no walls that can accommodate this table.
I also have a couple of dining tables that I no longer need. Remember the cerused top oak table?
That was a very fun project, and I loved learning a totally new-to-me process called cerusing. But that table was the first thing I bought for our house, and that was back when I had VASTLY different plans for the design and decor of the house. I had originally planned to go more of a country/farmhouse style. Can you imagine?! That's just not "me" at all!
I also have this dining table that I never got around to refinishing/painting.
I'm tempted to just finish it, even though I don't plan to use it. I'd love to see what it looks like painted solid black. I think it would be beautiful.
So I'll be putting all of this, and probably much more, on the Waco Craigslist very soon. If you're local, and there's something you want, just keep an eye on the Craigslist listings.
Anyway, I'm sure there's more that I just haven't come across yet (in the depths of the sunroom that are currently unreachable because of the huge stack of drywall). But I think if I can just get rid of these things, that will clear out a ton of room and make this whole process of clearing out rooms for people to work a whole lot less daunting. And there's no need in holding onto stuff that I probably won't use. Y'all know me well enough to know that by the time we have our family room, I'll have gone through at least 100 new ideas, so I won't want to recycle old ones. 😀
Addicted 2 Decorating is where I share my DIY and decorating journey as I remodel and decorate the 1948 fixer upper that my husband, Matt, and I bought in 2013. Matt has M.S. and is unable to do physical work, so I do the majority of the work on the house by myself. You can learn more about me here.