Considering IKEA Pax Wardrobes For My Studio Storage
Well, y'all. I thought that my living room was just about finished, and that I'd have lots of before and after pictures to show y'all this week. But then I went and rearranged the furniture and decided that the room still needed one last something. So I placed an order yesterday for that one last item that should be here on the 25th. Ugh.
I did go ahead and paint my door, in case you were wondering. It's teal now. But I'll wait to show you that when the room is finished and I get my final pictures.
In the meantime, I've been thinking about my studio, and the fact that the cabinets in there are such a huge project that I absolutely dread. So I got online last night and was looking at random things on Pinterest, and I have no idea how or why, but I came across pictures of closets that had IKEA Pax wardrobes in them that had been completely customized to look like custom built-ins.
I'm sure you've seen one of these closets before. The wardrobes themselves are pretty simple and basic, but once you add trim, custom drawer fronts, crown molding, etc., they look totally custom. Here's just one example from IKEAhackers.
Here's an "in process" shot of the plain wardrobes and drawers with some customizations being added…
And here it is all finished…
You can click here to see that whole closet transformation from IKEAhackers.
I started wondering if this would be possible in my studio (i.e., if they had the right sizes), and if the price would be worth it. So I used their Pax wardrobe planner and played around with some ideas.
I started with the long wallpapered front wall.
When I was planning this room, this is how I imagined this wall looking…
So I started out with three of the Pax wardrobe units and added drawers to them…
But in order to achieve the look I want, the middle one would have to be cut down…
I briefly considered just building that center section from scratch, but if I'm going to use the Pax wardrobes, I would want them all to match — same drawers, same drawer slides, same material, etc. And it really wouldn't be a difficult task to cut that one wardrobe down to fit.
So this would end up being my starting point before customizations…
Those three wardrobes with the drawers and shelves come to $825.
Then there's this area of wall between the breakfast room doorway and the back studio entrance.
For that area, I could use three of the shallow wardrobes (only 13.75″ deep) and fifteen drawers.
So before customizations, that would look something like this…
Those three wardrobes with the shelves and drawers would cost $665.
And finally, there's the desk area.
Here's how I envisioned that wall during the planning stages of this room…
And I think I could achieve that look with two wardrobes with drawers and shelves.
So before customizations, that would look something like this…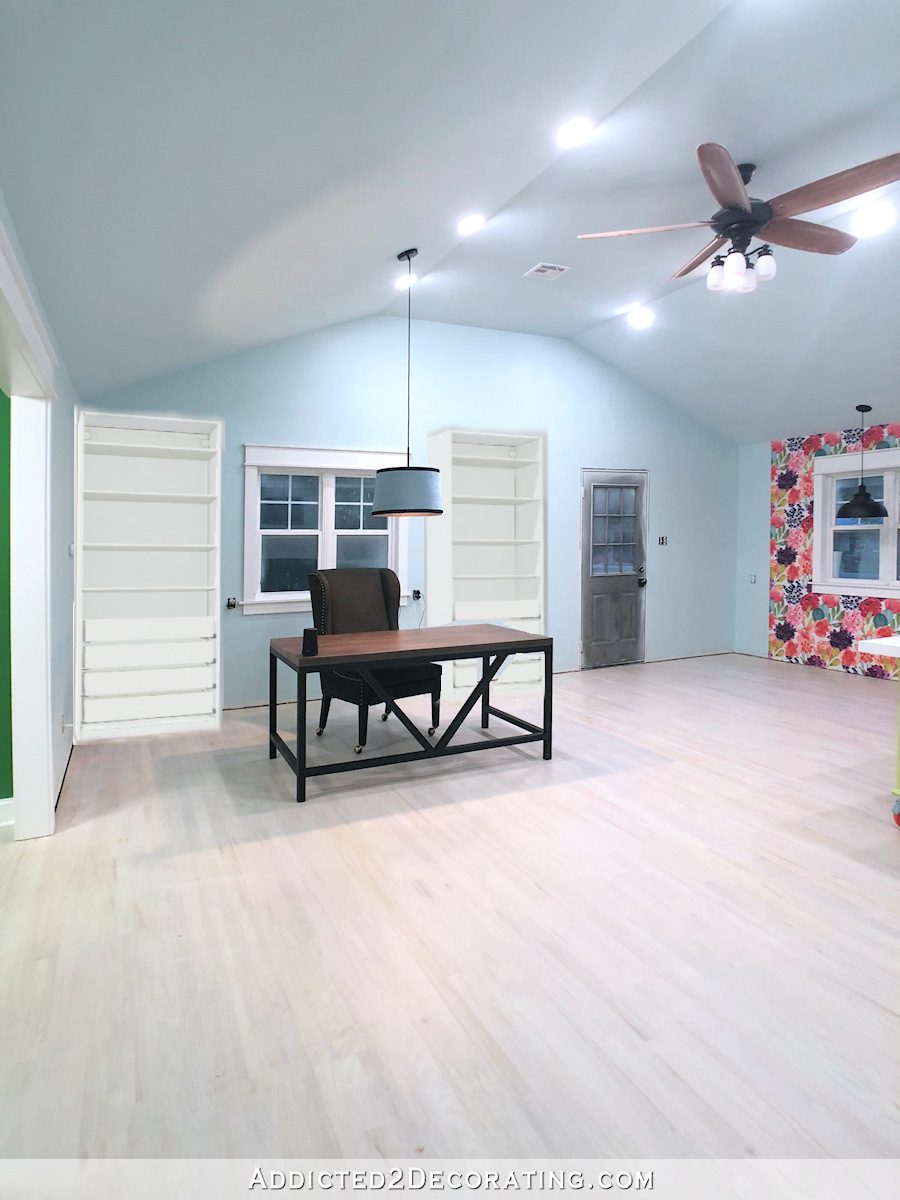 Those two wardrobes with the shelves and drawers would cost $600.
So altogether, and before any customizations, the wardrobes, shelves and drawers would come to $2090. I could certainly build all of that from scratch much cheaper, but of course, there's a huge trade off in the amount of time it would take, the sheer amount of energy I'd have to put into building all of that from scratch by myself, and the dread of taking on such a huge task.
I'm thinking that the extra money spent would be well worth it. It would be so nice to have cabinet boxes and drawers that are easy to assemble and machine cut for a perfect fit. Instead of dread, I would feel excitement to be so far ahead in a relatively short time, and then I could get on with the fun part, which is the customization.
With all said and done, I'd estimate the cost of the IKEA wardrobes, drawers, shelves, and all customizations to be somewhere around $3500. That actually seems very reasonable for such a large amount of built-in storage, right?
Of course it still might take to the end of the year for me to finish, because none of the IKEAs within reasonable driving distance seem to have drawers, and their website says I can't order them and have them shipped, either. That seems strange. But if I can find a way around that particular hurdle, and I can find enough drawers, I think this plan is a go.
Addicted 2 Decorating is where I share my DIY and decorating journey as I remodel and decorate the 1948 fixer upper that my husband, Matt, and I bought in 2013. Matt has M.S. and is unable to do physical work, so I do the majority of the work on the house by myself. You can learn more about me here.