Here's The Problem With Taking So Long To Finish A Room…
I'd love to know what the longest time is that you've taken to finish a room. Y'all already know that the time I've been working on our master bathroom remodel is about 2.5 weeks shy of one year. And that's only if you don't count the time that our contractor spent doing the initial work to turn the bedroom into a bathroom. If we're counting that time, then that project stands at around 14 months "in progress" right now.
The danger (at least for me) in taking a year or more to finish a room is that during that time, I often come across other ideas that I want to incorporate, or I become dissatisfied with decisions I've already made because I come across something that I like better. Or, quite frankly, I just get tired of looking at the design I came up with all of those months (or years) ago, and I dream of something completely different.
Fortunately, that hasn't happened with the bathroom project. While I have had to make some changes along the way, the main changes were for purely practical reasons, like changing the design of the vanities to make things easier for a wheelchair user. But my overall vision and design haven't changed, and I still love it as much today as I did in the beginning.
But as I've been looking forward to the very near future when I'll return to working on my studio, I'm a little less satisfied. This room has been "in progress" since July 2017. That's when the contractor and his guys took down the front wall of the garage that had two garage doors, poured a concrete footer along that wall, and built the front wall of the studio.
At that time, they did all of the framing to turn the garage, which had an 18 inch step down from the breakfast room, into a newly framed room with a floor that was level with the rest of the house. But after that framing, the room sat there with no progress for quite a while. And then during that time, we built the carport, which completely transformed the back of the studio, allowing the ceiling to go from a very low seven feet along the back wall to around 13 feet.
So it wasn't until March 2019 that the room was finally insulated and drywalled, and actually started feeling like a real room.
All of that to say that this room has been "in progress" for a VERY long time. In that amount of time, I've considered countless ideas for every aspect of the room, from the floor, to the wall colors, to the cabinet design, and more.
And because it's been "in progress" for so long now, and there's been so much time that has passed since I finished the studio bathroom and the back entry to the room, and during that time my taste and style has continued to evolve, I've realized that 2022 Kristi isn't so thrilled with some of the decisions that 2017-2019 Kristi made.
One thing I do still love is the wallpaper. It's one that I designed myself specifically for this room, and I love how bright and colorful it is. So it will still be the jumping off point for everything else in the room.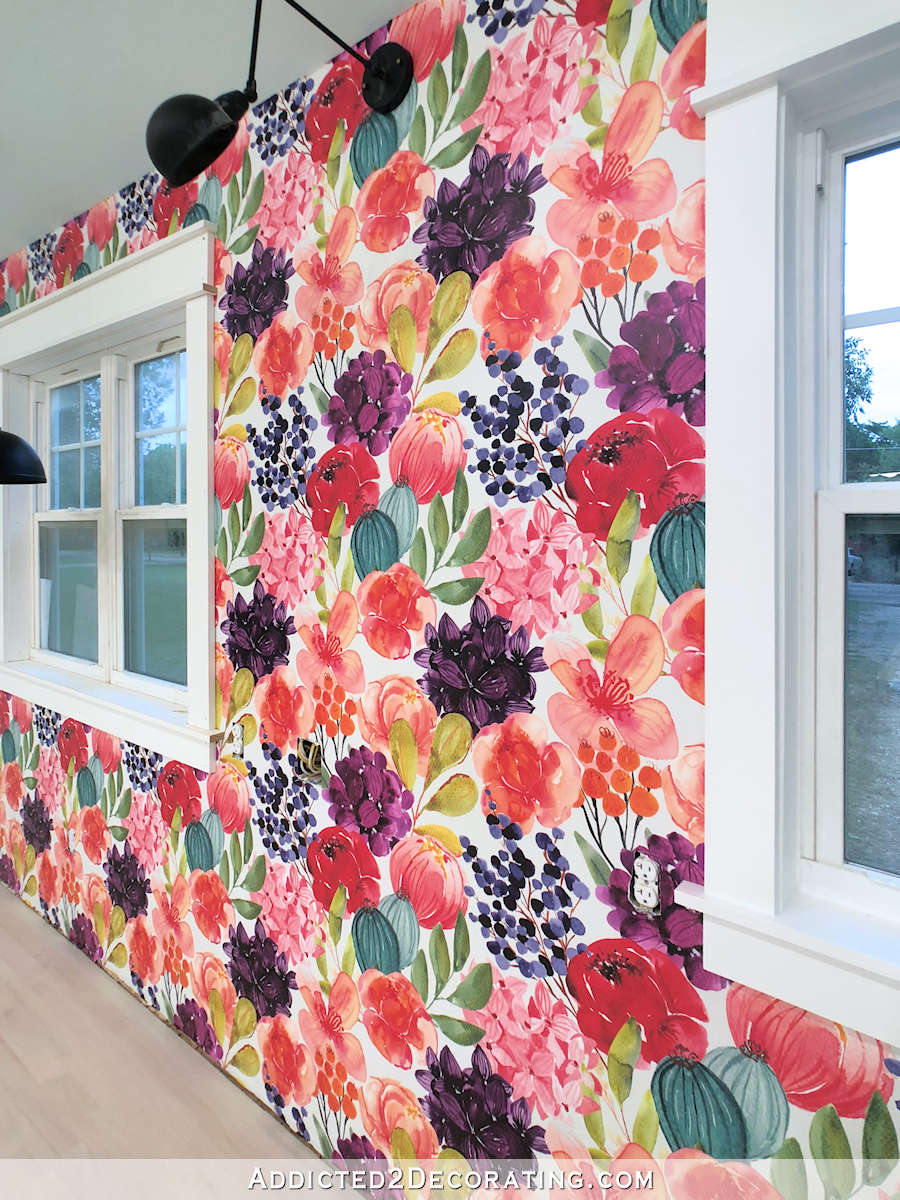 But the things that I'm kind of over at this point are the green walls in the back entry, and the walls in the studio bathroom.
As far as the green goes, I've just grown tired of it. I'm so glad that I didn't keep my kitchen cabinets green. Since it's a room that I see and spend way more time in than this back entry, I would have grown tired of those green cabinets long ago. I never seem to grow tired of the teal, though. I've lived with teal cabinets for over a decade now, and I love them just as much today as I did in the very beginning. That's just my color, and I can't see myself ever growing tired of it.
But this green? It's just too much. It's too bold and in-your-face. I think the word I'm looking for is "harsh". It's not a soothing color by any means. I have no idea what color I want in this area, so I'll have to give it some thought. I still want color, but I want something that's a little more welcoming and cohesive with the rest of the house.
And if the green is going, then I think the design on the floor needs to go, too. Don't ask me how. It's painted onto the floor, so getting rid of it won't be an easy thing. But right now, I'm not concerned with answering the "how" question. I'm just thinking through what I want this room to look like when it's all finished.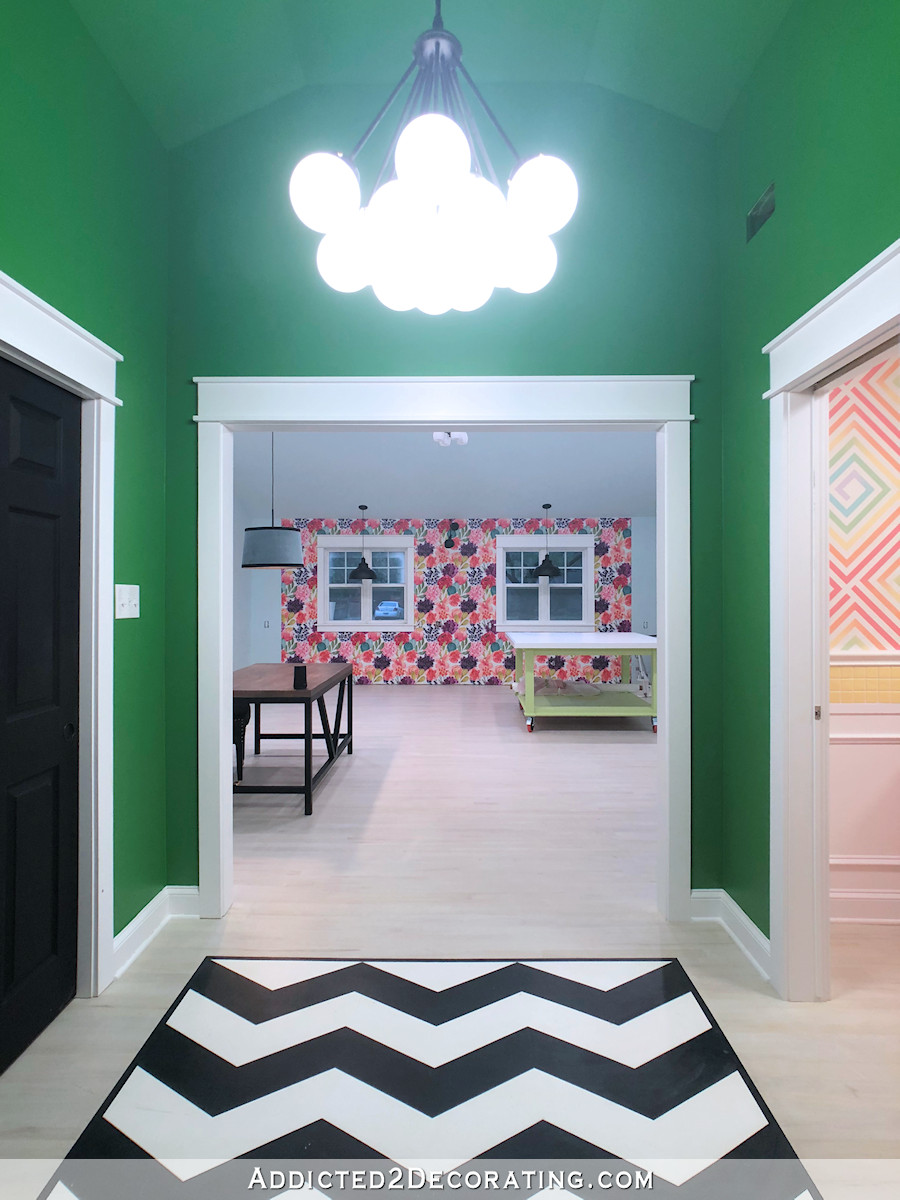 And then there are the walls in the studio bathroom. That was a very fun project to do, and I don't regret it one single bit.
It's been a fun bathroom to live with for these last three years. (I finished it in October 2019.) But I'm ready to move on to something else. It'll still be colorful, but probably a bit calmer.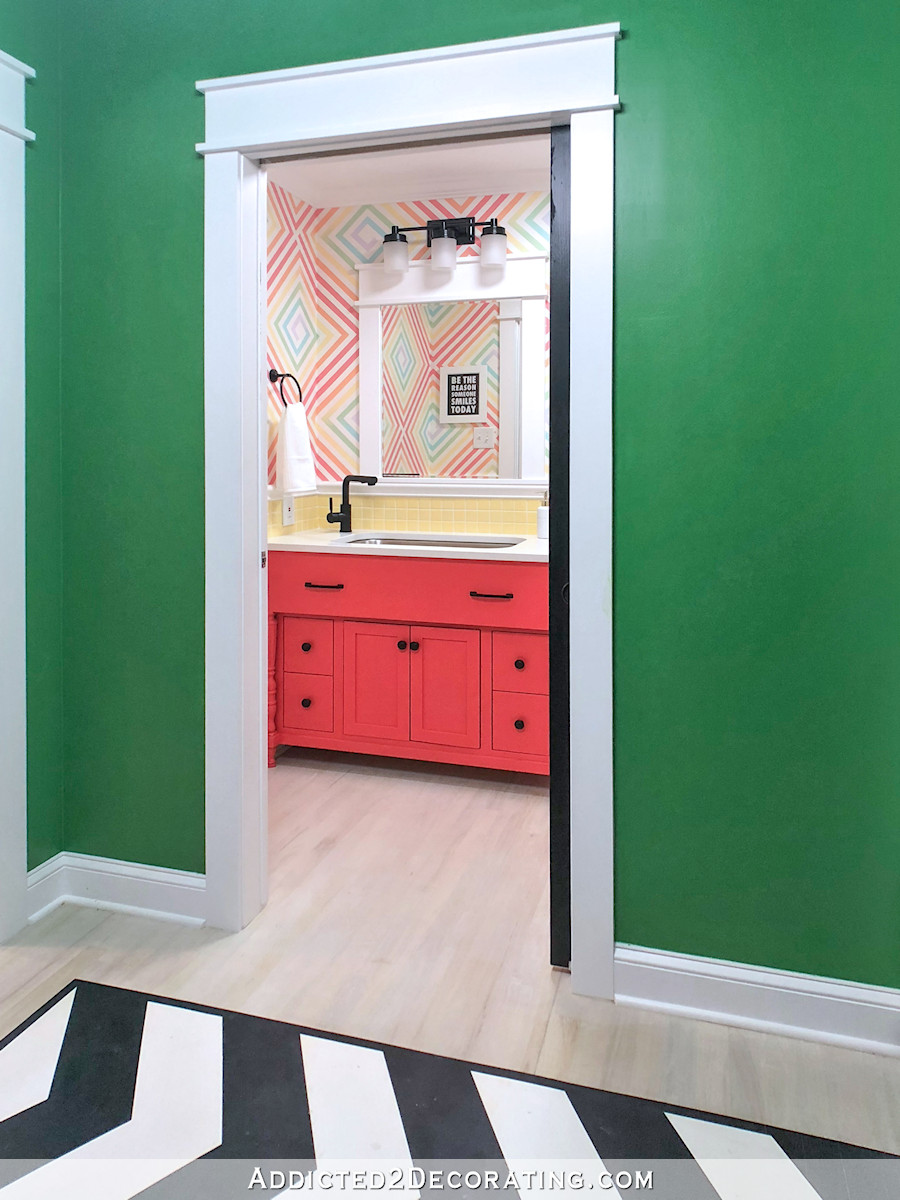 So there will be some changes coming. I don't know exactly what those changes will look like just yet, but the wallpaper will be the starting point. What I do know is that I still want a very colorful studio, but I'd like things to be softer, not quite so harsh, and not quite so busy. And I'd like this area to be more cohesive with the rest of the house.
For so long, I've thought of my studio as completely separate from the rest of the house, meaning that I could do anything in here and it didn't need to flow with the rest of the rooms of the house. But I've kind of changed my thinking on that. For now, I have privacy film on the glass panes of the door that separates the breakfast room (currently being used as a sitting room) from my studio. I used that film because I didn't want the unfinished studio showing through the door.
But when the studio is finished, I would like to remove that film. That means that the back entry will be visible from the breakfast room, kitchen, and even from the living room.
I still have a little bit of time to think through and formulate a plan. I'm not finished with the bathroom yet, and after I finish that room, I still need to finish the home gym before starting on the studio. But I'd love to have a plan in place so that I can jump right in without delay.
So what's the longest you've taken to finish a room? And did your taste and style change during that time? Did you have to make changes, or did you just force yourself to stick with your original plan?
Addicted 2 Decorating is where I share my DIY and decorating journey as I remodel and decorate the 1948 fixer upper that my husband, Matt, and I bought in 2013. Matt has M.S. and is unable to do physical work, so I do the majority of the work on the house by myself. You can learn more about me here.