Last Updated on October 8, 2017 by Kristi Linauer
Before I tell you what I did yesterday, let me answer the most-asked question from yesterday. It went something like this: "Kristi, why are you worried about your kitchen right now when you have so many other projects that need your attention? Why don't you finish your breakfast room first?"
I get it, and I completely understand those of you who get irritated with my jumping around. Here's the deal…
My kitchen is in the very middle of the "public" spaces of my house. You can see it from my front door as soon as you walk into the house. It connects the breakfast room, the music room, the dining room and entryway. You can see it from the hallway. While it's not literally in the center of the house, it definitely feels like the center.
That means whatever I do in the kitchen, especially since I'm not an "all white kitchen" kind of person and I want something bold in there, will necessarily need to be the jumping off point for the rest of those rooms. My breakfast room walls are primed and ready to be painted, but I can't do that until I know for sure what I'm going to be doing in my kitchen. And if I'm going to be doing a wall mural or stencil on the breakfast room walls, it sure would be easier to do before I install the trim around the doors and windows.
So I'm in a holding pattern for now either until I figure out my decorating plan or until my bank account is replenished on the first of next month and I can finally start building my pantry cabinets. I'd rather not waste these last few days of this month, so it seems like a perfect time to figure out my decorating plan.
All of that to say…that's why I'm talking about my kitchen right now. 🙂
So now about yesterday…
I looked at those greens all day yesterday and finally decided that the one I liked best was actually the light one on the right.
Interestingly, it looks darker during the day. It's at night with no natural light that it looks a bit brighter.
So I took that paint swatch to Home Depot to see if I could put together a color palette to go with the green. I want a bright, fun, cheerful, colorful house, so I need other colors to go with that green.
And that's where I hit a dead end every single time. This house for the last two years has made me doubt my decorating skills, and it's been so frustrating for me. I mean, I decorated a condo filled with color that I absolutely loved.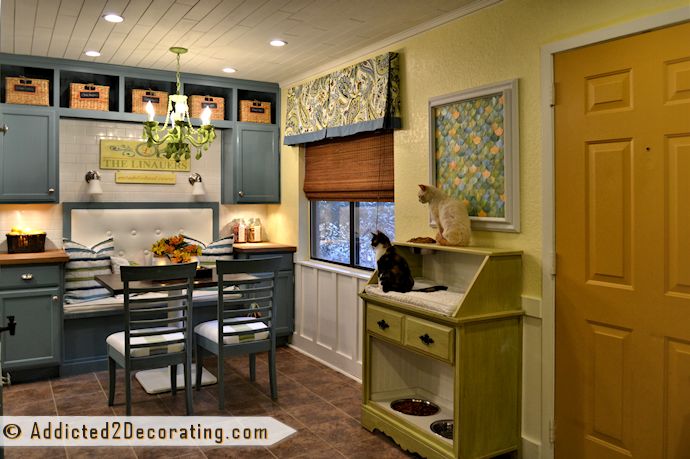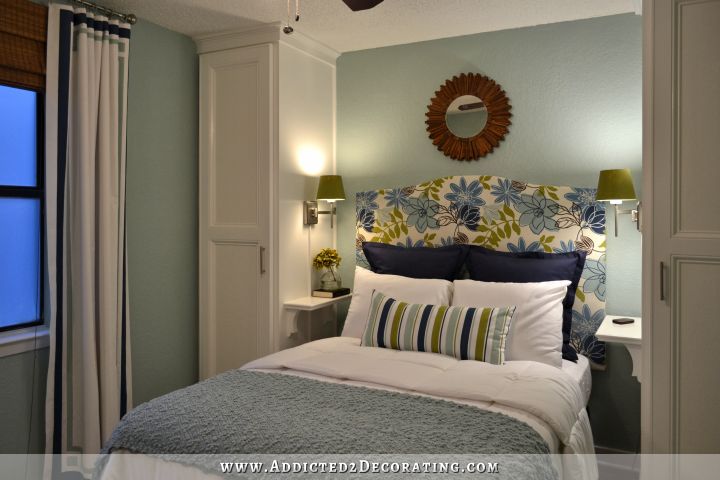 And yet every time I try something in this house, it's wrong. I just can't get it to work.
Well, you know what I realized yesterday? I don't think it's me. I think it's the color. I think I'm trying to take a color that's really best for one thing, and I'm trying to do something else with it.
Kelly green is a very strong color. If you go to Houzz and look up "kelly green," you'll see a bunch of rooms where kelly green is the dominant color, and there's not much else going on in that room. That's why you see so many rooms with kelly green and white. Or kelly green, black, and white. If there's other color used with it, it's almost always in a very small dose. Very small. As in, not enough to satisfy my color-loving self.
See? Kelly green and white…
More kelly green and white…
Kelly green, black, and white…
Of course, it goes great with brown, and the most common color pairing with kelly green is navy blue…
More kelly green, black, and white…
Kelly green and neutrals…
Kelly green, black, and white…
You get the point. Even if you search on Pinterest for "kelly green decor color schemes" or something like that, you'll find a lot of kelly green and white, kelly green and black and white, kelly green and white and navy blue, kelly green and neutrals. Every once-in-a-while you'll see kelly green and white and pink. Or kelly green and white and black with a vase of yellow flowers and a yellow throw pillow.
That's not to say that there aren't rooms out there that have a dominant kelly green color mixed with lots of other colors. The problem is that I've only found about three or four, and I don't really like them. Kelly green, when used as a dominant color, really shines best used alone with white, or with black and white, or with neutrals, or with an equally strong color like navy blue. A second color works in small doses, like a vase of flowers and a couple of throw pillows. But any more colors thrown in just start to look busy, in my opinion.
So while I as at Home Depot, I decided to just put kelly green out of my mind for a while, and I just started grabbing colors that really appealed to me. I wasn't necessarily trying to put together a color palette for my house. I just wanted to pull colors that I liked and see where that took me. Here are a few that I ended up with…
And of course, that kelly green sticks out like a sore thumb. 😀 I had some other softer greens that looked better with those other colors, but evidently I lost the card. And the biggest surprise for me? The purples. For years now, I've hated purple. HATED purple. Hated it. And now all of a sudden, I'm drawn to purple again.
And the most interesting thing was that I just imagined one of these other colors on my lower kitchen cabinets and what that might do for the rest of the rooms, and all of a sudden it all started coming together in my mind. I won't say what color I imagined, because nothing is set in stone and I could change my mind 100 times again before I actually repaint. But the point is, the ideas started flowing, and the ideas started flowing with each other. I could finally imagine a colorful and unique kitchen, and connected color-filled rooms that all blended together and complemented each other. Ending my two-year-long fight with kelly green seemed to unlock something in my brain.
So all of that to say that at this very moment, I have no idea where I'm heading. I really, truly love the idea of a kelly green kitchen. Kelly green kitchens are rare, and I like that. I don't want something that five million other people in this country have. I want something colorful and unique, and kelly green certainly fits the bill.
So I'm at a crossroads. If I stick with kelly green, I WILL have to hire an interior decorator to help me come up with a plan for the rest of the house. I've demonstrated for two years that I can't do it myself. I just start filling the rest of my house up with black and white, and any time I try a color, I end up redoing it. (How many times have I repainted that dining table? The buffet?) I hit wall after wall after wall. And even if I hire an interior decorator, based on what I've seen on Pinterest and Houzz, it's doubtful that even he or she could come up with a plan that would satisfy me.
Or I can go the other direction and pick a different color that's easier to work with and lends itself more towards being a "colorful neutral" that can be used with many different colors in adjoining rooms.
I'm leaning towards the second option.
UPDATE:
I did repaint my kitchen, but I went in a different direction. Click here to see what color I chose and how it turned out…