Last Updated on October 6, 2017 by Kristi Linauer
Y'all, I'm very serious about sticking with my "to do" list for this year and not getting sidetracked. VERY serious. So serious that I'm going to be keeping myself accountable by reviewing that list at the end of each month and making sure I kept busy and made good progress, and mapping out a plan for the new month.
Here's the very simplistic progress report: My list started out with 49 items (actually fewer, but I've added a few things as I think of them), and in January I got eight of those items checked off the list. That's awesome! If I can keep up that pace, I'll finish my list this year for sure. Of course, that's the very simplistic view, and some of the projects on the list are one-day projects, where others are week-long projects, but I still started off the year strong.
So here's the detailed progress report:
Most of the things I checked off of my list were items that still needed to be done in my niece's bedroom. Life events got in the way, and that sweet girl waited a year-and-a-half for her room to be finished, so my mom and I really buckled down and determined to get it finished first thing this year. On my list of things to do for her room were:
Make a decorative full-length mirror.

Done!

Make a bulletin big bulletin board.

Done!

Finish installing baseboards.

Done!

Pretty up the plain, flat hollow core doors.

Done!

Purchase and install sconces by the bed.

Done!

Decorate and accessorize to finish.

Done!
I made this pretty little (or rather, very large) mirror…
And I made this big personalized bulletin board (with the fun striped letters that my mom painted) where she can display her artwork and other fun stuff…
And I prettied up her plain hollow core doors with some simple trim…
It took us a week-and-a-half or so, but we finally finished my niece's room, and I love how it turned out! But more importantly, she loves how it turned out.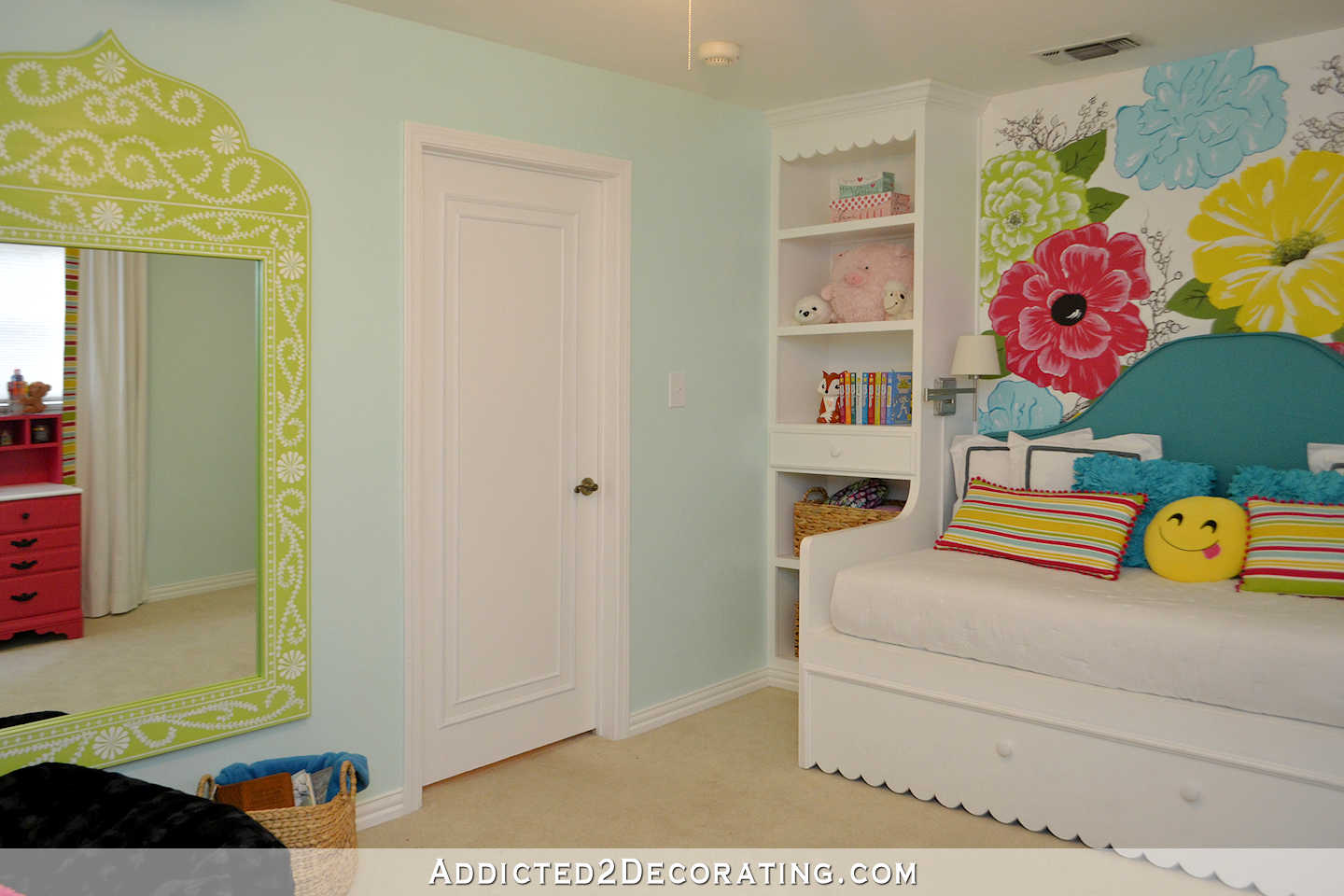 I'm so glad that room is finally finished! I can now spend the rest of the year focused exclusively on my own house, and so far, I've gotten two things checked off the list that pertain to my house.
The first thing was removing the side window in our bedroom (this is a very old picture, but the room hasn't changed much other than adding a headboard, getting rid of the old window coverings, and getting rid of the window air conditioner)…
…and installing a door…
The guys got about halfway done with installing the door when Matt said, "How about adding a screen door?" So I quickly headed to Home Depot, and they took an extra 30 minutes or so to add the screen door. BEST.DECISION.EVER!!! Our weather lately has been absolutely gorgeous (mostly high 50s, 60s, and 70s), and that door stays open just about all day every day with few exceptions.
I'm glad I didn't try to tackle this myself. I certainly could have gotten it done with my brother's help (it's essentially the same process that we did on the front and back exterior walls in the breakfast room, but instead of installing windows, they installed a door), but it was just nice to hire this one out. And you can see the big pile of wood, siding, etc. that they removed just from that one section (which has now been hauled away). It was a pretty big project.
Just a side note, I probably won't even bother finishing out that door with trim, or even painting it. In fact, this room probably won't be touched any more this year…or ever as a bedroom. I don't want to waste any money at all in that bedroom until we're ready to turn it into our master bathroom when we add on to the back of the house. And we're hoping to start that big remodeling project either at the end of this year, or first thing next year.
Anyway…
The last project that got done in January was, of course, my floors (which, by the way, would not have been possible without the door in our bedroom). I'm so glad this project is finished! And I'm so glad I took the time to refinish the floors to get rid of the old orange color and stain them a more neutral brown.
That's a pretty good start to the year, right? 🙂
So for this month, at Matt's request, I want to focus on the breakfast room. He's very anxious for me to finish that room so that we can start eating our meals in there, and so he can have a comfy place to hang out with me while I'm cooking meals.
Right now, it looks like this…
The back side of that peninsula has been used as a catch all for all of my small tools, caulk, paint stuff, etc. for far too long now. I didn't specifically put it on my list of things to do, but it's definitely time to get that mess straightened out, and find a better home for all of those items.
My complete "to do" list for this room includes:
Finish installing trim (door casings, baseboards, crown moulding)

Finish the back of the peninsula (install trim, prime, and paint)

Make draperies

Choose new woven shades and get them ordered and installed

Paint and upholster dining chairs

Refinish dining table

Paint the buffet

Make a t.v. cover for the wall mounted t.v.

Paint the new door

Decorate and accessorize to finish
No, I don't think I can get all of those things done in the shortest month of the year. 🙂 So I need to focus on the important things. I'll start with finishing up all of the trim in the room, and also finishing up the back of the peninsula. Those projects will finish out the rest of the "building/remodeling" projects left in there.
I'll also finally get my woven shades ordered. I was planning on doing that a few weeks ago, but decided to wait until I got the stain on my floors before making the final decision. I started with about 20 options and narrowed it down to these four.
And since Matt's priority is having a place to eat, I'm going to refinish the dining table that will go in there. I'll be using this one that I found on Craigslist two (yes, two) years ago.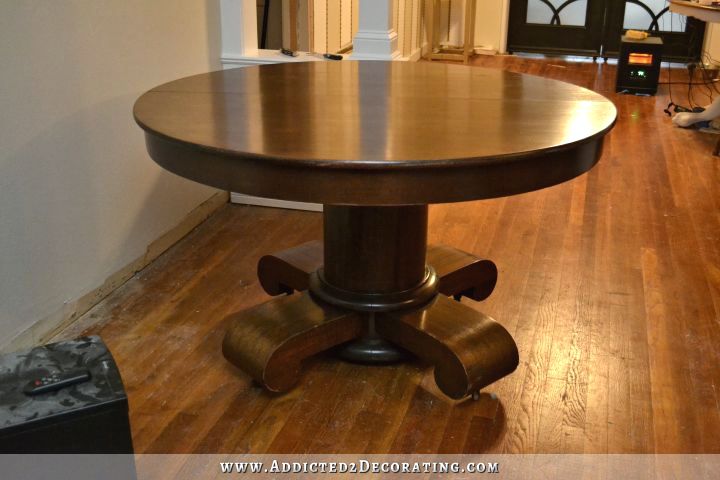 I know the finish looks fine in the picture, but it doesn't in person. It definitely needs to be refinished.
And a table does me no good without chairs, so I'll also try to paint and reupholster the chairs that I found at World Market for 50% off.
I liked the shape and the wood frame around the upholstered back, but the current finish and look is way too old world/rustic for me. Needless to say, they'll look completely different when I get finished with them. 🙂
And finally, I hope to get the new door painted. I haven't quite decided what color I want my interior doors. Last year, when I took my "bold, bright colors" detour, I was going with all black interior doors. It's quite possible that I might stay with black, but I'm also tossing around the idea of a slightly lighter gray, similar to the gray I used on my fireplace in the living room.
It's still dark and beautiful, but not quite so stark as a deep pure black.
So those are my goals this month. But first, I need to head to Home Depot and get a roll of that thick paper (or the cardboard that several of you have told me about) and get my floors covered! I'm not taking chances this time.
Addicted 2 Decorating is where I share my DIY and decorating journey as I remodel and decorate the 1948 fixer upper that my husband, Matt, and I bought in 2013. Matt has M.S. and is unable to do physical work, so I do the majority of the work on the house by myself. You can learn more about me here.
I hope you'll join me on my DIY and decorating journey! If you want to follow my projects and progress, you can subscribe below and have each new post delivered to your email inbox. That way you'll never miss a thing!