Last Updated on February 28, 2019 by Kristi Linauer
Yesterday I finished up my dumpster coffee table makeover. If you'll remember, just a few days ago, I found this coffee table leaning against the dumpster at my condo.
Initially, I planned to paint the entire thing, including the cheap particle board top with the plastic paper-thin veneer with wood print. But then I decided that those pretty little turned legs were worthy of a real wood top, so I removed the cheap top and painted the base.
Then I used my new Kreg Jig to make a new table top out of 1″ x 6″ pine lumber. I'll do a whole post on the Kreg Jig soon, because it's AMAZING. If you like to build things with wood, then you definitely need one of these. I could kick myself for waiting so long to buy one!!
With the table top put together, I attached it to the base with L-brackets. You can see the pocket holes that I drilled with the Kreg Jig that hold the table top together (orange arrows). There are more than six, but the others aren't really visible.
Then I moved on to staining the top. Now in my experience, pine doesn't stain very well. It starts out so orangish-yellow, and stain just highlights all of the yellow parts and turns the grain almost black. Not a good look. In fact, let's revisit this horror from from last year that I made for John & Alice's breakfast room.
So this time, I decided to try staining/antiquing the top with the tea, steel wool, and vinegar method. After researching the topic, I finally decided to follow the directions found at Craftaholics Anonymous. However, I confess that I was very impatient, so rather than letting my steel wool/vinegar solution sit for 24 hours, mine sat for about 10 hours.
This first board shows what the wood looked like immediately after applying one coat of the vinegar to the wood. You can see a slightly gray color.
And here's what the entire table top looked like after waiting about an hour. You can see the dark splotchy areas on the last board. Those were areas that just hadn't completely dried yet. And on the first board, you can see what the wood looks like with a coat of wax on it.
And here are the three in comparison: raw pine wood, pine treated with the tea/steel wool/vinegar treatment, and pine wood treated and then waxed.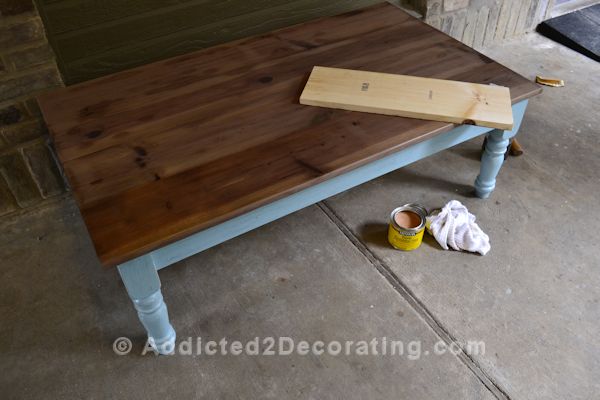 Let me also point out that I used my electric sander to give the edges of the top a slightly rounded look. I think this looks so much better than the squared edges.
So after I got the entire surface waxed, I decided that the wood wasn't quite dark enough to give enough contrast with the light aqua base. So I decided to give it a coat of stain. Yes, I stained right over the wax. I figured since both were oil-based products, it would be just fine. And it did work just fine.
Here you can see the difference between the table top and a piece of pine that has one coat of Minwax Special Walnut stain on it. See how the grain is so dark on the separate piece of wood? And that makes all of the yellow areas look really vibrant. Definitely not a good look.
I still need to give the table top another coat of wax, but here's how the table looks now after staining the top and antiquing the base.
Sorry that I don't have pictures that are all styled and pretty, but the top was still wet, and I was losing daylight quickly, so I wanted to go ahead and get some pictures to show you. 🙂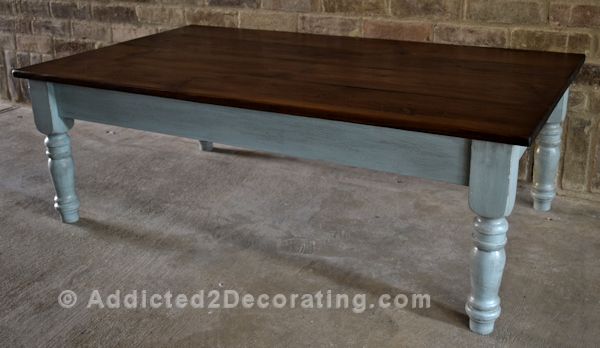 I really love how the top turned out. Definitely a different experience than I've ever had in the past when I tried to stain pine.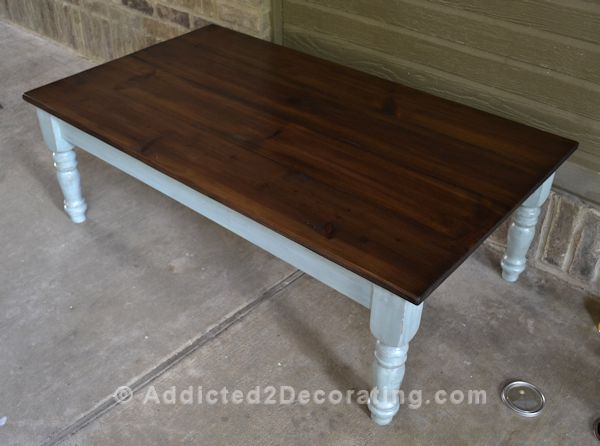 And the dark wood in combination with the antiqued aqua base just makes me smile.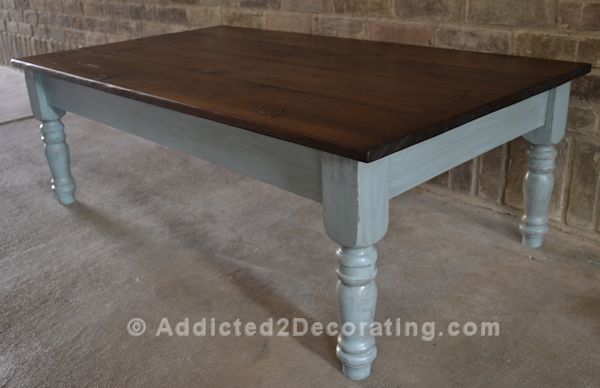 To antique the base, I simply let the paint dry and then sanded it (manually, not with an electric sander). Then I rubbed Minwax Special Walnut stain on it, let it sit for about a minute or two, and then wiped off the excess. I do this in sections, because if the stain sits on there too long, it'll start drying and won't leave a subtle antiqued finish. I really like antiquing furniture like this because the stain acts as a sealer and leaves a very nice satin finish, almost like furniture wax.
So that's my experience with using the tea/steel wool/vinegar method. I'd definitely like to try it out again after letting the mixture set for 24 hours or more. Then I'd like to compare it to other methods, such as using wood conditioner on pine before stain (which I've never tried). I'd also like to try the steel wool/vinegar method, and then follow up with stain BEFORE waxing the wood. 🙂 That's actually how it should have been done, but I was too anxious to get wax on the top.
And as you can see, my steel wool/vinegar treatment didn't really result in "antiqued" wood. I'm not really sure why. Perhaps there are many factors, such as weather conditions. (It was pouring down rain while I was working on this coffee table outside.) So there's definitely lots of testing and comparing that I want to do to find the absolute best way to stain cheap pine lumber and get the best results.
Have you ever tried this antiquing/staining method? Did yours result in an actual antiqued wood look? Have you had success staining pine wood with other methods? I'd love to hear about it! And if you have a post showing your project and describing your method, please feel free to leave a link in the comments. I'd love to learn from your methods!
Update:
It took me seven more years, but I finally figured out a way to stain pine without the horrible orange and yellow grain, while getting consistent results each time. (The vinegar/steel wool solution is very unpredictable and inconsistent.)
I figured out this new technique while refinishing my wood bathroom countertop during a makeover in 2019. Here's a peek at the finished pine countertop…
You can see the details of this staining process here…
Addicted 2 Decorating is where I share my DIY and decorating journey as I remodel and decorate the 1948 fixer upper that my husband, Matt, and I bought in 2013. Matt has M.S. and is unable to do physical work, so I do the majority of the work on the house by myself. You can learn more about me here.
I hope you'll join me on my DIY and decorating journey! If you want to follow my projects and progress, you can subscribe below and have each new post delivered to your email inbox. That way you'll never miss a thing!