Last Updated on October 6, 2017 by Kristi Linauer
It's hard to believe that we've already reached the end of 2016. Isn't that crazy?! In just a few short days, it will be 2017.
As far as my house projects go, 2016 started off strong. In January, I finished up all of the big projects in the music room, turning a room that originally looked like this…
..into a room that looks like this…
I also got my new windows in the living room trimmed out. Do you remember the original windows?
I had them replaced with new windows in October 2015…
But it took me until January of this year to finally get them all trimmed out…
If you need a tutorial on how to trim your new windows, I have some pretty detailed instructions here: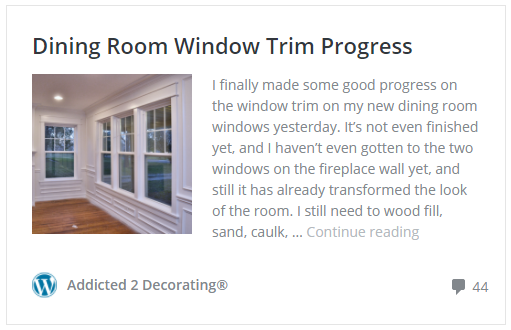 I wrapped up January by building (but not quite finishing) the overmantel on the living room fireplace…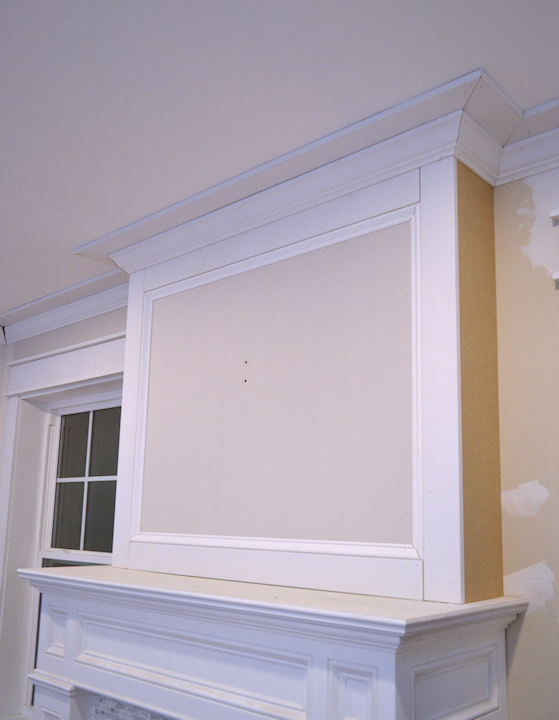 In February, I made a semi-flush mount light from scratch for my music room inspired by a very expensive Coleen & Co. light that I really liked.
And then things started going a little sideways when I added the picture frame moulding and chair rail trim to the entryway and living room walls…
This was just the wrong room for all of that additional trim. Picture frame moulding looks much better in a room with long, uninterrupted walls. This room has way too many doors and windows to let the picture frame moulding really shine.
In March, I finished up the living room (which I was trying to turn into a dining room) and entryway walls…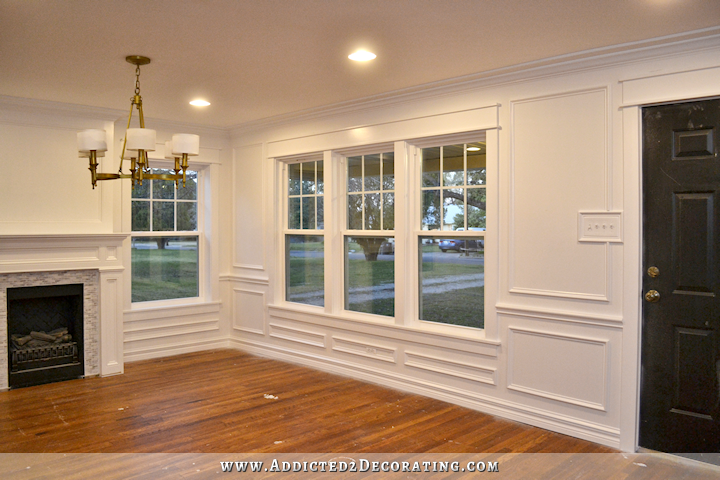 Then I installed a pretty new mailbox (my one and only outdoor project so far on this house)…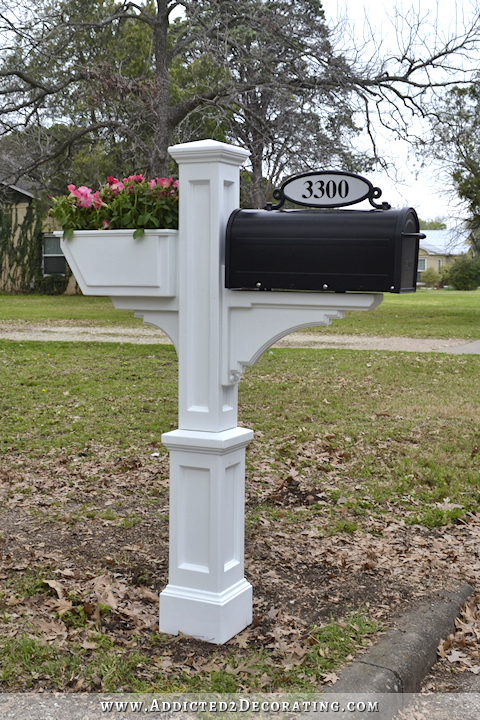 And then things really got off track for me. Somewhere around the middle of March is where I really lost my way for several months, wandering around aimlessly in the decorating desert with absolutely no idea where I wanted to go or how to get there.
I bought this dining table (with eight chairs) for a steal at $52 in Ebay…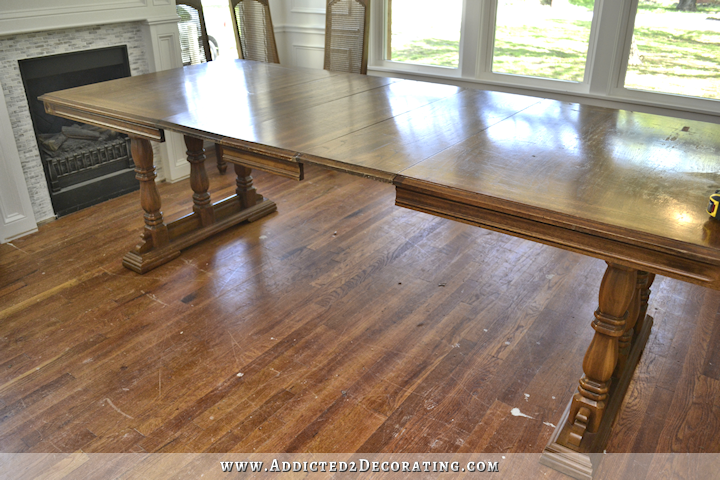 I mainly just wanted the chairs, so the table was a bonus. I used the table top to build a new farmhouse style table…
And then I proceeded to paint it. Then I painted it again. And again. I just couldn't get this table to work. I thought it was just a matter of finding the right paint color. It wasn't.
So I moved on to another project, wandering even further into the decorating wilderness, and repainted my living room walls. I thought maybe the white just wasn't me, and I needed color. Perhaps that would make things right…
It didn't.
In April, I worked on one of my favorite projects of the year — my hand drawn birds & butterflies "wallpaper," inspired by Schumacher's Birds & Butterflies pattern.
The problem was that that project, even though it was one of my favorites, was layered upon some really bad decorating decisions (i.e., picture frame moulding and wall color). So I was really never completely, 100% happy with how it looked.
I also made a gold leafed sunburst mirror…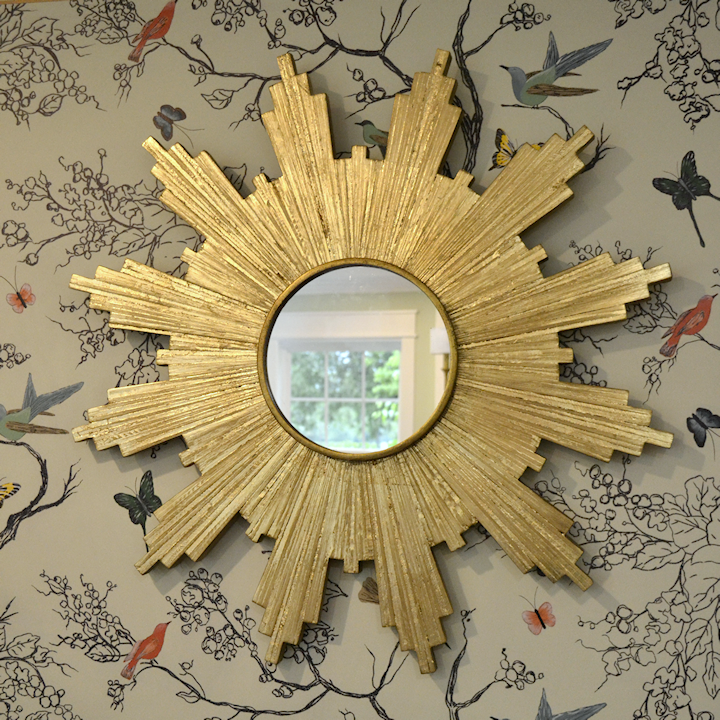 …which now hangs over my fireplace.
In May, I made some black and white striped lined, pinch-pleated draperies for the living room (which I was still trying to turn into a dining room)…
I also did a pretty quick and easy sanding and recoating of my hardwood floor in the front room, which made the floor look like new again (or like newly refinished 70-year-old red oak)…
I made one fully-functional Roman shade for the front room (with plans to make four more, and thankfully, never got around to it)…
You can click here for that DIY tutorial.
And then I tried to refinish the dining table…AGAIN. I think that was time #5, and it was still a bust.
May and June were very difficult months. In addition to my frustration with my house projects not really working out, my family also had to deal with my step-father getting sick, going into the hospital twice, and finally being admitted into Hospice. We said goodbye to him in June. It was heart-wrenching and awful, and really took the wind out of my sails for quite a while.
But I continued pressing on with my projects, still wandering around in decorating wilderness, not quite happy with the way anything was coming together (because mostly, it wasn't coming together), but trying to move forward anyway.
I reupholstered two of the dining chairs that I had purchased on Ebay.
I was proud of how they turned out, and yet it was a bit unfulfilling.
And with that project, I thought that my entryway was finished…
It was definitely a vast improvement over the original entryway…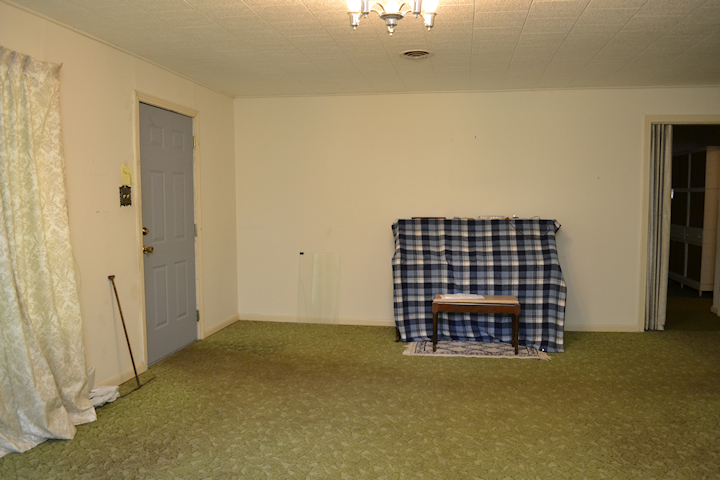 …but it just didn't feel like "me." I tried to convince myself that it was TOTALLY ME! But I knew it wasn't, and no amount of effort to convince myself or tell myself how much I absolutely loved it would work.
In July, I took on a very satisfying project — building a wingback dining chair from scratch and upholstering it.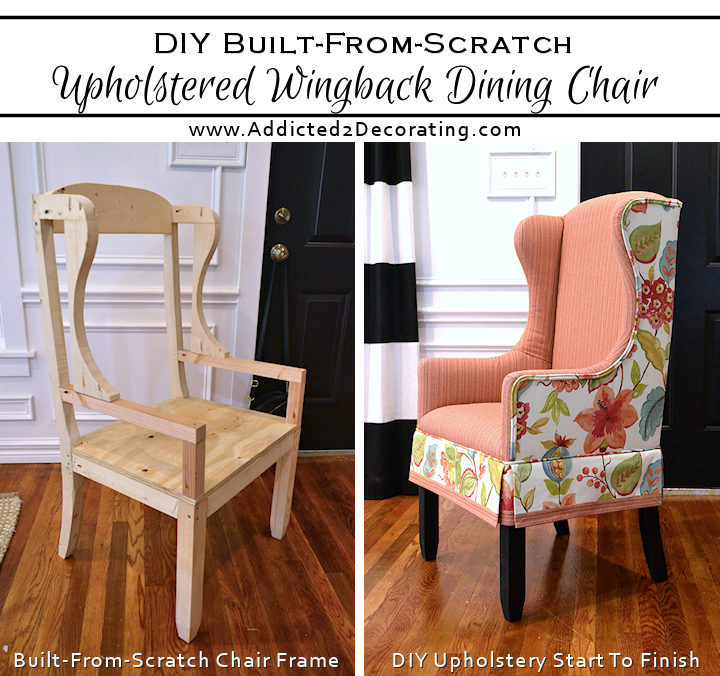 I was incredibly proud of myself for taking that on, and even prouder about the outcome. But I sure am glad I didn't spend time making a second one!
And then I painted my dining table. For the sixth time. UGH!!!
August was a good month. Even though I was still lost in the decorating desert, things got done that really needed to get done. First, we finally got insulation! Yes, we had been living here for almost three years with no insulation in our attic. We opted for spray foam insulation.
I highly recommend it. It keeps the "floor" of your attic clear so that you can see where you're walking (if your house is like mine, and you don't actually have a floor up there). It also keeps the temp in the attic regulated a bit better so that during the summer, it's not sweltering up there, and it's actually bearable to be up there.
I also had the breakfast room floor leveled, which felt like HUGE progress!!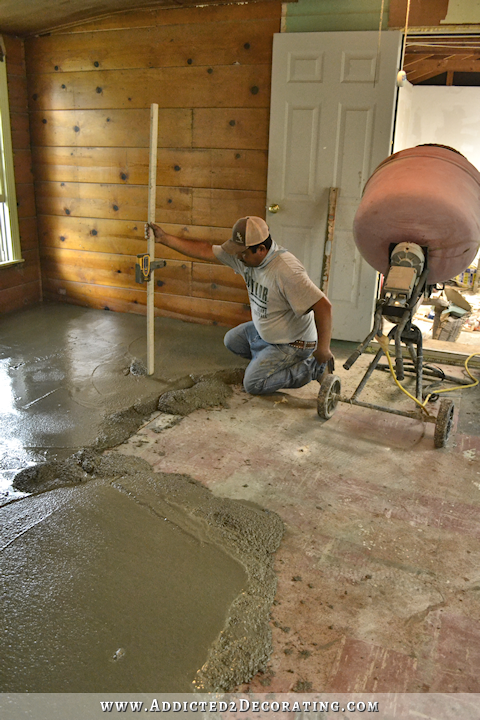 September was also a good month with lots of progress. First, we got rid of the ugly leaning pecan tree in the front yard.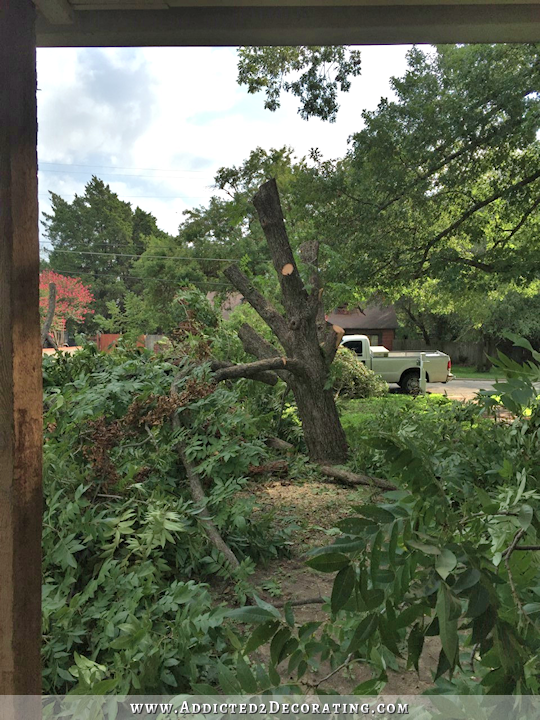 My brother and I installed the plywood subfloor in the breakfast room. It was my first time to use a gun powder-actuated tool, which was scary at first, but fun!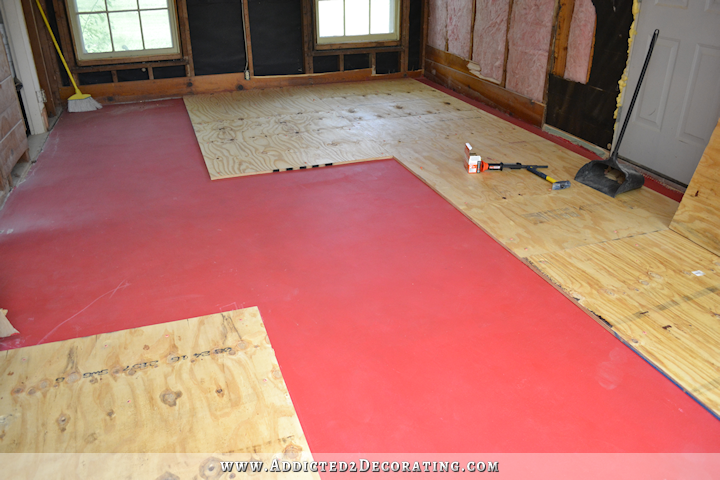 And then he helped me rebuild the back wall of the pantry, removing the two windows and adding one smaller window in the middle…
And a few days later, we did the same thing on the front wall of the breakfast room…
And somewhere between rebuilding the back wall and rebuilding the front wall, I also installed the new hardwood floor in the breakfast room and pantry…
October was my month of clarity. Not only did progress continue in the breakfast room, with the electrical being finished and the walls and ceiling finally being drywalled, taped, and mudded…
…but by the end of the month, I came to my senses and realized that I was truly lost in the wilderness when it came to my attempts at decorating my house this year. And after some soul searching, I finally realized why it had happened.
I explained it all in this post.
So last month, I put together a new plan. A plan that suited me and made me happy. A plan that felt like home to me. A plan completely uninfluenced by outside voices creeping into my head. And then I got busy, starting with a new color (or colors) for my kitchen cabinets…
And then this month, my decorating clarity has continued, with a new fireplace paint color and chandelier. I also realized this room was supposed to be a living room…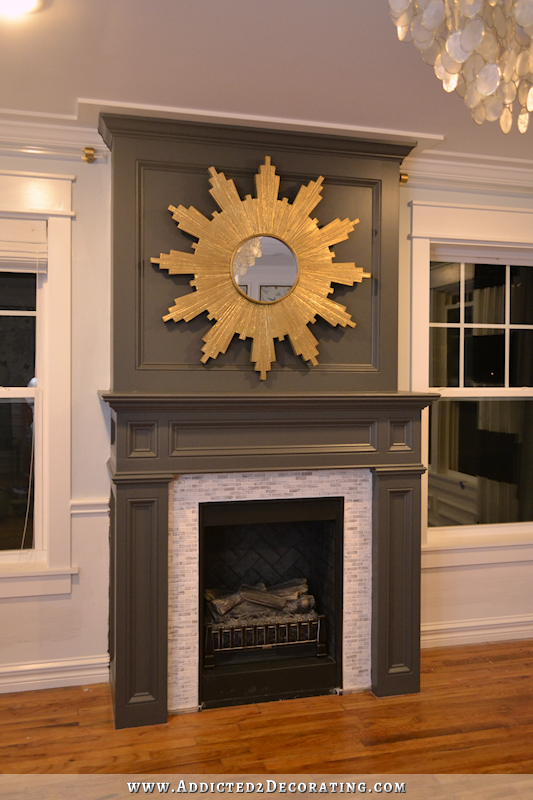 That was followed by new drapery fabric…
And a realization that the walls were entirely too busy…
…and would look so much better with one solid, pretty paint color, like Benjamin Moore Silver Gray…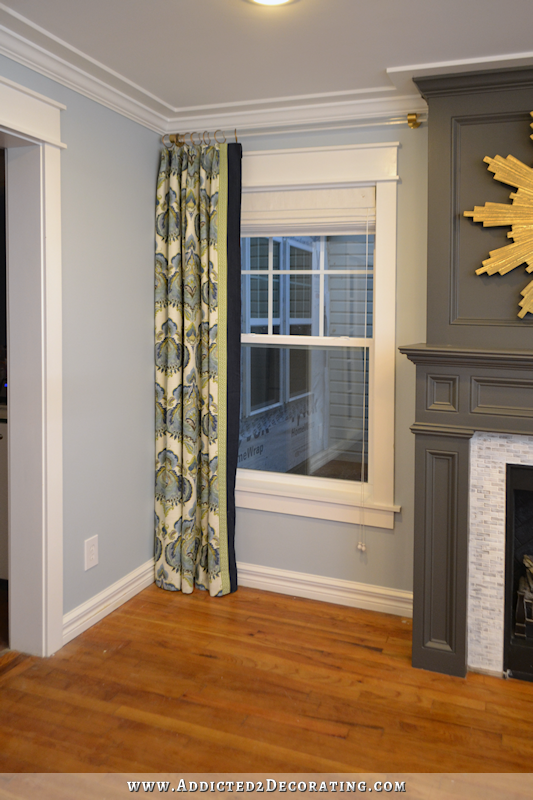 And finally, I shed some light on my entryway with a new full-lite front door…
And that pretty much sums up my year. 🙂
I started strong, got lost in the wilderness for several months, and somehow found my way back to decorating civilization. These last two months have been exactly what I needed. After a very frustrating year of feeling like I was spinning my wheels and getting absolutely no where, I finally feel like I have traction again. I have vision again. I have clarity and a plan. I have excitement and momentum again.
It was a long, hard, frustrating year, but if that's what it took to regain my clarity and excitement, then it was well worth it. I predict that this excitement, momentum, and clarity of vision will carry throughout 2017, and I'll actually see tremendous progress and some actual finished rooms. 🙂
Thanks so much for following along on my journey, even as I've wandered aimlessly through the wilderness this year. Y'all make this journey so much more fun for me. I wish each of you a wonderful, relaxing, and joyous time with family and friends as you wind down this year and celebrate the holidays.
By the way, if I do work on some projects during my break, you can follow me on Instagram to get sneak peeks and behind the scenes looks at my projects.
I'll see y'all right back here next year. I'll be back on Monday, January 2nd. See ya then!
Addicted 2 Decorating is where I share my DIY and decorating journey as I remodel and decorate the 1948 fixer upper that my husband, Matt, and I bought in 2013. Matt has M.S. and is unable to do physical work, so I do the majority of the work on the house by myself. You can learn more about me here.
I hope you'll join me on my DIY and decorating journey! If you want to follow my projects and progress, you can subscribe below and have each new post delivered to your email inbox. That way you'll never miss a thing!