Placing The Bed In Front Of A Window: A Decorating Faux Pas?
It's Friday, y'all! That means I only have two more days of working on my hardwood floors, and they'll be DONE! They need two more coats of finish on them, so I'll put the final coat of "original" sheen on today (which is a semi-gloss sheen), and then I'll put the satin finish on tomorrow, and they'll be finished!!!
It's been such a long process, but I'm so glad that I stuck with it. They're looking gorgeous! This is definitely one of the (if not THE) longest and most difficult DIY projects I've ever done, but it has also been the most rewarding. If you missed the picture I posted on the A2D Facebook page of the first coat of finish going on (and me working my way out the front door), here's a peek: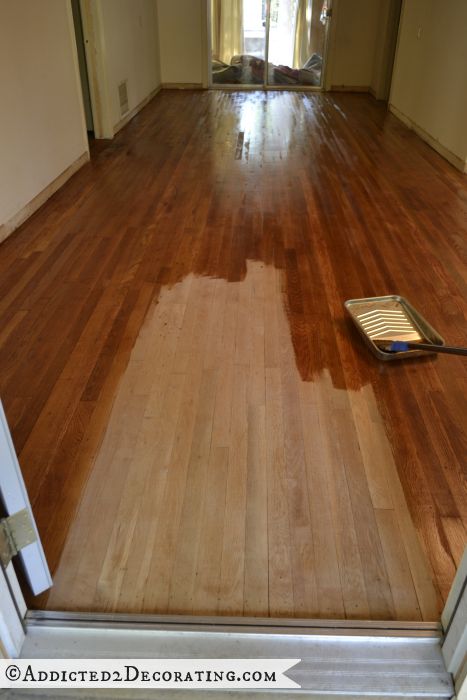 I'll post the final before and after of the floors on Monday, and give a run down of the process, tips, etc. If y'all have any questions about how I did my floors, I'd be happy to answer them. Just leave a comment below and I'll see it.
But now let's move on to the real topic of this post…
Placing a bed in front of a window
As I shared a couple of days ago, that's my plan for our master bedroom. I have had it so engrained in my head that placing a bed under a a window is bad design, but it's really the only option we have in our bedroom. So I went in search of inspiration, and as it turns out, lots of people (including decorators and designers) place headboards under windows! And more importantly, if done right, it looks great!
I think one of the keys in making this work is hanging the draperies high and wide, so as not to cover any more of the window than is absolutely necessary.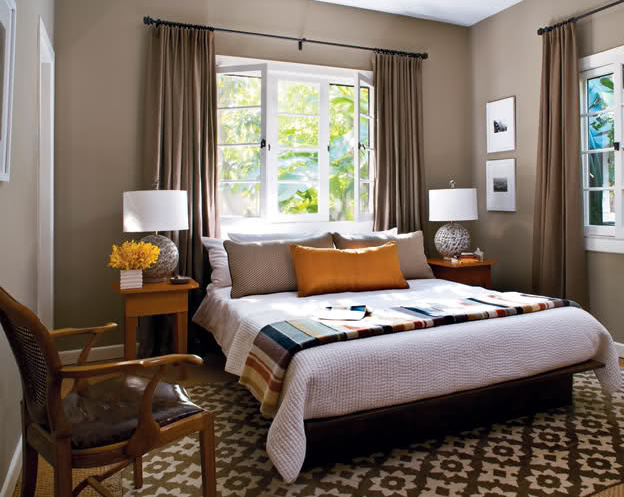 Room by tati4design, via Houzz
While I do generally like the draperies hung high and wide, the exception for me seems to be when they're used with a four-poster bed. I saw several examples of them being hung just inside the "frame" of the bed posts, and I think that looks just right.
Photography by David Duncan Livingston, via Houzz
That concept also works well with a draped canopy bed, where the window almost becomes part of the whole bed.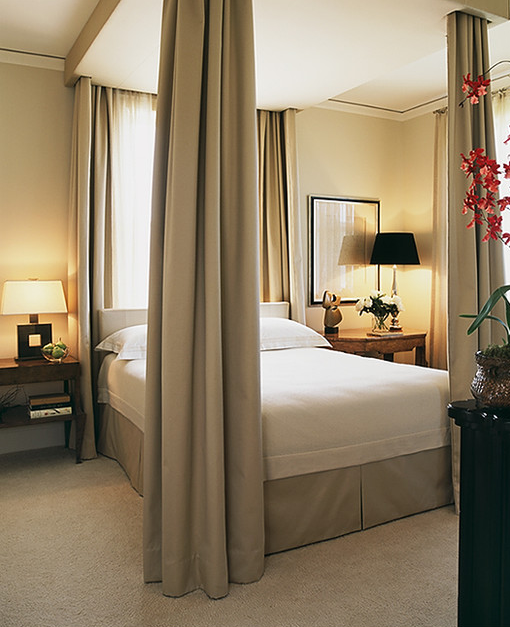 Room design by Michael Merrill Design Studio, via Houzz
But sadly, I don't think our bedroom is big enough to accommodate a four poster bed or a draped canopy bed, so I'll need to stick with something much simpler in design.
The "wall of draperies" idea is one that I've always loved, and I think could work well in our bedroom.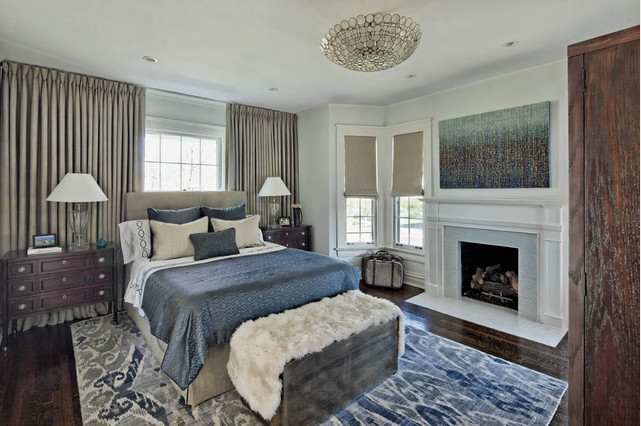 Room design by Buckingham Interiors + Design, via Houzz
I also really like the idea of using a long valance with the draperies. This look almost creates the look of a canopy over the bed.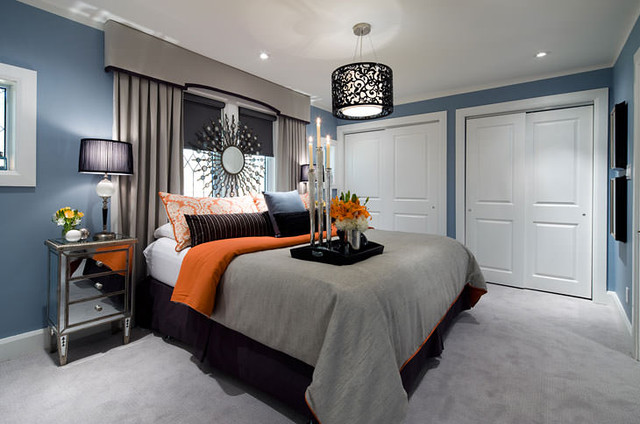 Room design by Jane Lockhart Design, via Houzz
So after seeing so many beautiful examples of beds used in front of windows, I'm feeling more confident in my decision. I'm also feeling less like I'm settling on a less than ideal arrangement, and more like I can really make a big design statement that will look beautiful and intentional.
What are your thoughts on headboards/beds in front of windows? Is yours arranged that way?
And P.S. — I know the whole "bed in front of a window" thing is considered bad feng shui. As I don't really follow (or care about) feng shui, that's not really a concern of mine. 🙂
Addicted 2 Decorating is where I share my DIY and decorating journey as I remodel and decorate the 1948 fixer upper that my husband, Matt, and I bought in 2013. Matt has M.S. and is unable to do physical work, so I do the majority of the work on the house by myself. You can learn more about me here.