PVC Boards vs. Real Wood For Outdoor Projects (How Each Has Held Up On My Front Porch?)
It's been about three-and-a-half years since I finished the front porch transformation. (I'm not really sure what to call it. A remodel? That sounds weird, but it was a whole heck of a lot more than a makeover.) On that front porch transformation, I used real wood for most of it, and then used PVC boards for part of it. So how have they held up? How have the real wood trim boards stood up to the weather and exposure compared to the PVC boards?
I'll show you. But first, let's back up and remember how this porch started out when we bought the house…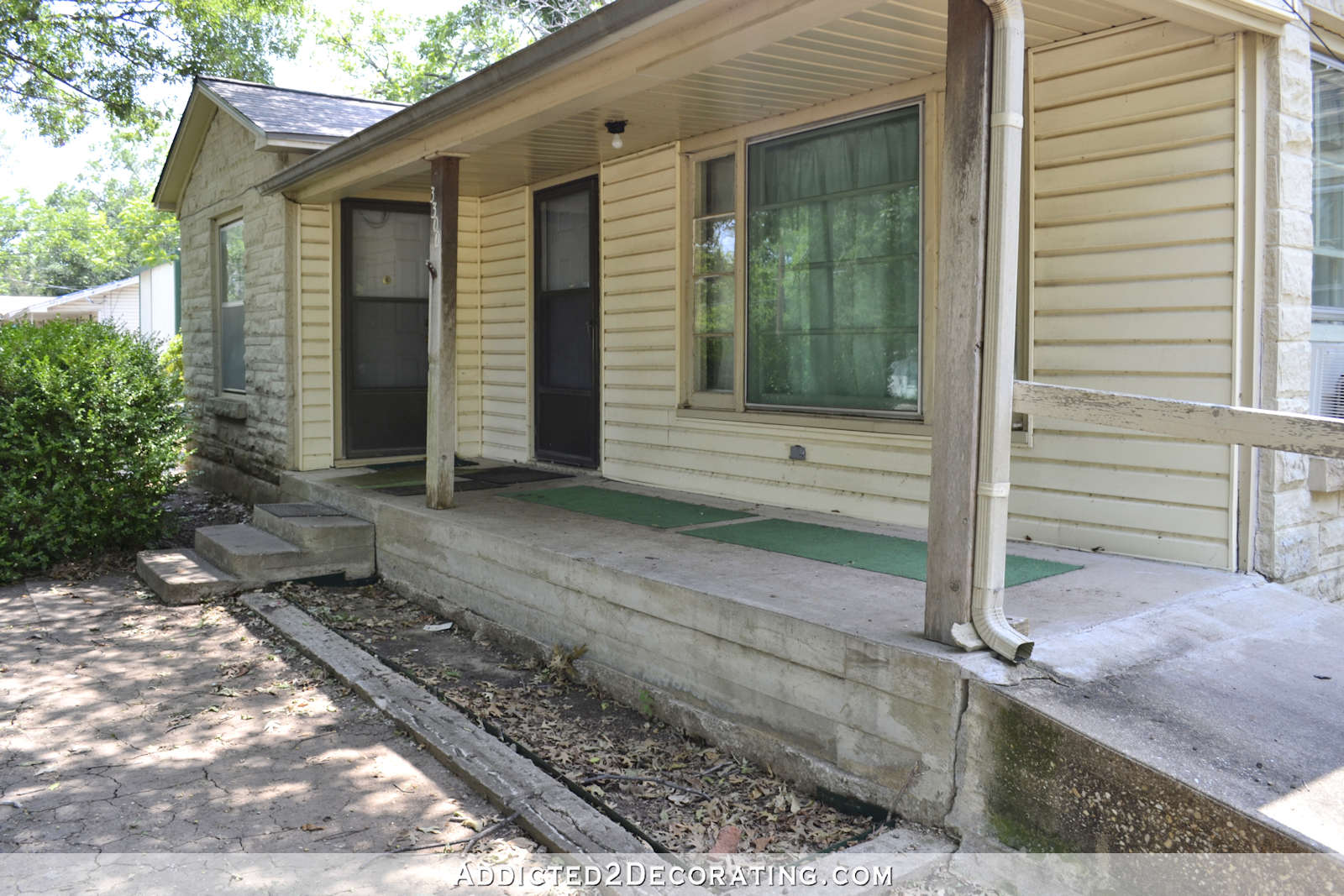 Yeah. It needed some love and attention, and a whole lot of work. 😀
So in 2018, I set out to update the front porch by covering the concrete with a stained cedar front porch, replacing and then beefing up the supports, and then building new steps with handrails. Here's what it looked like when I got through with all of that, along with having new siding, a new front door, and new windows installed.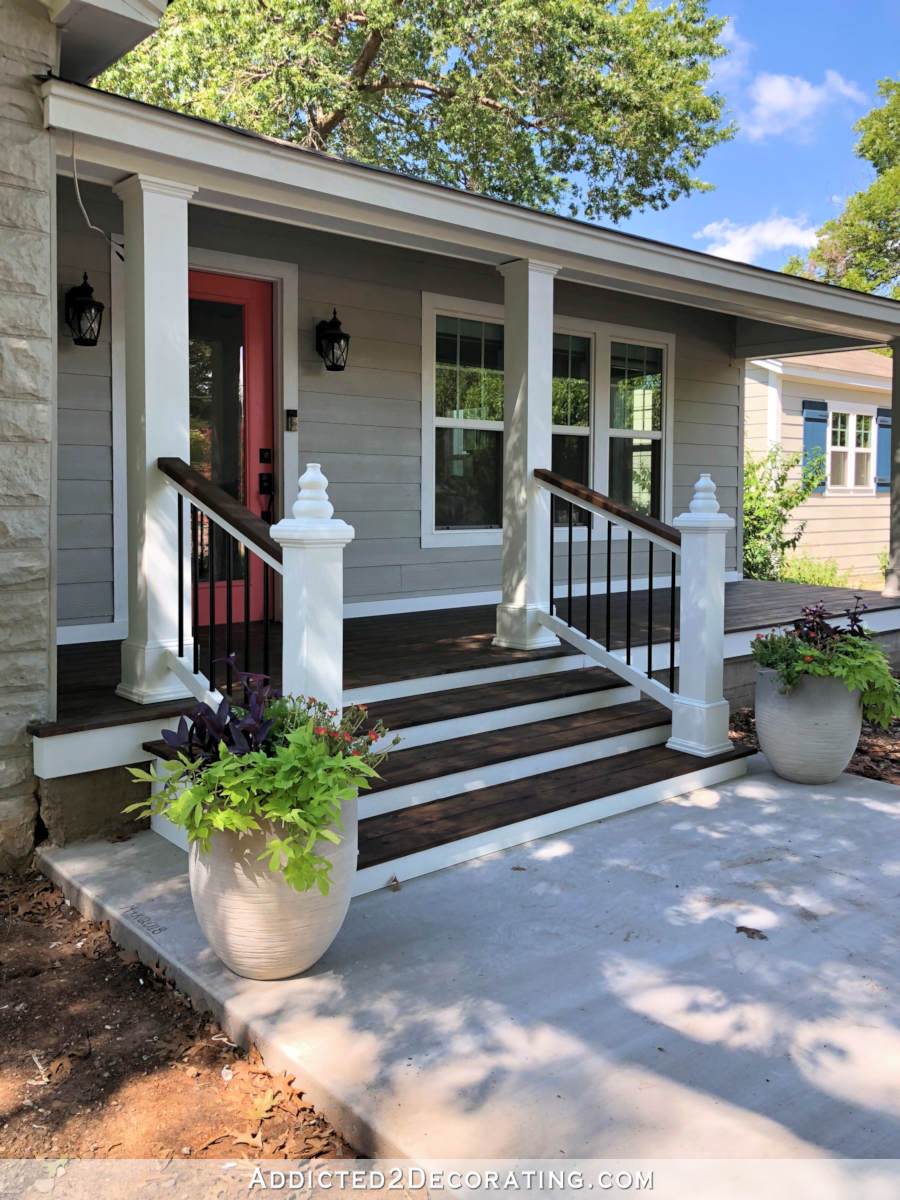 I shared with y'all a few months back about how the stain/sealer that I used on the cedar porch has held up (or hasn't). The snails and slugs have wreaked havoc on the finish. You can see every place where they slither because their slimy little bodies seem to eat right through the sealer. So my front porch and steps are covered with these little snail and slug trails all over.
But other than needing a new coat or two of stain/sealer, the cedar boards have held up very well. I don't see any rot or other issues with the actual integrity of these boards at all.
So I've been looking forward to the weather getting nicer (as in, getting past our rain and tornado season) so that I can get out there and spend some time sanding and re-sealing the front porch. And part of sprucing up the front porch would include getting out the power sprayer and getting the winter dirt and grime off of everything.
But as I was looking over the front porch this weekend to take note of everything I need to do out there (including finally finishing the stone facade on concrete porch skirting), I noticed that I have a bigger problem on my hands than snail trails through the porch sealer. I've also got places on all three columns that look like this…
Here's another area…
And yet another one…
When I started that project, it didn't even occur to me to use anything other than real wood lumber. So that's what I did. I figured that all I needed to do was prime it really well with oil-based primer, and then give it two or three coats of exterior paint, and it would last forever. Clearly, I was wrong.
By the time I got around to building the steps and the handrails, I had decided to use PVC boards instead (probably because one of you suggested it to me). So I used PVC boards and put them together using the PVC glue that basically bonds them together and makes them all one piece, and they still look great three-and-a-half years later. None of the joints have expanded or separated, and other than being covered with winter dirt and grime that needs to be washed off, they look pretty darn perfect.
My shutters, which I also made out of PVC boards, have also held up perfectly.
And no, I never finished painting that window trim, so it needs to be done this year as well.
So I could handle those columns in two ways. First, I could use wood filler that is made for outdoor use, fill in those areas on the columns and sand them smooth, caulk any gaps, and then prime again with oil-based primer, and paint again with exterior paint. There's nothing wrong with that solution. In fact, I've seen many people restoring old homes where the windows are trimmed with real wood that has started rotting, and this is exactly how they handle it.
Or, while I'm taking the time to sand and reseal the front porch, I could also take some time to replace those real wood board with PVC boards that would probably last forever and would almost never require upkeep.
I'm not quite sure at this point which option I'll go with. If I choose the first, then I could probably get three more years out of them before having to do the same type of maintenance on them again. But at some point, I probably will want to replace them with PVC. I mean, at some point, I will reach an age where I don't want to have to do that type of maintenance on my house when I can use a maintenance-free product and take care of it once and for all. So, we'll see.
But regardless of which option I choose, I really want to get this porch finished this year. I want to get the cedar boards resealed, get the skirting finished, and finally get some nice chairs for the porch and make it look inviting.
Addicted 2 Decorating is where I share my DIY and decorating journey as I remodel and decorate the 1948 fixer upper that my husband, Matt, and I bought in 2013. Matt has M.S. and is unable to do physical work, so I do the majority of the work on the house by myself. You can learn more about me here.