Last Updated on December 26, 2013 by Kristi Linauer
I had quite a time deciding what my #2 recommendation for essential DIY tools would be (my first, without question, is a miter saw), but after looking around my condo, and looking through the projects that I've done, there's no question that my second recommendation would be…
An Electric Sander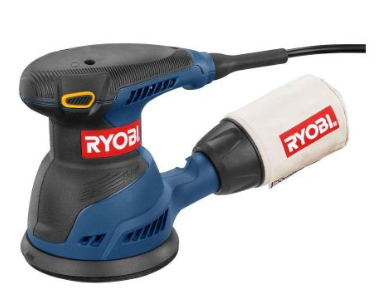 I'd be absolutely lost with my electric sander.  To be quite honest, even after all of my years of DIYing, I'm still a bit fearful of saws, but I love my sander.  They're easy to use once you get the hang of it.  They're relatively very safe, compared to saws.  The worst you might get from an electric sander is some roughed up skin if you accidentally touch the sandpaper while it's still spinning, and while that can definitely be startling and painful, the chances of you actually getting a serious injury (or losing a finger!) with an electric sander are slim to none.  These are quite safe for adults to use.
The sander that I own is a Ryobi 5″ Random Orbit Sander (pictured to the right).  It cost me about $40 from Home Depot.
Orbital Sanders, Finishing Sanders, and Detail Sanders
When shopping for an electric sander, it's important to understand the differences between the options available.  For sanding large areas, you really have two options:  orbital sanders and finishing sanders.
Orbital Sanders are by far my favorite kind of electric sander.  (Again, that is what's pictured above.)  The sanding pad on an orbital sander is round, and when the sander is turned on, the sanding pad moves back and forth slightly while also spinning in circles.
My main two reasons for preferring this type of sander are:
I find that orbital sanders do the job much faster and easier than a finishing sander, and
Changing the sandpaper on an orbital sander is so incredibly easy of you've purchased the type that uses hook and loop sanding discs.
The one downside to an orbital sander is that it requires a special sandpaper (the discs with the hook and loop backing), which is considerably more expensive compared to regular sandpaper sheets.  Right now, a package of 10 sandpaper discs costs around $9.50.
Finishing Sanders, also called Sheet Sanders, have a square sanding pad, and they sand in one back-and-forth direction.  There's really no major price difference between a finishing sander and an orbital sander.  The price will be largely determined by the brand you choose.
The good thing about finishing sanders is that they use regular 'ole sandpaper sheets, so you don't have to spend more money for specialized sandpaper.  You simply take one sheet of sandpaper, cut it into four equal sections, and one of those sections fits perfectly onto the finishing sander.  That means that the cost of using a finishing sander will be quite a bit less than the cost of using an orbital sander.
The downside is that changing the paper out takes much longer.  With the orbital sander, you simply pull off the old sandpaper disc, and stick a new one on (think: Velcro).  It takes about five second.  With a finishing sander, you have to first cut a sheet of sandpaper into fourths.  Then you place the sandpaper into a groove, wrap it around the bottom, and insert it into the groove on the other side.  Some older models utilize clips that are (in my opinion) a real headache.
Is my bias showing?  🙂  And honestly, my experience has been that these don't sand as quickly, but I'd love to hear if you've had a different experience.
Detail Sanders are usually small little electric sanders that come with several attachments for specific purposes, like sanding spindles, or sanding corners, etc.  These usually start at about $30 for a basic sander, and can cost well over $100 for a kit with lots of different attachments.
I bought a Black & Decker Mouse sander about three years ago (which did come with three or so attachments).  I've used it once.  I was trying to sand corners on my kitchen butcherblock countertops, and it took forever to remove the old finish.  It just didn't seem powerful enough to do the job.
It could be that the higher-dollar detail sanders could do a much better job, but I've gone this long without using a detail sander, and I've done just fine without it, so I probably wouldn't spend the money on another one.
Projects I've done with my electric orbital sander:
One of my favorites is this Craigslist wood dresser…
…that I turned into a media console for John & Alice's family room makeover…
The top of that dresser was solid wood, and I was so excited to take a sander to it!  The wood underneath that old, orange finish was gorgeous, and the new stain really brought out the beauty of the wood.
On that particular project, I also had a heck of a time getting the  rebuilt front areas to be smooth (a woodworker I am not!!!)…
But I wasn't concerned, because I knew that my electric sander would make everything look just right.  Once I put wood filler into all of the grooves and let it dry, I took my sander to it and sanded the heck out of it until those areas were flat.  (Seriously, woodworkers, look away.  I know this is painful for you to see!!)  😀
And once it was primed and painted, it looked perfect!
Tip:  One reason I use MDF boards on projects like that one instead of solid wood lumber is because MDF sands down so easily.  When you're not a woodworker, and you rely quite heavily on wood filler and an electric sander (like I do), it's better to use MDF that will sand down easily.
Basically, any time I'm doing a project that includes wood, I'm using my sander.
I used it on my bathroom shelves and the countertop.  For both of those, I used very rough cedar, and after sanding, the wood was incredibly smooth.  There's no way I could have done that manually using a piece of sandpaper.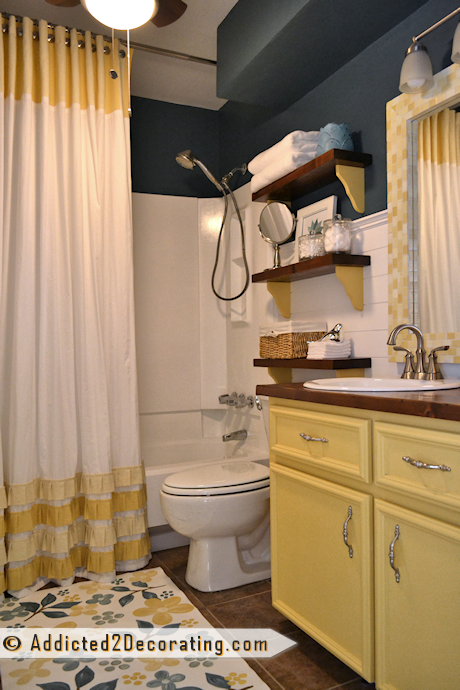 And there's no way I could have made my chevron wood breakfast table without my sander.
I piled wood filler into all of those cracks, so in addition to using it to smooth out the entire wood surface, I also needed the sander to remove all of the excess wood filler.  Again, there's no way I could have done that manually with just a piece of sandpaper.
And then, of course, we can't forget about my kitchen countertops.  *Sigh*  I've refinished these things three times now.
The good thing is that with my electric sander, sanding down all of the countertops takes about two hours, so that makes refinishing my countertops about a one-day job.  Not too bad!  (Although, I do hope to never have to do that again!!)
There are many, many more projects that I could show you, but I think you get the idea.  If it involves wood, chances are that I used my sander on it.
Click here to see what my #1 recommendation is for essential power tools for DIYers!
Addicted 2 Decorating is where I share my DIY and decorating journey as I remodel and decorate the 1948 fixer upper that my husband, Matt, and I bought in 2013. Matt has M.S. and is unable to do physical work, so I do the majority of the work on the house by myself. You can learn more about me here.
I hope you'll join me on my DIY and decorating journey! If you want to follow my projects and progress, you can subscribe below and have each new post delivered to your email inbox. That way you'll never miss a thing!