Do Neutral Houses Really Sell Faster?
I've heard it a thousand times, as I'm sure you have also.  If you want to put your house on the market, you need to paint everything neutral.
Do you think that's true?  My answer is yes…and no.
I have a theory, and I'm putting my hope into my theory being correct.  You see, we're planning on putting our condo on the market at some point this year (hopefully by summer, but we'll see how it goes).  And of course, there's nothing neutral about our condo.
I've filled my condo with teal, yellow, green, and orange, and I have absolutely no intention of "neutralizing" the place before we put it on the market.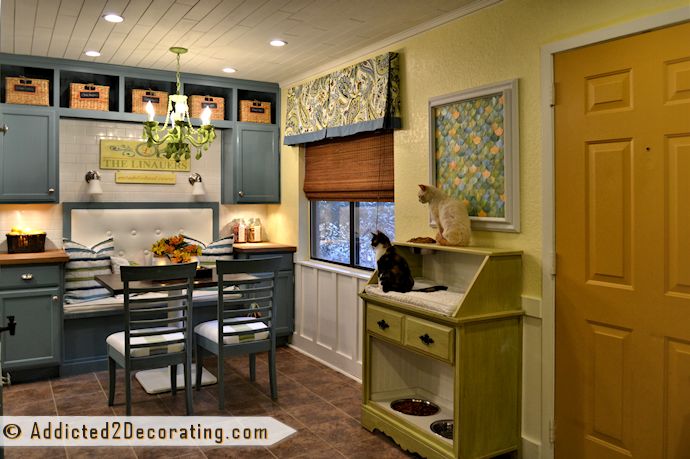 So what's my theory?
My theory is that a well-decorated home, even one with lots of color, will sell just as well (and possibly will show even better) than one that has been neutralized and depersonalized.  In fact, I'm counting on it.
So why do most real estate agents recommend painting a home neutral before putting it on the market?  I really hope that I won't be misunderstood here, but I honestly believe it's because the overwhelming majority of homes in America aren't very well decorated and designed.  Therefore, the best option is to remove the homeowner's attempts at decorating, neutralize everything, and even better, to have a professional stage the home with furniture and accessories that actually coordinate.
Please understand me.  In no way do I mean that to be…well…mean.  But in all of my years, including those years I spent as an interior decorator, I've seen the interiors of many, many homes.  And the percentage of them that I would actually consider "well decorated" would be very small, although a majority of homeowners do give it a try.  Not everyone understands the basic principles of using color, or coordinating colors, or using proper scale, etc.
The simple fact is that creating a beautifully decorated, well-put-together room is a talent, just like drawing amazing portraits, or painting gorgeous landscapes, or creating gourmet cuisine, or writing music.  While most of us possess a talent for one or two things that we do really well, I've never met a person who can do it all, and do it all exceptionally well.
I'm a decorator.  It's what I do.  It's what people paid me to do for many years.  Decorating is my talent.
I can't draw amazing portraits.  I can't paint gorgeous landscapes.  I most certainly know nothing about cooking, so creating anything "gourmet" is out of the question.  I can't write music.  There are a ton of things that I can't do, and I'm just fine admitting that because I simply don't have the talent for it.
But I can decorate.  🙂  That's my talent.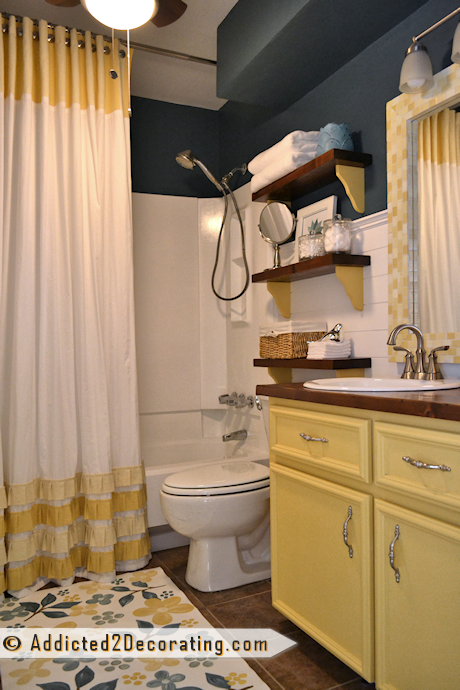 And of course, I in no way mean to insinuate that my personal style of decorating is perfect for eveyone.  Of course, my style isn't for everyone.  But I do think that rooms that are well-put-together, and are generally pleasing to the eye (i.e., utilize generally pleasing color coordination, scale, balance, etc.) will help a home sell just as quickly as a home that has been neutralized.
So in a nutshell, my theory is that a well-decorated home, even one that is filled with color, will sell just as fast (if not faster) than a house that has been neutralized and depersonalized.
And I'm counting on it.
So what do you think?  Do you think I'll have a hard time selling my condo because of all of the color?
Have you had success with selling a home (quickly) without neutralizing and depersonalizing the interior?  Would you ever consider purchasing a home that was well-decorated, even with lots of color, and even if it wasn't exactly your own style?
Share your thoughts!
Addicted 2 Decorating is where I share my DIY and decorating journey as I remodel and decorate the 1948 fixer upper that my husband, Matt, and I bought in 2013. Matt has M.S. and is unable to do physical work, so I do the majority of the work on the house by myself. You can learn more about me here.