10 Ways I Customized My Big Box Store Unfinished Stock Oak Cabinets For My Kitchen
*This post contains affiliate links.
If you joined me after I finished my kitchen remodel in 2014, you may not realize that I used unfinished stock oak cabinets from Home Depot for my kitchen. That's all we could afford at the time (we couldn't even afford IKEA 😀 ), so I went with it, determined to turn those unremarkable and inexpensive cabinets into something that looked as custom as possible when I was finished with them.
To be clear, this is what I started out with…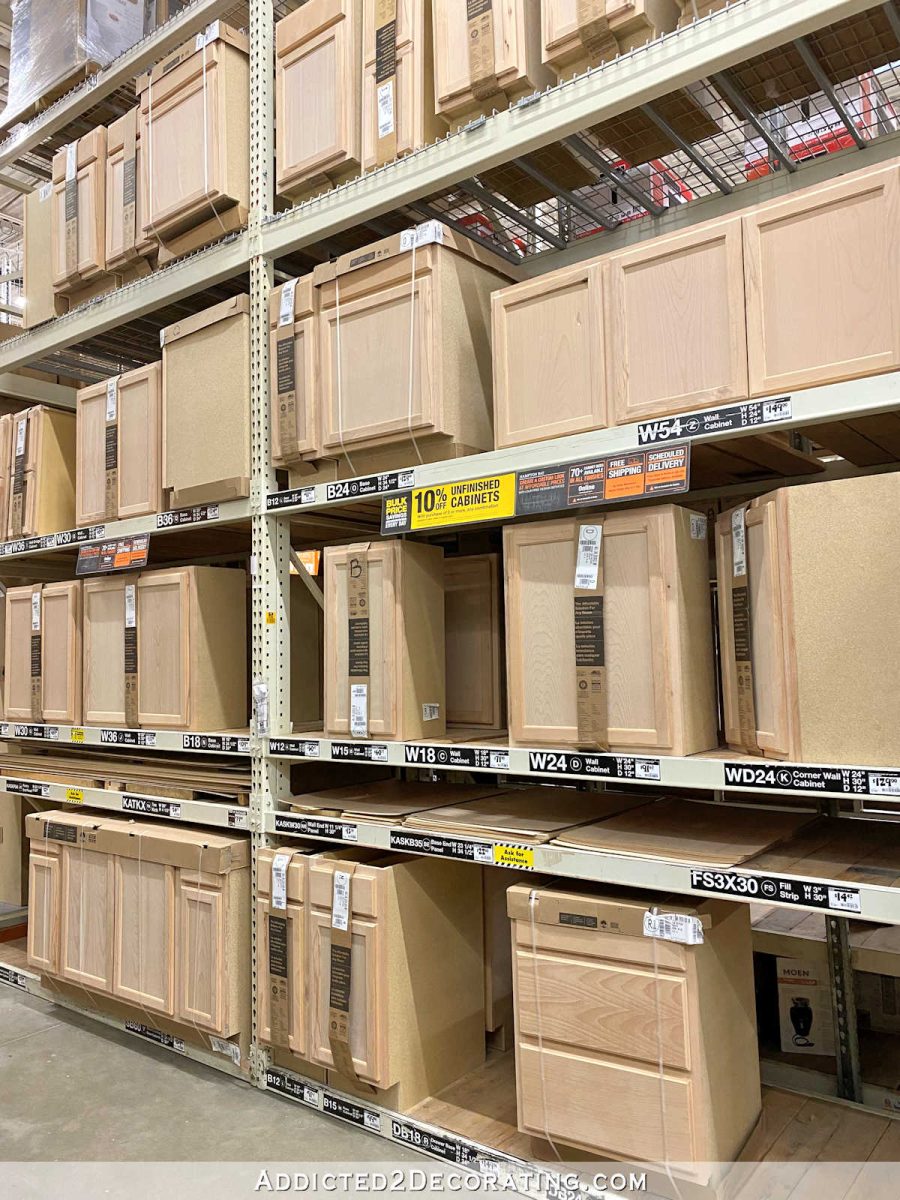 And this is what they look like in my kitchen…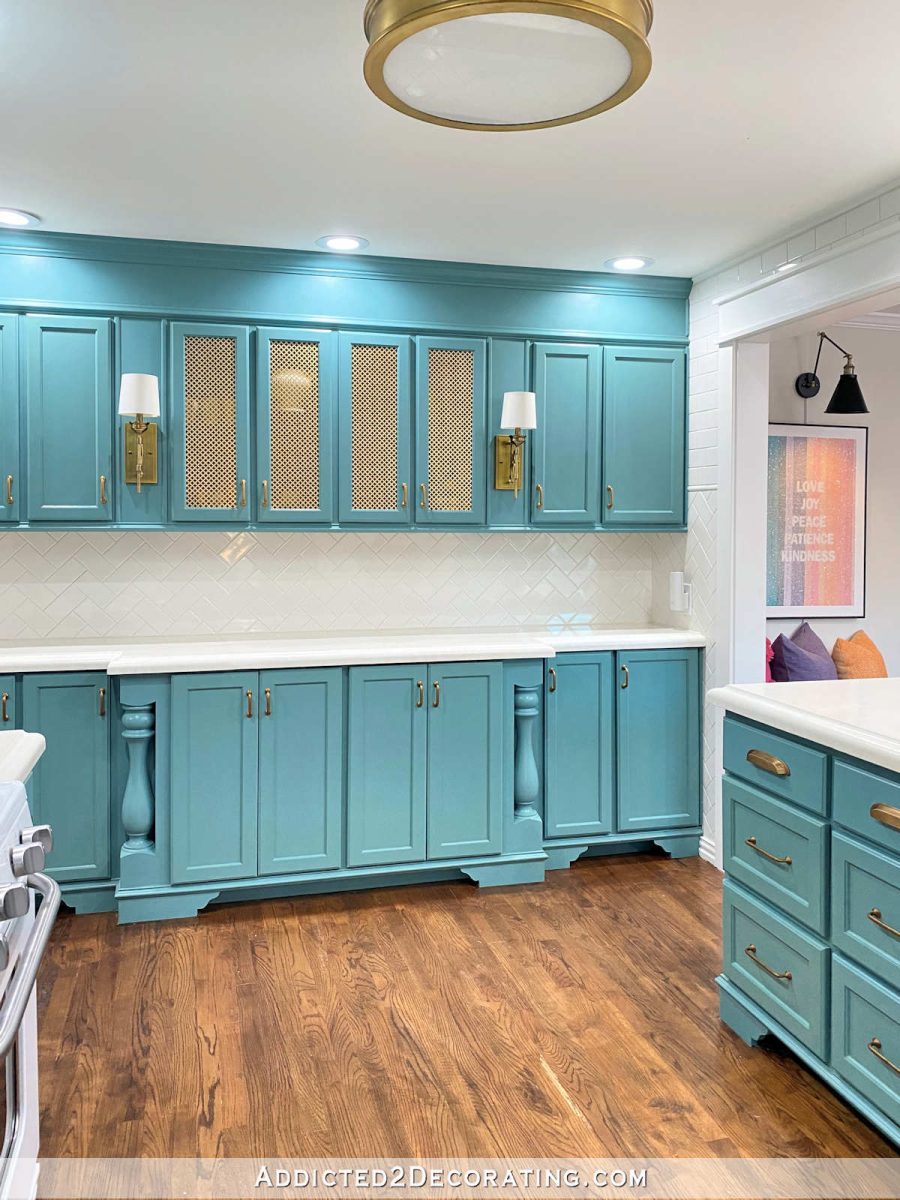 I was asked yesterday if I would recommend these cabinets after living with them for a while now, and honestly, I would. I mean, if that's what you can afford with your budget, then I would have no problem suggesting them. But I would also suggest that you think through ways that you can make them look customized. Because, let's face it. Those "off the shelf" cabinets are fine as they are for a utility room, but for a kitchen, you'll probably want to find some ways to spice them up a little.
One of my main suggestions is to stay away from the 12-inch-wide cabinets. Just walk away. No one needs cabinets that narrow in their kitchen. Stick with the 15-inch-wide and above only. Just trust me on this one. 🙂 If I could go back and make any changes, that would be the one thing I'd change. I've made the most of my little 12-inch-wide cabinets, but I wish I would have made a different selection in the beginning so I wouldn't have to make do today.
But I wanted to give you some ideas on how I went from those boring unfinished cabinets on the shelves of the big box store to what you see in my kitchen today.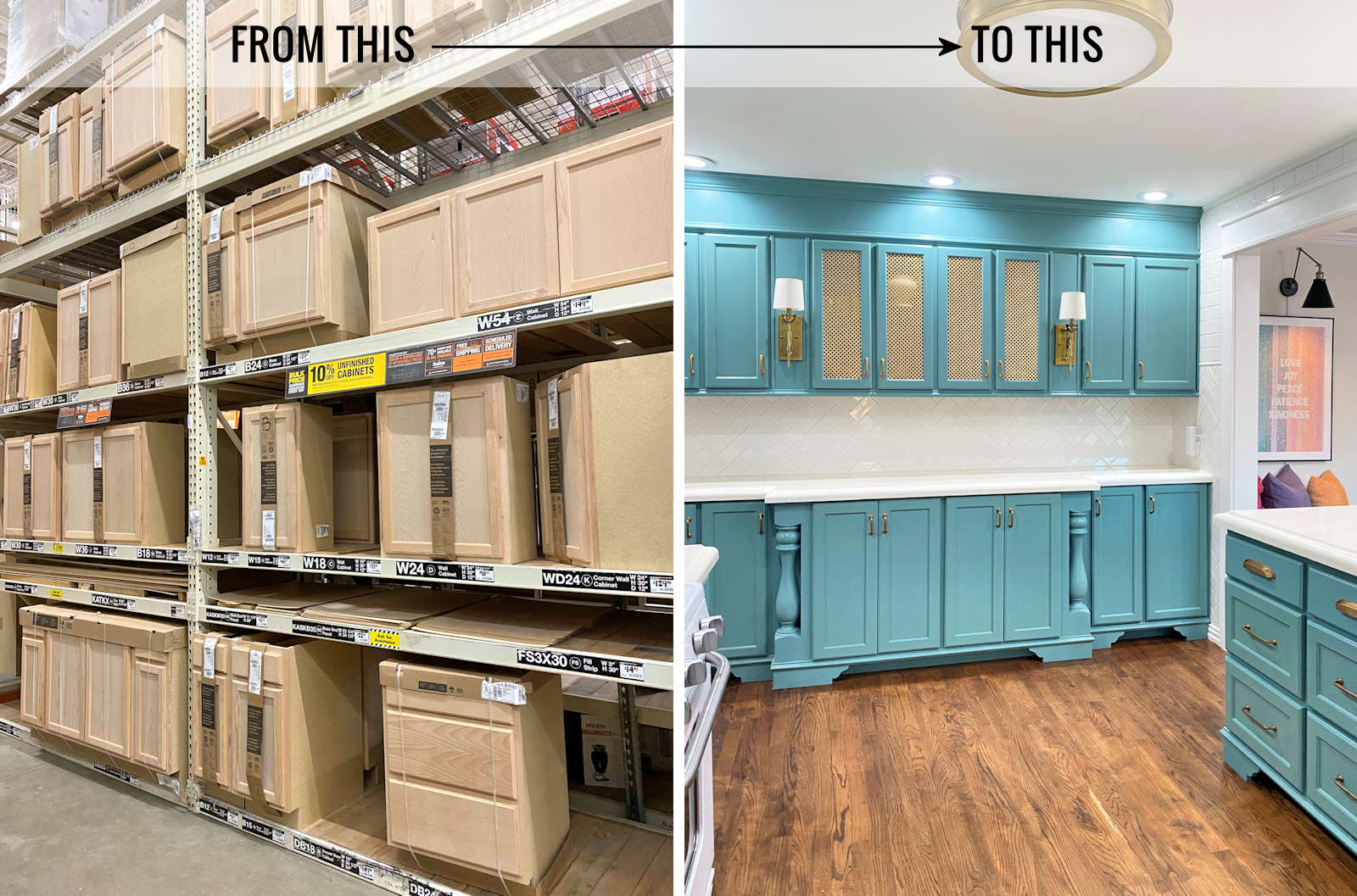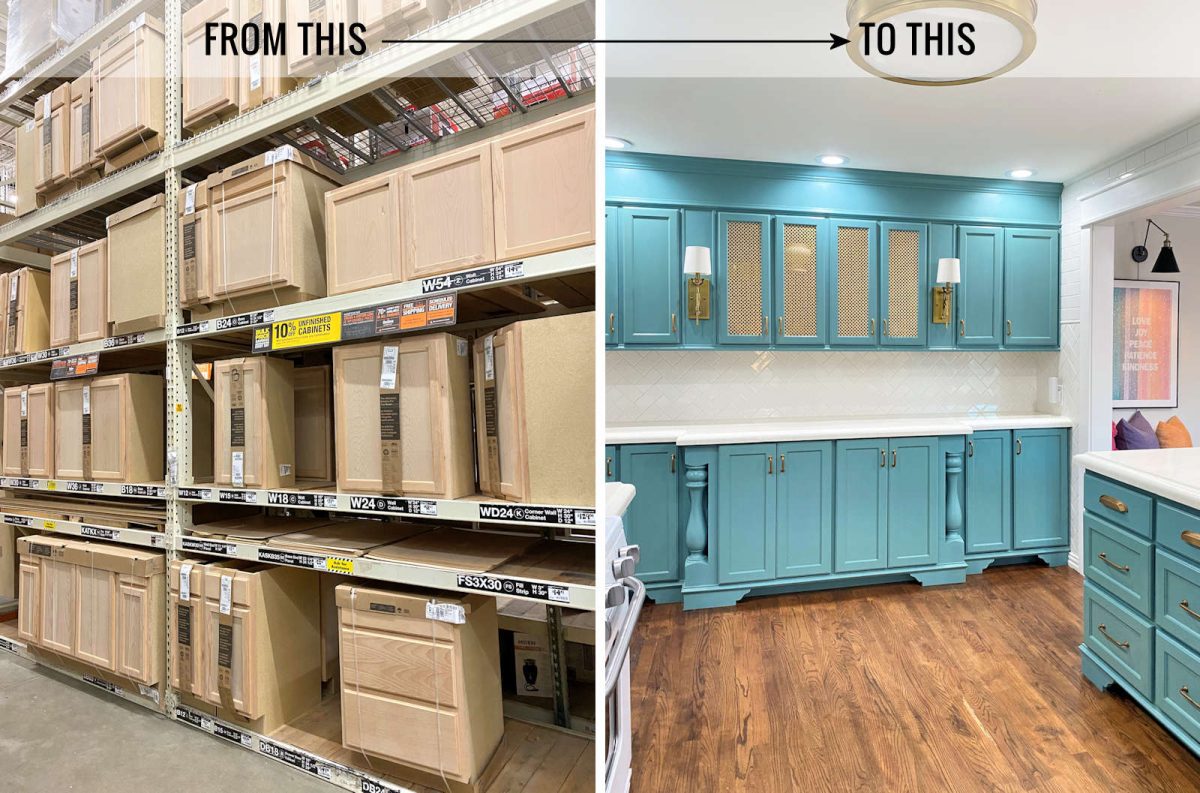 10 Ways I Customized My Unfinished Stock Oak Cabinets
1. Add special details like wood columns or turned legs.
I ordered these turned wood columns from tablelegs.com, and it's a great source for all kinds of columns and legs that you can incorporate into your cabinets or kitchen island. You can also check places like Rockler for similar products. With the price of wood today, these might cost a fortune now. So you might also check places like Habitat For Humanity Restore, or even consignment stores and resale shops for pieces of furniture that have these turned wood pieces that can be reused.
2. Add furniture feet to the lower cabinets.
Furniture feet can add a custom look to cabinets, and you don't even have to purchase them. I drew out what I wanted my feet to look like on a piece of paper (or maybe it was cardboard), and then used that to trace the design onto a 1″ x 4″ piece of lumber. Then I cut out the feet with a jigsaw, and attached them to the bottom of the cabinets. I think all of the feet were the cost of two 1″ x 4″ x 8′ pieces of lumber.
3. Add pretty drawer and door pulls
I purchased all of my pulls from Pottery Barn, and it was years ago, so they no longer carry these. But my advice is to put some thought into your pulls. And rather than purchasing contractor sets of basic knobs from Home Depot or Lowe's, upgrade to something that looks a little more special and substantial. Mix and match for a more custom look. I used three different styles/sizes in my kitchen — bin pulls for the upper drawers, large handles for the big drawers, and smaller handles for the cabinet doors.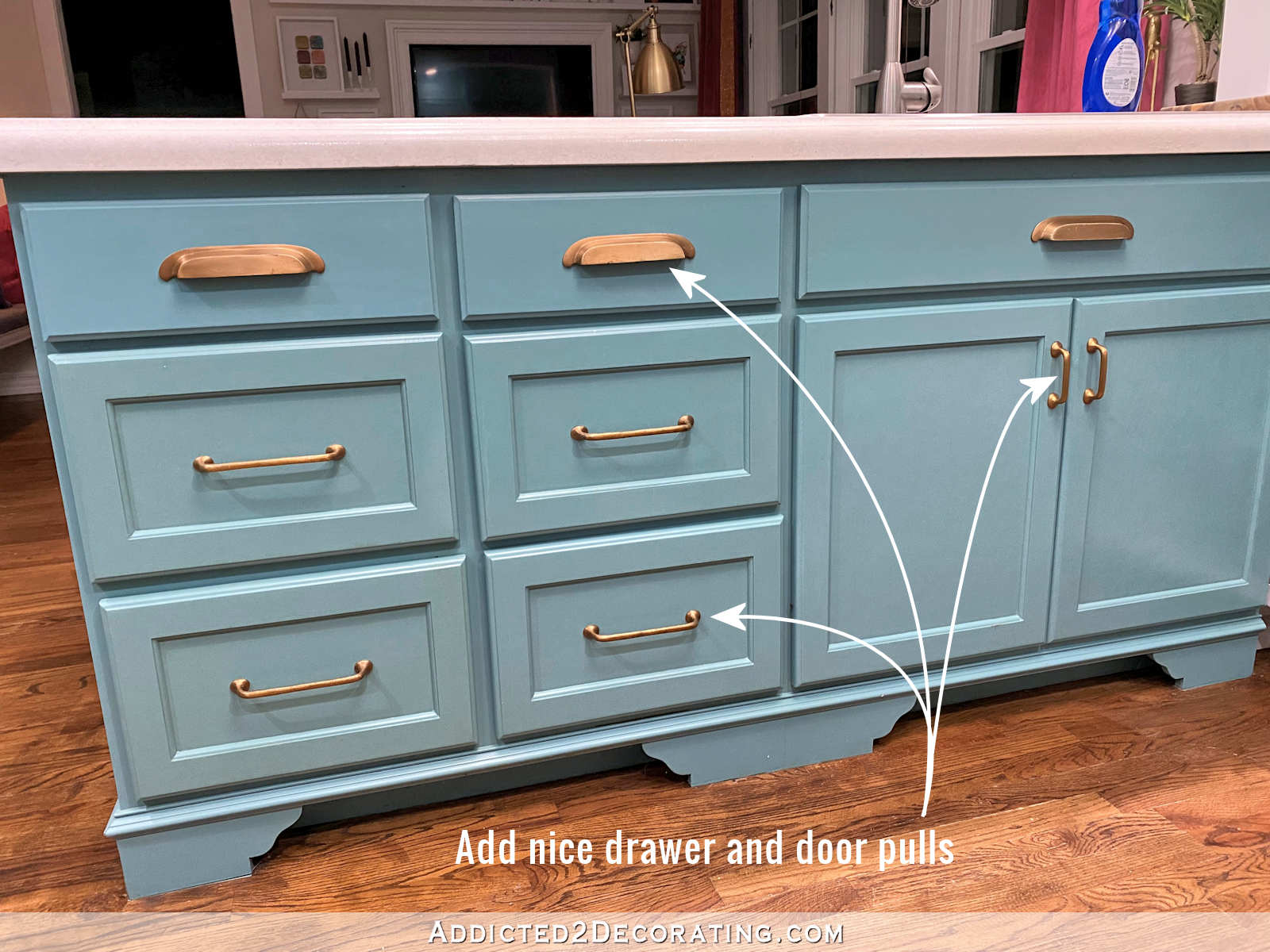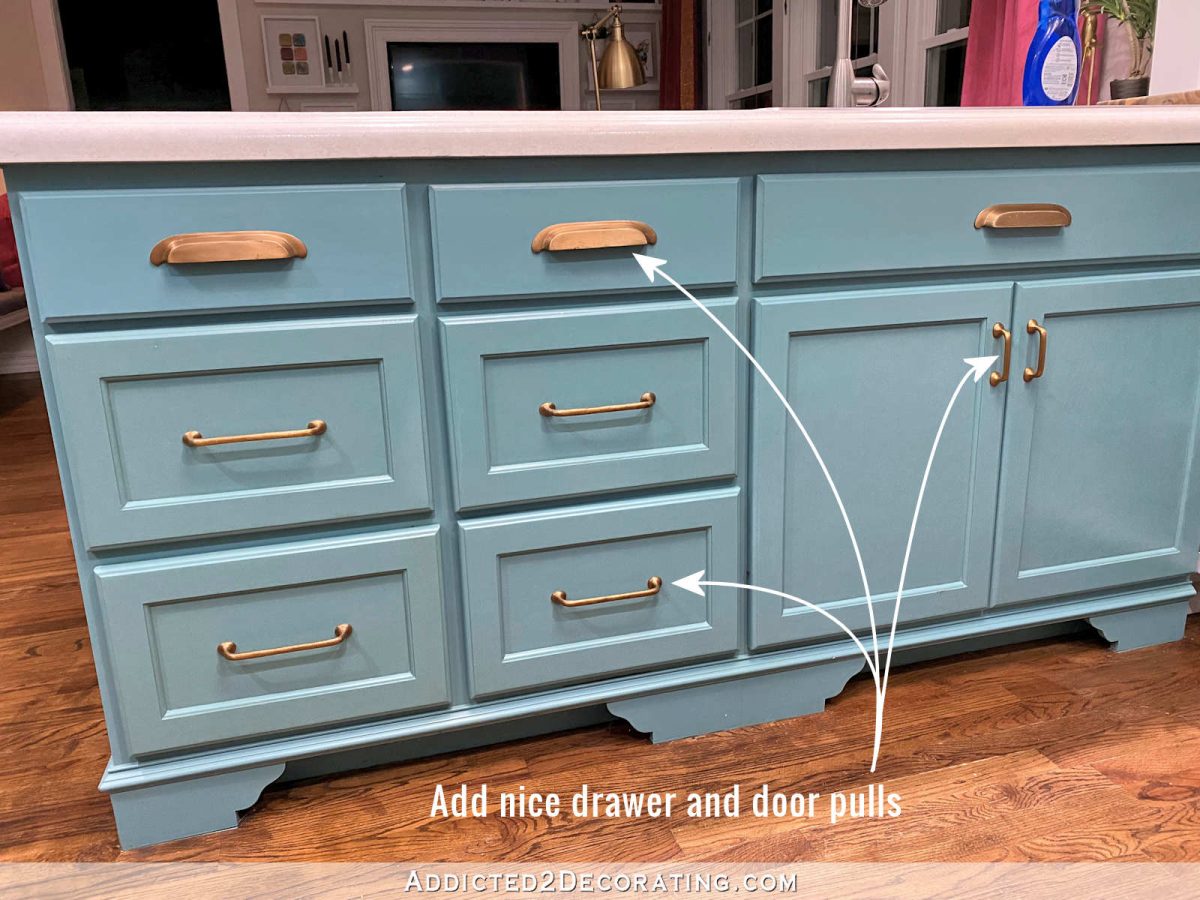 4. Incorporate wall sconces into the upper cabinets
Lighting is a great way to add a custom look, and when it's incorporated into the actual cabinets, it's a bit more unexpected. To add mine, I simply added 1″ x 5″ lumber used as spacers between sections of the upper cabinets, and then installed the lighting directly onto those wide spacers. I got my sconces from Shades of Light, and while they no longer carry these, they do have others that would be beautiful used in a similar way.
5. Add trim where you can
I added simple unfinished pine trim around the bottoms of the upper cabinets, as well as the lower cabinets. Adding this trim to the lower cabinets gave me something to adhere the furniture legs to. Adding it to the upper cabinets served no purpose other than to add something pretty to finish off the bottom edge of the cabinets. I love trim, and I look for ways to add trim to projects, whether it's walls, furniture projects, cabinets, etc. Trim is generally not too expensive, and most of what I use is sold by the foot at Home Depot, so I can always purchase exact what I need with no waste.
6. Build a custom range hood cover to integrate into the cabinets.
This was something that came along quite a while after I finished the original kitchen remodel. In the original remodel (the one where I painted my cabinets green), I didn't cover the range hood, so I just had a metal range hood showing. When I decided to repaint my cabinets teal three years later, I decided that I also wanted to cover the range hood with something that added a more custom look to the cabinets. The project was not difficult (I would say intermediate DIY skills are required). You can see the details of this project here.
7. Build a refrigerator enclosure
Building a refrigerator enclosure that integrates into your cabinets is another great way to make your kitchen cabinets look custom. If you have any building skills at all, then this is a very easy project. Don't let the size intimidate you.
8. Build the cabinets all the way to the ceiling
Of course, if you have really tall ceilings, this won't be possible. But if you have ceilings that are 8- or 9-feet tall, I would suggest building the cabinets to the ceiling. With my 8-foot ceilings, I didn't have room for actual storage above my cabinets, so I just used a piece of lumber (something like a 1″ x 10″ piece) to enclose that area, and then finished it off with trim on the bottom and crown molding at the ceiling. If I had 9-foot ceilings, I probably would have turned that space into storage by either purchasing short wall cabinets (they have the short ones for laundry rooms and for the space above range hoods), or building cubbies to store things in pretty baskets. But somehow, building my cabinets to the ceiling made my kitchen ceiling feel higher, and adding that top detail gives the cabinets a custom look.
9. Swap the wood panel on some of the cabinet doors for glass or cut sheet metal
When I did the original kitchen remodel, I put glass into these four cabinet doors. When I repainted the kitchen in 2017, I swapped the glass for these cut metal pieces that I purchased at Lowe's. I had looked for decorative metal wire mesh inserts for the doors, but those were way more than what I wanted to pay. Then I found these cut metal sheets at Lowe's for a fraction of the price and decided that they would add a very similar look to those expensive wire mesh inserts. You can see here how I removed the wood panels to add glass, and I explained here how I added the cut metal sheets.
10. Customize the inside of the drawers and cabinets based on how you use them
This part of the process is still ongoing, but it has really helped my kitchen "feel" more custom as I add my personal organizational touches to the drawers and cabinets based specifically on how I used them. The great part about this part of customization is that it doesn't have to be done all at once, and you can add customizations (1) as you can afford them (like adding full extension drawer slides, or turning a cabinet into pull-out storage), and (2) after you've used your kitchen for a while and know exactly how you want and need things organized to fit the specific ways in which you use your kitchen.
I didn't have any of these organizational tools put into place for the first few years that I had this kitchen, and I was still able to use the kitchen and function just fine. It wasn't quite a fun to see unorganized cabinets and drawers, and it wasn't quite as efficient as it is now, but I did have a functional kitchen.
And now, as I think through exactly how I use my kitchen on a daily basis, and what things I need close at hand and what things can be stored in the pantry, I'm able to add customizations that are just for me and how I use my kitchen. I'll admit that this part is way more fun that I thought it would be. 😀
When I get every drawer and cabinet completely organized and customized how I want it, I'll give y'all a "tour" of all of my drawers and cabinets. But for now, here's a glimpse at the ways I've customized, most of which you've seen before:
This Amazon storage bag organizer fits my 13-inch-wide drawer perfectly,
This Amazon food wrap organizer also fits perfectly, and it slides back and forth on rails, allowing me to store things underneath it in this deep drawer,
My paper towels fit perfectly inside this drawer, and are on a dowel for easy dispensing, with plenty of room for dish towels at the back,
Our utensils are organized in a drawer insert that I made to perfectly fit the drawer ,
My spices are easily accessible in this drawer that has a tiered spice insert made to fit the drawer perfectly, and
This cabinet was converted into a three-tier pull-out system for my cookware and measuring spoons/cups.
So by adding all of these things over time, my kitchen definitely has a "custom" feel to it even though all of these things are housed inside of inexpensive big box store cabinets that I customized myself.
I've had these cabinets since 2014, and they've held up very well. Nothing is coming apart, and nothing "feels" cheap. I've added full extension drawer slides on a couple of the drawers where I needed full access (like the spice drawer and the utensil drawer), and I do plan to swap out the others as time permits. But right now, that's not a huge priority.
So would I suggest purchasing unfinished stock oak cabinets from a big box store? If that's what your budget allows, then yes. I would have no problem at all using these again. Mine have served me very well for eight years now.
Addicted 2 Decorating is where I share my DIY and decorating journey as I remodel and decorate the 1948 fixer upper that my husband, Matt, and I bought in 2013. Matt has M.S. and is unable to do physical work, so I do the majority of the work on the house by myself. You can learn more about me here.