Essential DIY Tools – Sewing Machine
When it comes to essential DIY tools, a sewing machine is definitely at the top of my list. And before you say, "Oh, I don't know how to sew," let me assure you, you can learn.
Sewing machines seem to intimidate so many DIYers, but once you learn the basics (mainly how to thread the machine), you find that there's really nothing to be intimidated by.  And while many sewing machines can do fancy stitches and really advanced things, you'll be amazed at what you can do if you just learn how to sew a straight stitch.
Choosing a sewing machine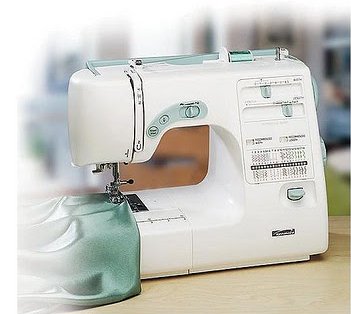 When you're just starting out, I would personally recommend that you don't purchase a fancy, high-dollar sewing machine.  You can start out with an inexpensive one, learn how to use it, see if it's something that you'll stick with.  That will also give you time to see how exactly you'll want to use your sewing machine, and to figure out what, if any, special features you may require on a higher-end sewing machine when the time comes to purchase one.
I've actually never owned a high-dollar, fancy sewing machine.  Oh, I've used them.  And they are amazing!!!  Even with the fancy stitches aside, they sew so smoothly and effortlessly.  But I've never brought myself to purchase one.
I've been sewing since high school, and I've always found that the inexpensive ones are sufficient for what I need to do.  The one I use right now is a $120 Kenmore machine that I bought at Sears, very similar to the one pictured here.  You can see that it has no fancy computerized settings.  It just has basic manual settings.
Now don't get me wrong.  I'd love to have a nice, fancy sewing machine that can do loads of fancy stitches, but if you've been around her a while, you know I'm cheap.  🙂  And when the inexpensive machines seem to do all that I need, I find it hard to part with my money just to get bells and whistles that I may never use.
The one feature I can't live without
Regardless of the cost of the machine, the one feature that I can't live without is a blind hem stitch setting.
If you're going to be sewing draperies at all, a blind hem stitch setting is an absolute must.  This will allow you to do all of your hems on the draperies using a machine (rather than by hand…yikes!!) in a way that the stitches won't show on the front of the finished draperies.
Projects I've made with my sewing machine
Just glancing through my project gallery, it's pretty obvious which ones I made using a sewing machine — pretty much any project made with fabric.
But if there is one reason alone for purchasing a sewing machine and learning how to use it, that reason would be draperies!!!
I will freely admit, I'm a huge drapery snob.  🙂  I absolutely cannot stand store-bought window treatments.  Unless you spend a pretty penny on the really nice stuff from the really nice stores, then what you'll usually get are curtain panels that are too narrow and too short.  And if they've labeled them as "lined", that usually means that they've used the absolute thinnest and cheapest cotton fabric they could find just so that they could use the term "lined" to charge more for the product.
And don't even get me started on the quality of the sewing on store-bought curtains.  🙂  I don't think I've ever bought a store-bought curtain panel that wasn't pulled and puckered on the side hems.
Yep…I'm a drapery snob.  🙂  I like custom, drapery-workroom-quality, lined draperies that are lined with actual drapery lining (preferably blackout lining).  But if you purchase those through an interior decorator or drapery workroom, be ready to spend hundreds, if not thousands, of dollars.
And it's not just draperies for me.  It's any window treatments.  For example, my lined pleated valance in my breakfast room is workroom-quality at a fraction of the price since I made it myself.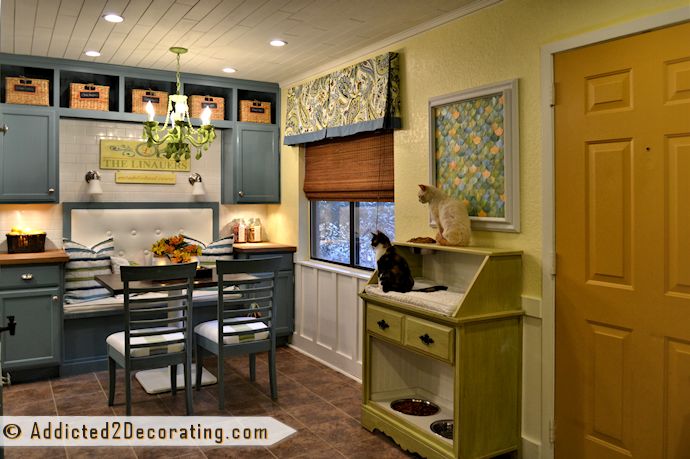 In addition to window treatments, those of you who know me also know that I'm all about the custom shower curtains.  That's another thing that I can't stand buying ready-made, and again, it's because of the length and the quality issues (pulled and puckered side hems).  I like my shower curtains to look more like drapery panels, which means that they're longer than store-bought shower curtains.  However, I don't go to the trouble of lining my shower curtains.
This is one of my favorite shower curtains that I've made.  It was for a designer showhouse, and the bedroom and bathroom were for a six-year-old girl.
And then there's this shower curtain that I made for Gwen's bathroom makeover.  She had a shower with a glass surround, but I wanted the shower curtain to draw attention away from the bright brass on the shower surround.
And of course, the fanciest shower curtain I've ever made was for my own bathroom makeover.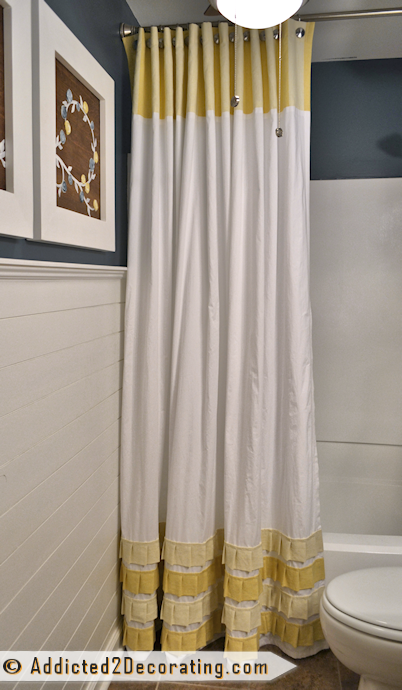 But in addition to draperies, other window treatments, and shower curtains, of course there are many other things you can make for your home, and naturally if you do it yourself, you'll save a great deal of money.  Have you noticed how expensive decorative pillows have gotten?  Yikes!  Make your own, and reduce that cost by at least half!
Obviously, I could go on and on.  With a sewing machine, there's a whole world of possibilities that open up to you — slip covers, bedding, fancy upholstery projects, and so much more!
I couldn't decorate like I do without my sewing machine.  It's definitely worth of a top-five position on my list of essential tools for DIYers.
Do you own a sewing machine?  Do you know how to use it?  🙂  What do you find yourself using it for the most?
Did you miss my #1 and #2 picks for Essential DIY Tools?  Click here to read about my #1 pick — a miter saw.  Click here to read about my #2 pick — an electric sander.
Addicted 2 Decorating is where I share my DIY and decorating journey as I remodel and decorate the 1948 fixer upper that my husband, Matt, and I bought in 2013. Matt has M.S. and is unable to do physical work, so I do the majority of the work on the house by myself. You can learn more about me here.