Once upon a time, my entryway looked like this…
It featured a triptych of paintings that I did myself (click here to read more about how I made those, and click here to see how I framed them), and I loved those paintings. But then I totally redid my entryway and opted for birds over abstract fluid acrylic paintings for that wall.
(You can click here to see more of my entryway makeover.)
But I really loved those paintings, and wanted to reuse them. My plan was to use them on the wall where the original six bird prints used to hang — the wall in the living room to the left of the doorway between the living room and kitchen…
(You can click here to read more about that gallery wall and my tips for hanging a perfect grid-type gallery wall.)
But in order for the triptych to fit there, they would have to hang horizontally instead of vertically, and they'd also have to be cut down to fit.
So I spent two days removing the frames, cutting about seven inches off of each painting on my table saw, and reframing them. Then I also decided to add a coat of resin to the paintings to give them a polished, finished look.
And then I hung them. And I didn't like them there.
After all of that work, it just didn't work out. I like rooms that are pretty colorful and busy and filled with lots of stuff and pattern and colors and texture, but those paintings hanging on that wall were way too much even for me.
So I proceeded to spend about two hours walking around my house, taking down every picture and painting on my walls (with the exception of the entryway wall — that's finished 🙂 ), and seeing if those paintings could hang somewhere else. I tried the hallway, the bathroom, the breakfast room, and then I considered the music room. The problem is that all of my walls have paintings or pictures that were specifically planned and/or custom made specifically for those areas, so swapping artwork around in my house really isn't that easy.
For example, my breakfast room has two paintings that I specifically made for those two walls. The paintings are a set, and I made them the exact size I thought they needed to be for those spaces, and even custom made the frames that fit over the sconce cord covers so that the paintings sit flush against the wall.
So I can't just go swapping things around easily in my house.
But after pacing and mulling and trying different things for about an hour, I finally realized that literally the only spot those paintings could go was over the piano.
Yep, over the piano, where there was a mirror that I had custom made to fit perfectly in that spot. 😀 *Sigh*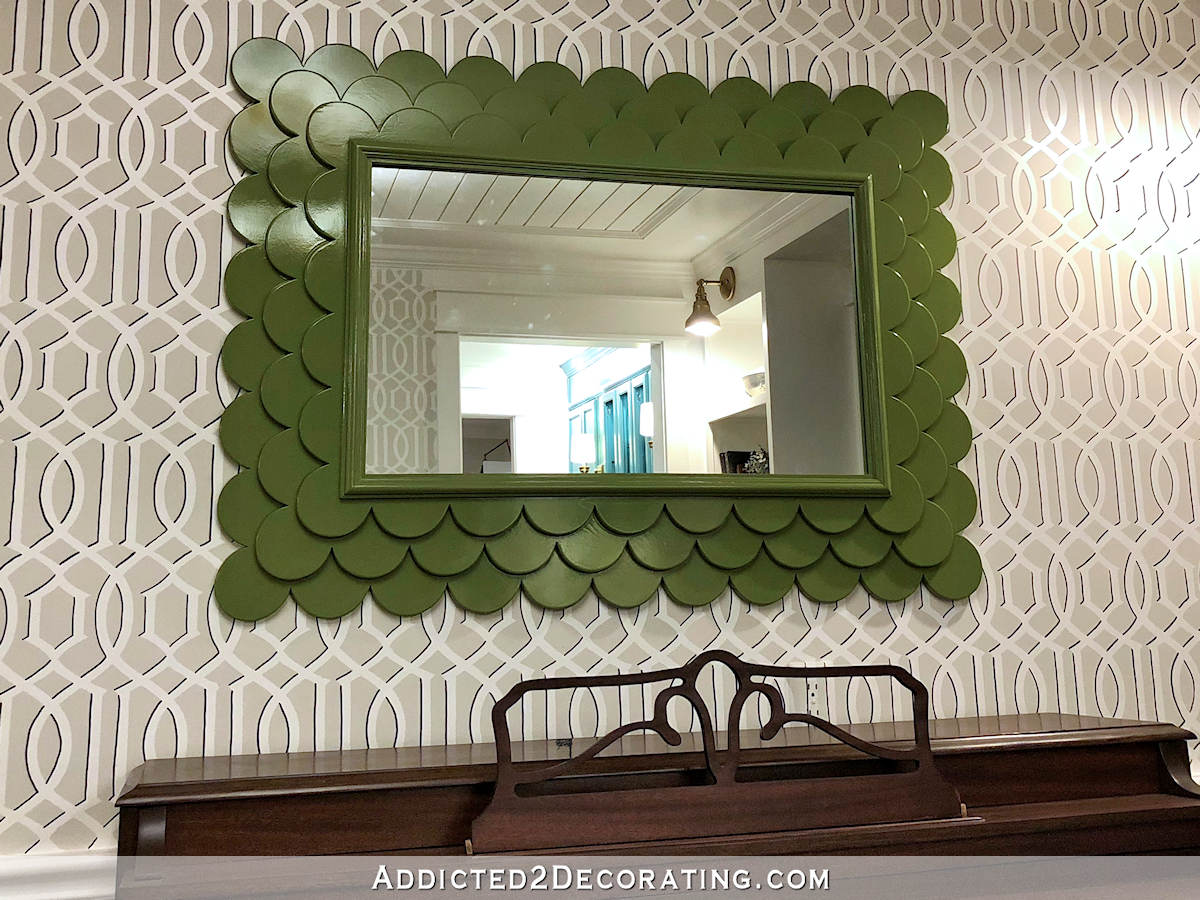 (You can click here to see how I made that mirror.)
But I realized that it would be much easier to find a new home for a mirror (perhaps in the half bathroom at the back of the studio?) than it would be to find a better home for a triptych of abstract artwork. So I took the mirror down (and for now, hung it in the spot that I originally intended for these newly resized, reframed and resined paintings), and up went the paintings over the piano.
You know the most frustrating part? Had I known that they would end up in this spot, there would have been no need to cut seven inches off of them. They were the perfect height for hanging over the piano! Now they're a little too short, making it necessary to hang them with a wider gap between the top of the piano and the bottom of the paintings than is ideal.
But at this point, it has to be okay. Unfortunately, there's no way to reattach what I cut off. 🙂 At least they have a home, and I can continue to enjoy them…minus twenty-one inches.
Anyway, while my attention was focused on the music room, I also decided to go ahead and do the paint touchups on the doors. And while I was at it, I decided to change the color altogether. They used to be black, and now they're the same dark teal that I used on the entryway wall and the living room fireplace. Obviously it's not a huge change since that teal is so dark that it looks black in poor lighting. And my music room has low light and no direct natural light, so it can get pretty dark, especially on cloudy days.
And while I was in a painting mood, I also decided to paint the backs of the bookcases with the same color to see how I liked that. It's kind of hard to tell right now since the shelves are empty, but I think I really like it! I'll know for sure when I actually get things on the shelves.
And while I was at it, I was going to finish up by doing all of the touchups on my baseboards. Unfortunately, I didn't finish with the bookcases and doors until about 10:00 last night and when I went to look for trim paint, I realized that I didn't have any! It's hard to imagine that I had none on hand, but both cans that I found were empty. So my baseboards still need attention. I tried! I promise!
And right now, my big flower picture is down for repair. There was a resin imperfection that I tried to fix, but only ended up making things worse. I will get it done very soon, though, and it'll go back in its spot.
So in the midst of my artwork dilemma, I also purchased and received a wide angle lens for my iPhone. 😀 It arrived yesterday, so I was very anxious to test it out this morning and get some wide shots of these areas of my house.
After looking at the options on Amazon and finding that most of those lenses distorted the outer edges of the photos terribly, making walls and doorways appear rounded like Hobbit doors, (and most of them seemed to be very hit-or-miss as far as working on an iPhone X) I finally found this Sandmarc wide angle lens made specifically for an iPhoneX with amazing ratings.
It cost quite a bit more than the ones I was looking at on Amazon, but it's worth it to avoid the distortions. (Seriously, check out the interior photos on this review of one of the highest rated iPhone wide angle lenses on Amazon. It's like walking through a fun house at an amusement park!) So far I'm very pleased with the Sandmarc lens, and I look forward to getting much wider shots, especially when doing house tour videos. But some of the photos do look a little blurry. I'm not sure if that's the lens, or if that's something I accidentally did while editing the photos. I'll have to try again when I have more time to experiment.
But for now, even with the slight blurriness on some of the pictures, I love being able to get these wider shots of my house.
And speaking of videos, I do hope to have an updated Fall House Tour video in the next few weeks. So much has changed since I did my Spring House Tour video!
Addicted 2 Decorating is where I share my DIY and decorating journey as I remodel and decorate the 1948 fixer upper that my husband, Matt, and I bought in 2013. Matt has M.S. and is unable to do physical work, so I do the majority of the work on the house by myself. You can learn more about me here.
I hope you'll join me on my DIY and decorating journey! If you want to follow my projects and progress, you can subscribe below and have each new post delivered to your email inbox. That way you'll never miss a thing!