I think it goes without saying that 2020 didn't work out quite like I had planned. I'm pretty sure most of us could say that. I started out the year with all kinds of projects planned for the year (you can see my 2020 Master List of Home Goals here), and when all was said and done, I only managed to get a tiny fraction of things on that list started, with even fewer of them actually finished.
I also added a pretty significant weeks-long project that I hadn't planned on doing at the beginning of the year — my mom's kitchen makeover. So really, I got more done that my original list would indicate. But overall, I'd say that 2020 was my least productive year since I started blogging about my DIY projects.
That's okay. It was a strange and hard year, and I'll cut myself some slack. So here's a quick review of what I actually did get done this last year.
Music Room
First, I painted the bookcases and doors in the music room. The bookcases were white and the doors were black…
And I both the bookcases and doors in the music room the same dark teal that is on the entryway wall and the living room fireplace, and I swapped out the ceiling light as well.
I never got a good daytime picture of that after it was painted, so I'll work on that soon.
(Future) Master Bathroom
My family came over and helped me with a huge project — the demolition of the former master bedroom that will become the new master bathroom. At the beginning of 2020, there had already been a bit of work and demolition done on the room as part of the work done on the hallway and other two bedrooms. So the room had a new window, the closet had been torn out, and part of the ceiling had been removed. Here's how it looked at the beginning of the year…
And after a day of demolition (which you can read more about here), this is what we ended up with…
And unfortunately, that's exactly what this room still looks today. I was so hopeful that the master bathroom would be completely finished in 2020. *Sigh* Oh, well. There's always 2021.
Cleaning, Organizing, and Purging
This was a huge goal for me at the beginning of the year, and I started out with a bang. I was so enthusiastic about clearing out all of the non-essential junk from the house and getting everything that's left perfectly organized. I got rid of a whole lot of stuff I no longer needed.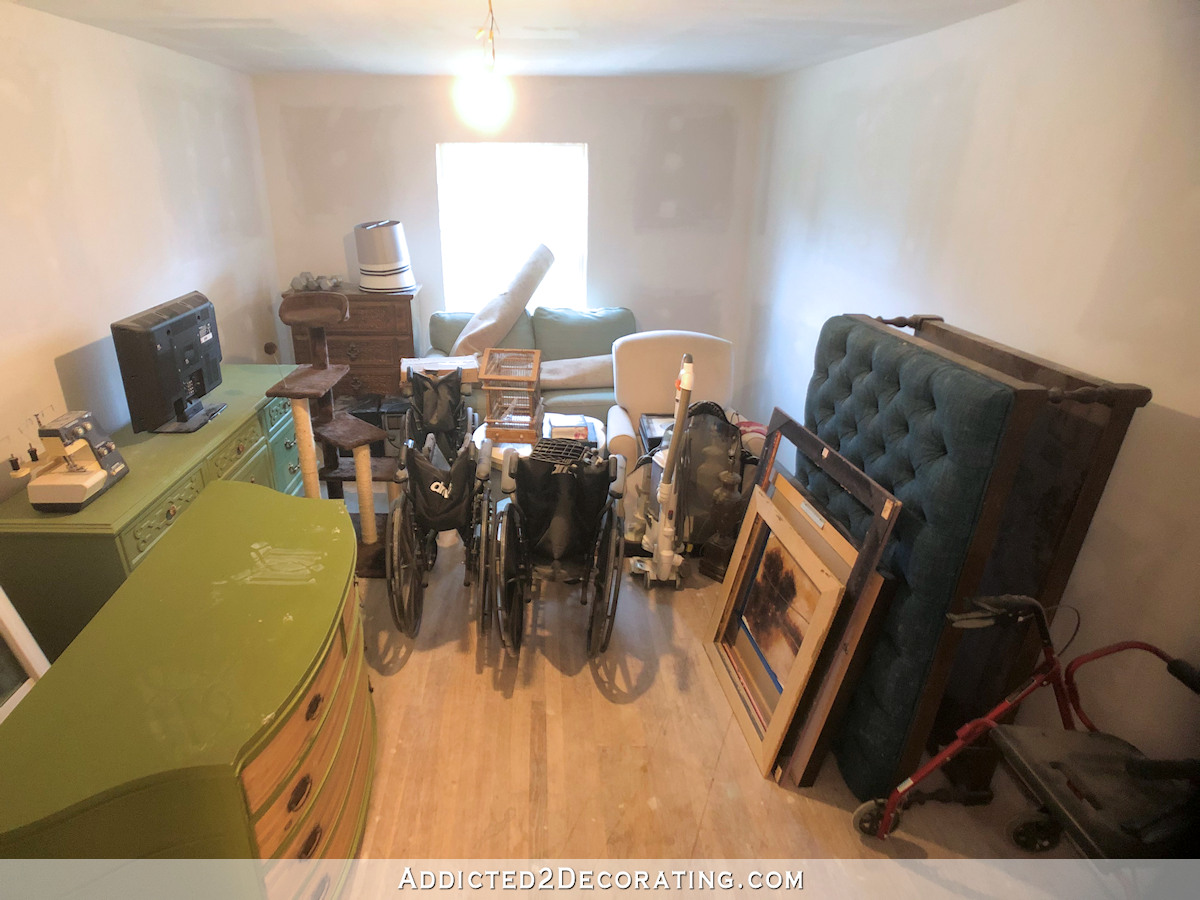 I also did some organizing in the kitchen with these very easy DIY drawer dividers. You can see that project here if you missed it.
I'm going to get focused on this goal again this year, and I'll continue until it's finished. I am, by nature, a very messy and disorganized person, but I long to live in a house where I only have what I need and absolutely want, and there's a place for everything and everything is in its place.
Hallway
I had forgotten about this until I looked back through last year's posts, but I installed new flooring in the hallway last year. If you'll recall, we had this floor taken out completely, including the subfloor, and had new subfloor reinstalled because the hallway floor had buckled after the crap geyser incident of 2019. (You can read about that here if you missed it.)
So the contractor's guys installed the subfloor, and then I installed the new hardwood flooring.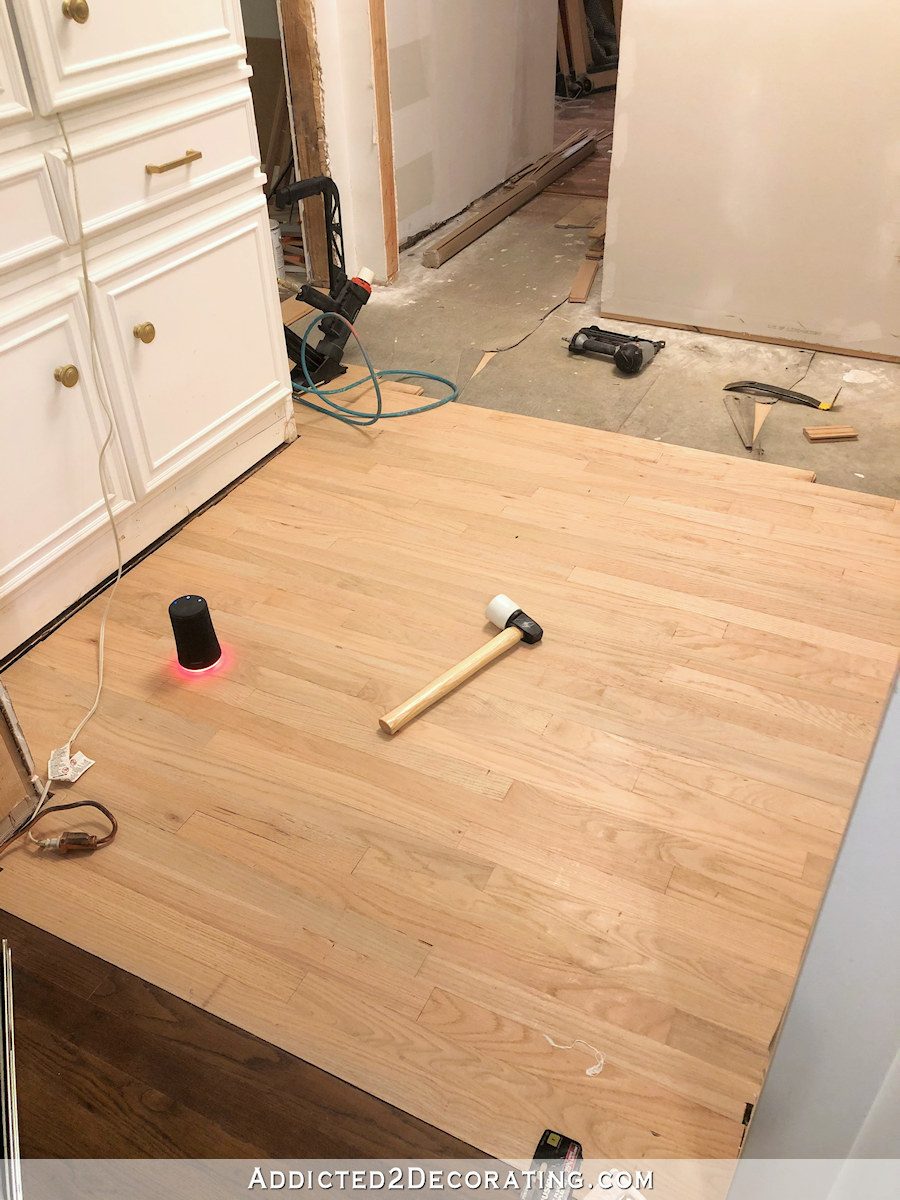 And it's still in its raw, unfinished form today. I still have flooring that needs to be installed in the other room that will be the home gym, and as soon as that's done, I'll rent the big sander and finish these floors.
Guest Bedroom
The guest bedroom is the area of the house that got the most attention in 2020. It started out looking like this…
I still need to share one or two more projects from this room with y'all, and then get pictures of the finished room. But there were quite a few projects that went into this room during 2020. Of course, there was all of the standard priming, painting, and installing trim. But in addition to that, I also did this hand-drawn accent wall. You can find that project here.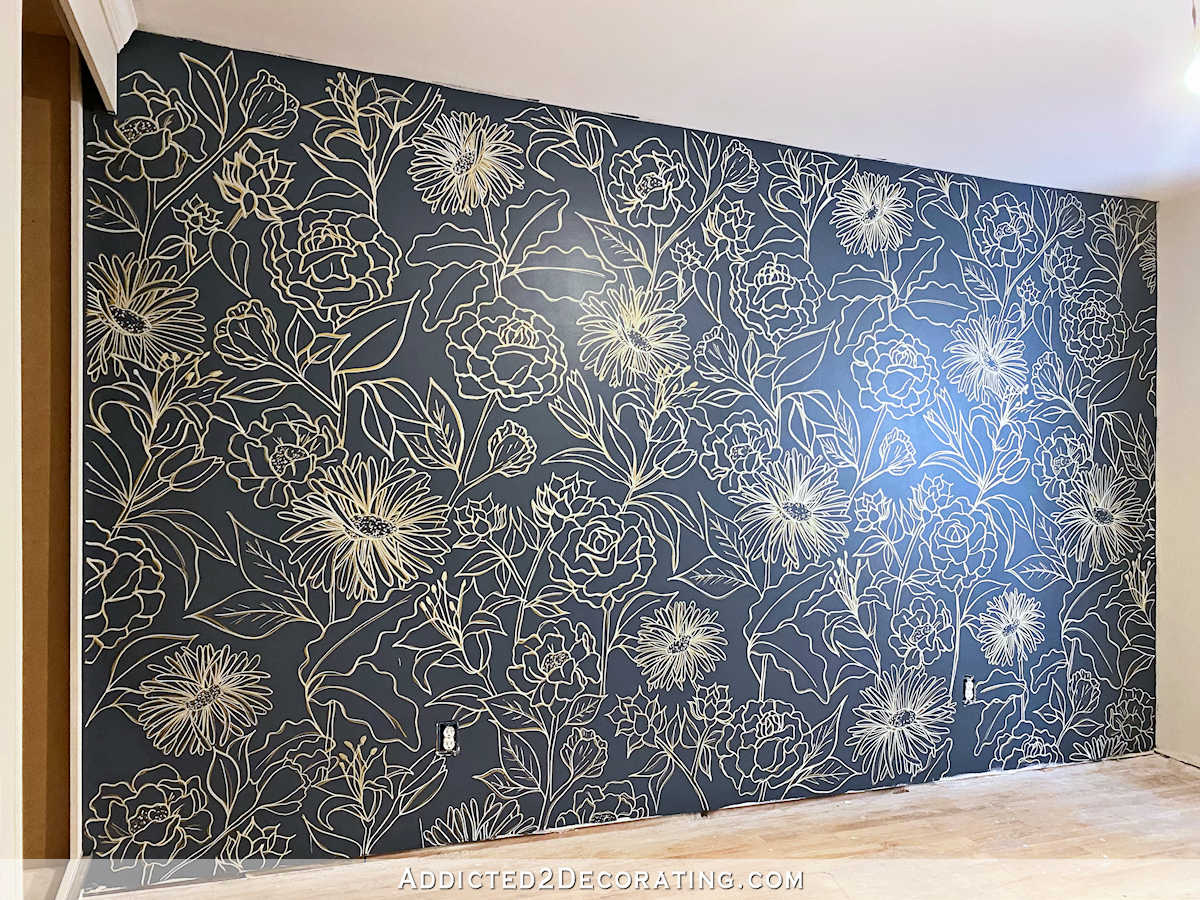 And I also painted this offset stripe design on the floor. You can find that project here.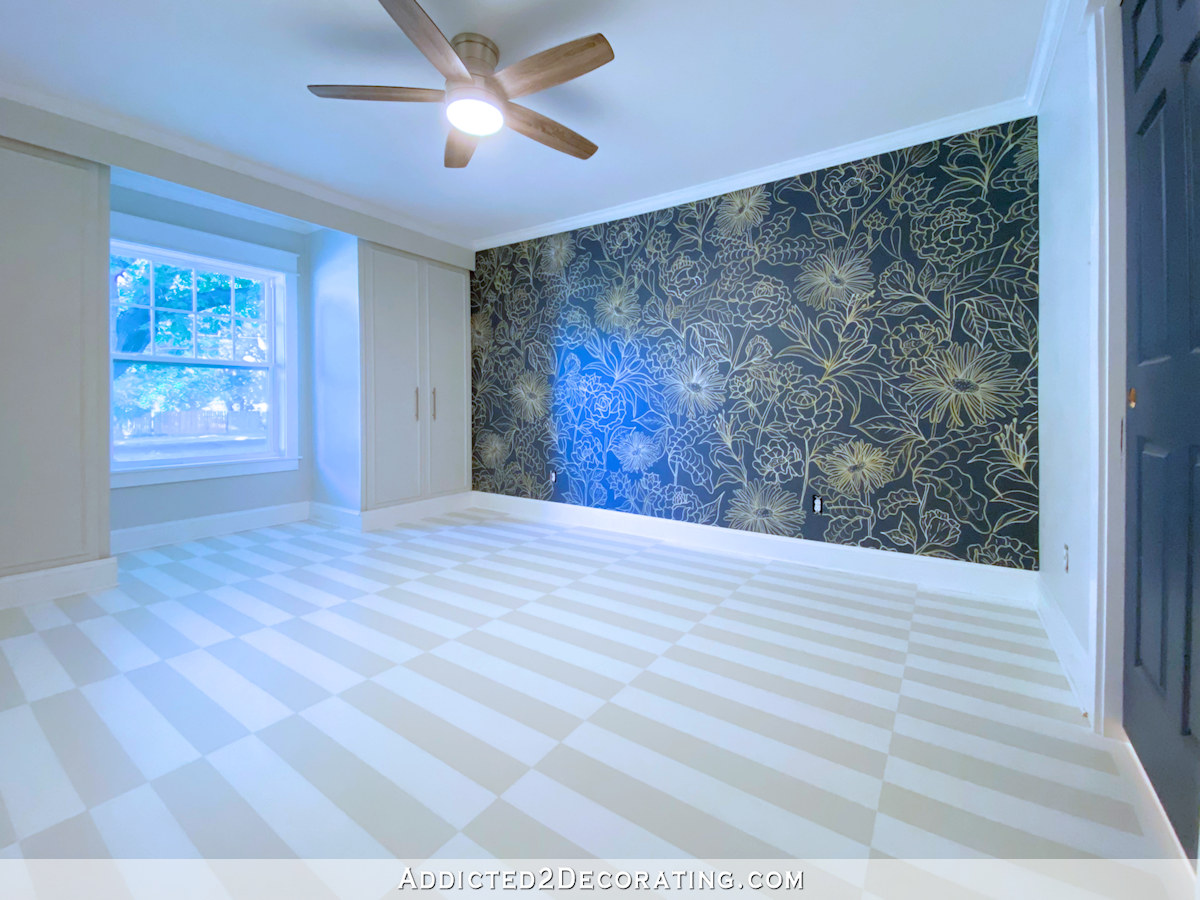 And I built those two closets flanking the window.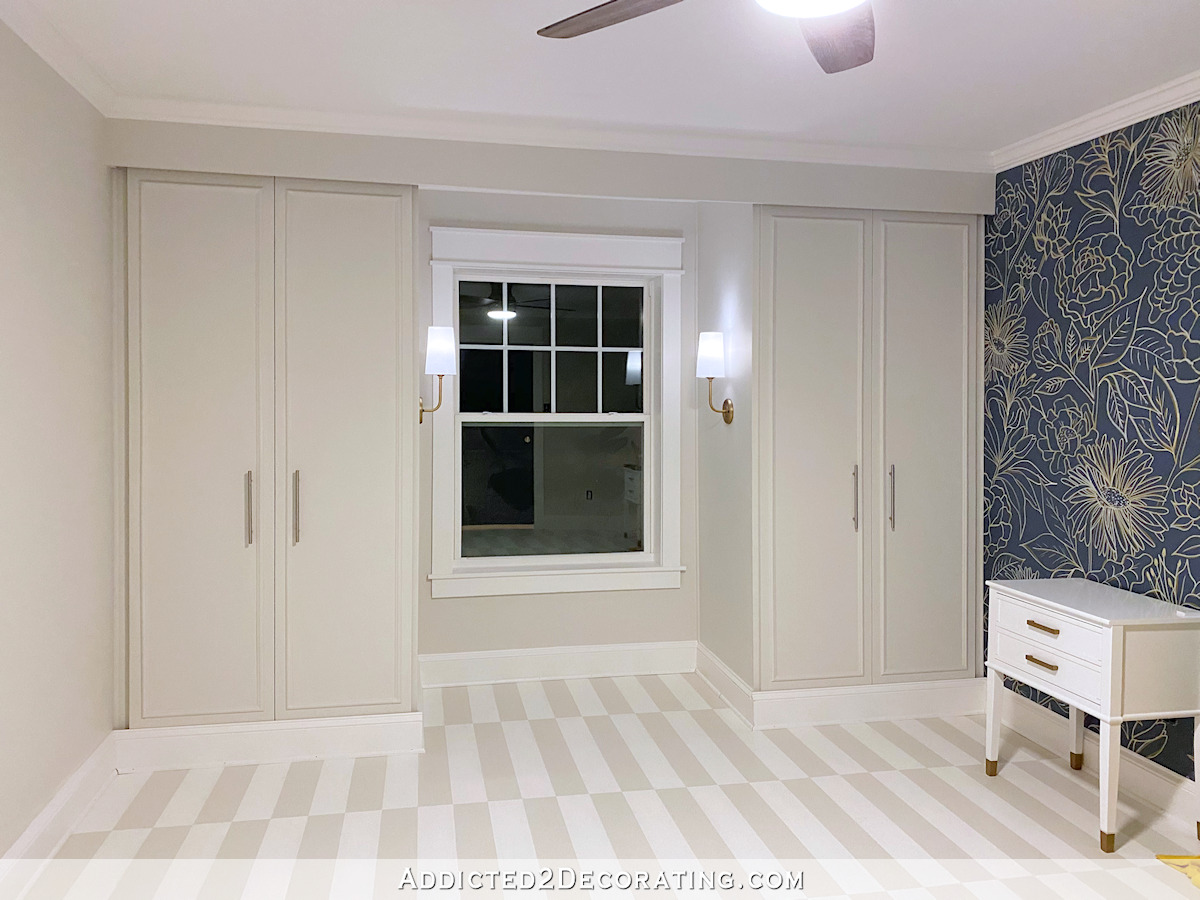 I had originally planned a window seat for that space under the window, but I built this little writing desk with a drawer instead. That project is right here.
And then there was this little dresser makeover, which you can see here.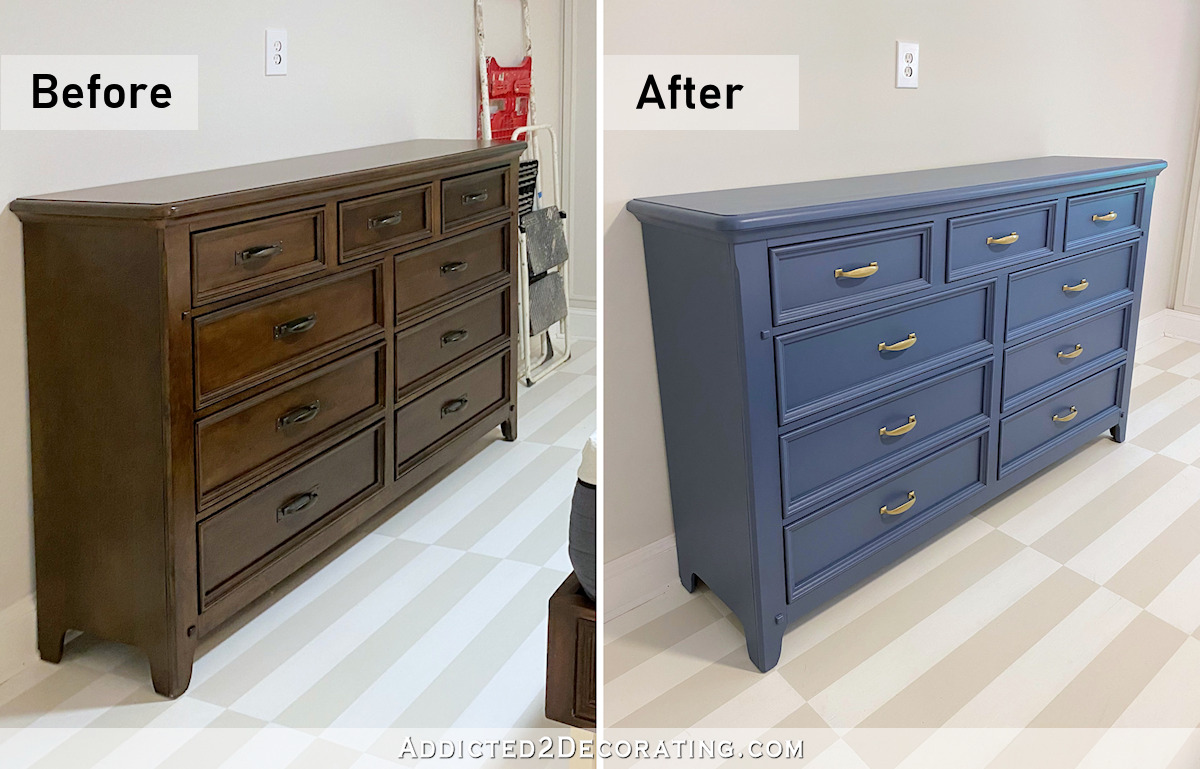 I also made some bedding for the room. The quilt was one a plain white quilt, and I trimmed it with the yellow. And then I made the pillows to coordinate. You can see more about that here.
There were a few other smaller projects that went into the room, but I'll share those in detail when I share the final before and after of this room.
My Mom's Kitchen
This was the project that I hadn't planned on doing at the beginning of 2020, but I'm so glad that I took time to tackle this one. My mom's kitchen started out looking like this…
And ended up looking like this…
There were so many projects that went into this kitchen, including making completely new cabinet doors and drawer fronts, making pull-out shelves, installing a new laminate countertop, and so much more. You can see all of those details in the before and after post right here.
So that pretty much sums up my 2020 projects. It wasn't a completely unproductive year, and I did tackle some pretty significant projects. But I certainly do hope that 2021 proves to be a much more productive year for me.
Addicted 2 Decorating is where I share my DIY and decorating journey as I remodel and decorate the 1948 fixer upper that my husband, Matt, and I bought in 2013. Matt has M.S. and is unable to do physical work, so I do the majority of the work on the house by myself. You can learn more about me here.
I hope you'll join me on my DIY and decorating journey! If you want to follow my projects and progress, you can subscribe below and have each new post delivered to your email inbox. That way you'll never miss a thing!